The livestock sector offers substantial opportunities to smallholder farmers for livelihood improvements, poverty reduction and improved food security and nutrition. It is currently estimated that livestock farming contributes to the livelihoods of almost 1.3 billion people worldwide. In developing countries, the FAO put the sector's contribution to total agricultural output at nearly 20% by value. Many of the livestock farmers in developing markets are pastoralists whose livelihoods rely on the movement of herds across less favourable landscapes, such as drylands, mountains and cold areas, in search of pasture and water. It is estimated that more than half of the world's pastoralists are found in Africa where up to 60 million people depend exclusively on livestock. In some African countries, pastoralists contribute 10 to 44% of GDP and produce about 90% of the meat consumed in East Africa and 60% of the meat and milk consumed in West Africa. Despite the significance of pastoralism in agricultural production, estimates indicate that more than 20 million pastoralists in East and West Africa live below the poverty line.
COVID-19 is affecting pastoralist livelihoods
Pastoralists migrate seasonally to find water and pasture for their herds. They send scouts in search of resources, and use traditional knowledge and customary practices to make decisions on the movement and management of herds. These practices are time consuming, risky and unreliable in fast-changing environments. Across Africa, climate change is causing unpredictable rainfall patterns and limiting available pasture. Increasing pressure on the land accelerates soil degradation and intensifies conflicts over scarce resources among pastoralists as well as between pastoralists and crop farming communities. As a result, pastoralists might move for days without finding sufficient water and pasture to feed the herds, which has a direct hit on their incomes.
COVID-19 restrictions on movements within and between countries have exacerbated existing challenges, and market closures and social distancing rules have created new ones. In West Africa, the Network Billital Maroobé (RBM), a regional organisation of pastoralists, has been interviewing 351 pastoralist communities in 10 countries on a weekly basis since early May 2020 to monitor the impact of COVID-19 on pastoralist livelihoods. Movement restrictions caused substantial disruption along migration corridors, affected local markets and economic activities and increased tensions at water points. The implementation of COVID-19-related measures started in March, during West Africa's dry season, when finding water sources and pasture for the herds becomes more difficult. During that time, strategic migrations allow pastoralists to find the necessary resources. Not being able to migrate as a result of movement restrictions affected the quality of the livestock and pastoralists' ability to sell livestock at a price that could satisfy their family needs. In some cases, pastoralists were caught by surprise while on the other side of the border, unable to go back for months. Although some of the initial restrictions on the movement of people have since been lifted, movement limitations were still present at the end of December 2020.
Figure: The impact of COVID-19 on livelihoods of pastoralists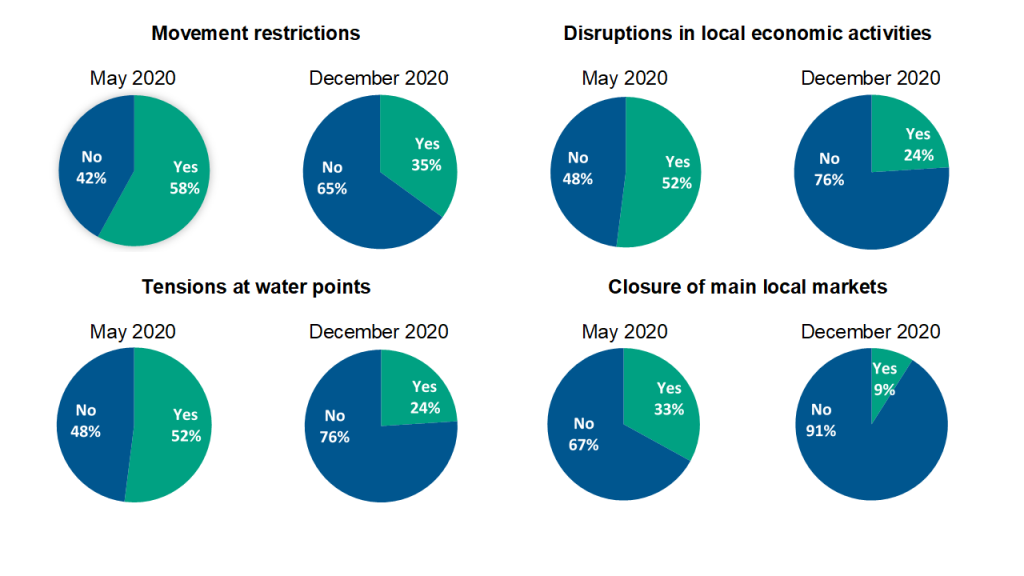 Source: adapted from RBM COVID-19 dashboard
Digital technologies address farmer challenges
Digital advisory solutions can help pastoralists address some of these challenges. For example, solutions such as GARBAL in Mali and Burkina Faso, and AfriScout in Kenya, Ethiopia and Tanzania, use satellite imagery and ground information on pasture quality and livestock concentration shared by pastoralists themselves to offer users real time information on the nearest pasture and water sources. These types of digitally-enabled solutions can help pastoralists make decisions about their movements, minimising risks and losses. They reduce the pressure on the environment by avoiding overgrazing thus allowing degraded areas to restore, and decrease the likelihood of conflicts between pastoralist communities.
Given the regional variations of smartphone penetration in West and East Africa, the two solutions use different channels to reach pastoralists. In Mali and Burkina Faso, pastoralists usually own feature phones and can access GARBAL's advisory service through USSD or targeted call centre calls for a cost ($0.14 per USSD request or $0.05/min for a call). Since its launch in November 2017, GARBAL service has received 197,578 USSD requests in Mali and 93,679 calls in Mali and Burkina Faso. From our conversations, pastoralists who used GARBAL service reported an additional $475 in income from milk production per herd per year in Burkina Faso. In Mali, GARBAL users increased their milk production by an average of 9.6% and reduced their losses by $191 compared to non-users.
In Kenya, Ethiopia and Tanzania, AfriScout estimates that 25% of pastoralists own a smartphone, so it developed an app that provides access to visual climatic information localised grazing maps. Data consumption on the app is low (600 KB for a full download, 20 KB for a content update) making it accessible in areas with unstable 2G connectivity. AfriScout's digital solution also includes a peer-to-peer communication feature used to crowdsource information from pastoralist communities and send alert messages in case of diseases, conflicts or other incidents. Pastoralists can sign up for a free 3-month service trial after which they can decide to discontinue the service or pay $18.25 (KES 2,000) for an annual subscription. Since the launch of the app in 2019, more than 110,000 users have registered to AfriScout service.
Digital advisory solutions such as these have an important role to play in offering relevant advice to pastoralists that takes into account restrictions on movement and social distancing rules introduced during the COVID-19 pandemic. In Burkina Faso, for example, GARBAL pushed vocal messages in local languages to inform pastoralists on borders closure and the prohibition of transhumance in neighbouring countries like Benin. In East Africa, local leaders of pastoralist communities and government officials used AfriScout to share locally relevant information on COVID-19 directly on the app. By accessing this information, local leaders could reorganise community activities, plan for disperse grazing and avoid overcrowding rangelands.
The availability of digital agriculture solutions targeting pastoralists is still limited, but the results achieved by GARBAL and AfriScout show the potential benefits of digital agriculture for pastoralists and agritechs alike. The two agritechs are currently working on strengthening their business models to reach scale and provide additional services to pastoralists. In fact, digital solutions could help pastoralists address other needs too such as access to veterinary advice and services to improve the health and quality of the livestock; access to input loans and other financial products to even out irregular cash flows; and access to market information, including prices and reliable buyers of animal products.
MNOs can play a prominent role
Digital literacy and network connectivity in rural areas remain a challenge and affect the adoption of digital advisory services by pastoralists. There is an opportunity, however, for MNOs to leverage their technology and connectivity assets, service delivery channels and customer relationships to enable digital agriculture solutions for pastoralists. MNOs, agritechs and other agriculture sector stakeholders need to develop innovative partnership and business models to enable service provision at scale. They also need to consider digital solutions which offer pastoralists uninterrupted access during transboundary migrations.
In Mali and Burkina Faso, for instance, MNO Orange provides the foundational infrastructure and enables payments for GARBAL service under the STAMP project in Mali and MODHEM in Burkina Faso. GARBAL is accessed via short codes in the two countries and this poses a problem during transboundary migrations since short codes are country specific and cannot be accessed while abroad. Though there is the option to contact the call centre directly, the roaming charges would make these calls too expensive for pastoralists. The projects are based on a public-private partnership between the Dutch Government, SNV Netherlands Development Organisation, local governments, Orange and technical partners, including pastoralists organisations affiliated with RBM. The partners are currently working to develop a sustainable business model to scale up in the existing two markets and expand to neighbouring Niger.
The growth potential of digital advisory services for pastoralists is significant in Africa with more than 60 million pastoralists that could benefit from it. Opportunities to provide additional services such as extension and veterinary services, access to market information and financial products are still untapped. MNOs are well positioned to leverage their assets and explore innovative partnerships and business models to realise the opportunity.
---
Want to know more about the impact of COVID-19 on smallholder farmers? Check out our blogs on the impact of COVID-19 on agricultural value chains and the rise of agri e-commerce during the pandemic.
This initiative has been funded by funded by the UK Foreign, Commonwealth & Development Office (FCDO), and supported by the GSMA and its members. The views expressed do not necessarily reflect the UK government's official policies.