Electric Vine Industries (EVI) is a private microgrid developer founded in Indonesia. In June 2018, EVI received a grant from the GSMA Mobile for Development (M4D) Utilities Innovation Fund to integrate Linkaja's mobile money service into EVI's power metering payment platform. This blog shares some key insights from implementing the grant project.
In the last five years, Indonesia has made significant progress in achieving its electrification target. Government data shows that the electrification rate jumped from only 84 per cent in 2014 to 98.05 per cent, as of September 2018. Despite such a high electrification rate, at least 4.9 million Indonesians still live without electricity. While the government planned to achieve 100 per cent electrification by 2020, connecting the remaining millions has been challenging. For Indonesia, the biggest challenge is its geography – an archipelagic nation with 17,000 islands – which significantly increases the cost of last mile electrification. Extending the grid infrastructure to rural parts of Indonesia is difficult given the geography, population density and expected initial consumption. Given the high cost of extending the grid, the government of Indonesia is turning to off-grid renewable energy solutions to accelerate the electrification of under-developed, far-flung areas.
Electric Vine Industries (EVI) is a Jakarta-based private utility bringing sustainable energy access to un-electrified Indonesians. EVI builds and operates solar-PV microgrids on the islands of Papua and Sumba in the East Nusa Tenggara province of Indonesia, which has the lowest electrification rate of all provinces at 72 per cent. EVI's micro-grid infrastructure captures, stores, and distributes clean electricity through an integrated network of solar PV panels. The infrastructure also includes smart inverters and meters that manage electricity production, storage and enable remote control. In June 2018, EVI, in partnership with LinkAja (a mobile money platform), received a grant from the Mobile for Development (M4D) Utilities Innovation Fund to integrate mobile money payments in order to reduce the costs and risks associated with cash collection through EVI's agent network. During the grant period, EVI also trialled a lease-to-own device initiative to increase electricity usage among customers, allowing them to move up the energy ladder. In the past, the M4D Utilities Innovation Fund has largely funded microgrid/minigrid projects in Africa (read more in our blog). This grant was a step towards diversifying our portfolio in Asia and trialling a mobile money enabled micro-grid in Indonesia's evolving fintech landscape.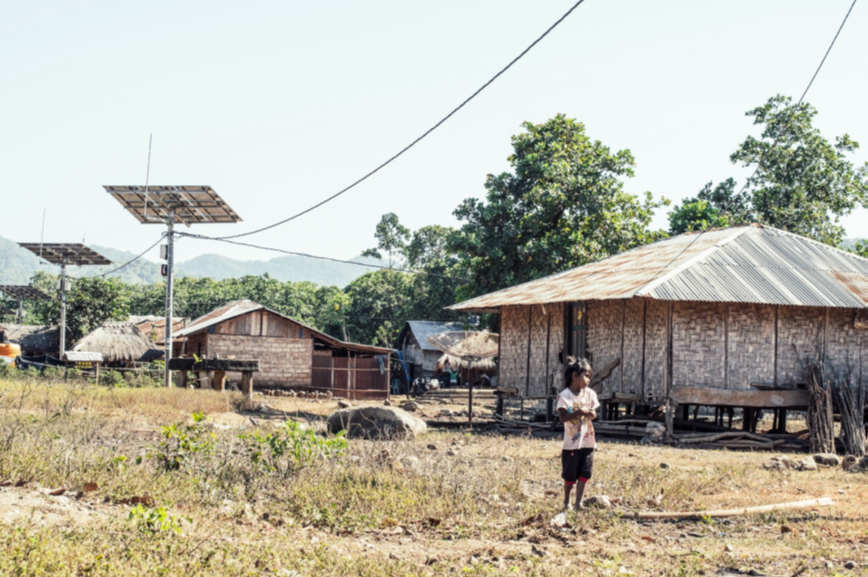 Photo Credit – Electric Vine Industries
EVI operates 11 micro-grids covering five villages in Sumba. The micro-grid provides prepaid electricity to 900 households which currently have no alternative electricity source. In order to hire agents, EVI partners with local village representatives to provide customers with electricity top-ups. In partnership with Linkaja, EVI developed a mobile application called 'EVI Wallet' for its agents and customers. The app allows users to top-up their credit on EVI's platform, which can then be applied to either electricity or device purchases. The app also gives customers an overview of their electricity usage, balance and payment history. Since the mobile network coverage in Sumba is patchy and unreliable, it is difficult to process app-based payments that require robust mobile internet access. To overcome this implementation challenge and facilitate payments, EVI decided to provide all agents with basic access to EVI's Wi-Fi network. However, customers are unable to use the app and have to make cash payments to their local agent who generates a top-up on their behalf. Agents usually top-up their accounts once a week and then keep transferring electricity credit to individual customer accounts as they receive cash payments.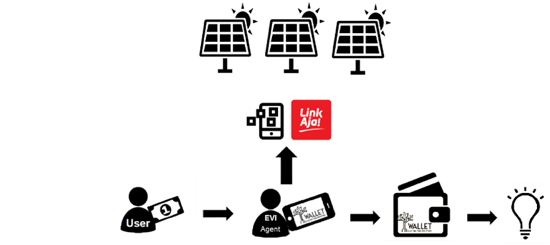 Figure 1 – EVI customer journey
A reliable and robust mobile network is key to the success of mobile money adoption, but the mobile operator must see the business value
EVI's microgrid sites are spread across mountainous terrain with low population density. Telkomsel is the only mobile operator in Sumba and the network coverage is patchy at best, except in the capital city of Waingapu (a five-hour drive from EVI's sites). Before the grant project, EVI ran its micro-grid network on its own Wi-Fi network and collected manual bank-transfers from agents every few weeks, to issue electricity vouchers. To overcome the costs and challenges associated with managing manual bank-transfers and cash-based payments, EVI wanted to go cash-less and automate all transactions. Given the patchy Telkomsel network in Sumba, EVI initially considered giving both agents and customersaccess to their Wi-Fi network but decided against it as it would require them to strengthen the Wi-Fi capabilities and firewall the network. EVI did not have the capacity for re-selling Wi-Fi to end users and therefore thought mobile money was a better solution.
EVI partnered with TCASH (the original mobile money service provided by Telkomsel) in 2017, hoping that through the GSMA grant project, Telkomsel would expand their network and mobile money agents to rural Sumba to support EVI's operations and expand Telkomsel's customer base. In February 2019, there was an unexpected regulatory change after which TCASH was required by government to merge with eight other state-owned payment services to form LinkAja. LinkAja is an integrated e-wallet service created through a merger of the e-wallets of Indonesian telco, Telkomsel, and lenders, Bank Mandiri, BRI, and BNI. Thus, Telkomsel lost interest in expanding mobile money usage there, and could not justify costs of improving the remote, rural Sumba network. While mobile infrastructure is critical to supporting decentralised electricity services, from a mobile operator's perspective, it is hard to demonstrate a viable business case for remote low-density areas as compared to urban markets.
Access to electricity supports demand for appliances, especially smartphones
In August 2019, EVI launched a lease-to-own device programme to allow customers to buy an electronic device and pay for it in instalments via cash payments or mobile money. To incentivise the use of mobile money, EVI offered the lowest price to customers paying through Linkaja. Between August and November 2019, EVI leased 51 devices to its customers. Under the lease- to -own device programme, customers could choose between a smartphone, freezer, rice cooker, refrigerator, parabola (satellite) and a TV. The results from an end of grant qualitative survey and EVI's internal platform are as follows:
The majority of customers opted for a smartphone as it enables access to information and entertainment;
Most of the customers who bought a smartphone were first time smartphone users;
28 per cent of new smartphone purchasers were women;
Of the total devices sold, 23 per cent were used for income generation purposes in family run businesses; and
93 per cent of customers that purchased devices through instalments said they were very likely to recommend this to a friend.
Customers interviewed in a qualitative study at the end of the grant displayed a strong willingness to pay for devices and even expressed an inclination towards purchasing more than one device via instalments in the future. Being able to buy these devices from local agents saves customers the time and money involved in travelling to the capital city. Customers also appreciate the flexibility of paying in instalments and the high quality of products offered. Users would ideally want to make payments through the EVI application, but due to the poor mobile network in the village and challenges registering for mobile money (see below), they have to buy electricity vouchers from agents in cash. Finding a business strategy to leverage this willingness to promote the programme through referrals could be an interesting way to drive appliance lease uptake in the future.
Despite the strong customer interest in devices, building a viable service model in Sumba is a challenge given the transport costs and logistics efforts often outweigh any commercial benefits realised from leasing at such a small scale.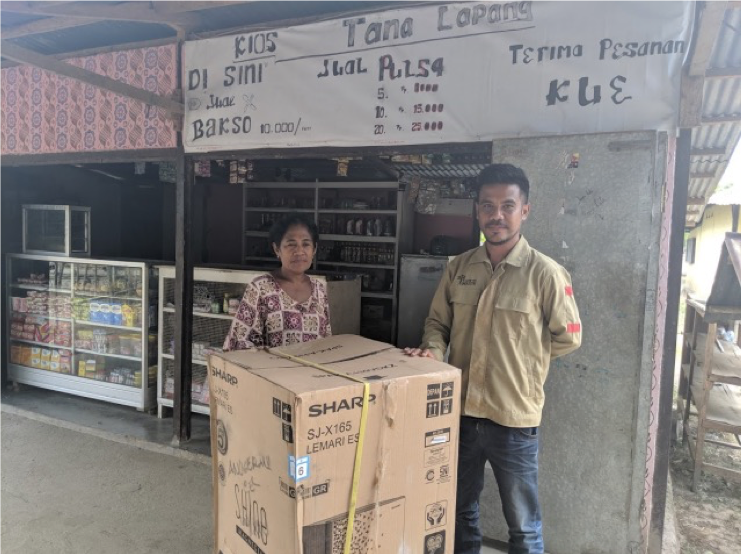 An EVI agent delivering a fridge to a customer in Sumba. The customer uses this to serve cold drinks at her local village shop.
In the external qualitative impact study conducted by Kadence in October 2019, one user stated, "I use the electricity for lighting and also to support my business. I now have 3 fridges because I sell cold drinks. I can sell up to 20 boxes of drinks in just a week." (EVI Customer, Tawui)
The value of mobile money for electrification is only realised with a well-supported registration and cash-in/out processes
Most EVI customers and agents were first-time mobile money users and needed to sign up with LinkAja. To register for basic services, customers can self-register through the LinkAja App, USSD, or visit a LinkAja agent. For more advanced transactions (required for use with external third-party apps such as EVI's wallet), customers need to upgrade their LinkAja account by completing a standard verification process using their national ID card. This process seems pretty straightforward for urban areas like Jakarta with robust mobile coverage, a large agent network, multiple cash-in points and an updated national ID database.
However, in Sumba, difficulties came up when the national ID number of customers was not listed in the government ID database system. Without this first step of verification, customers could not register for mobile money services without visiting a Telkomsel agent in the main city of Waingapu, far from their villages. In remote communities, national ID cards were issued years ago, but have not yet been updated in the national database. For this reason, EVI decided to register their agents on LinkAja's mobile money platform and realised it was easier for agents to take cash payments from customers and purchase electricity voucher for them through the EVI wallet with integrated LinkAja using the Wi-Fi network.
Lessons learnt
Having completed the grant project in December 2019, EVI continues to work with its partners to strengthen the microgrid network in Papua and Sumba. In conclusion, the role of the mobile operator in determining the success of a mobile money platform is critical. Without reliable mobile network infrastructure and a strong agent network, mobile money-based services cannot operate. This absence of reliable mobile coverage was the single greatest obstacle the project faced. Extremely low population density makes the business case much less exciting for a mobile operator when compared to investing in an urban site.
We've learnt from the grant project that while partnerships with mobile operators and utility service providers can lead electrification projects for off-grid communities, they cannot achieve sustainability without the right enabling environment from government. In order for the government's full electrification target for 2020 to be met, minigrids and appliance financing can play an important role, but crucial barriers around network coverage in remote areas and mobile money regulations still prevent mobile tools from being an effective part of this model.
The GSMA Mobile for Development (M4D) Utilities programme is funded by the UK Foreign, Commonwealth & Development Office (FCDO), and supported by the GSMA and its members.