There are over four hundred million micro businesses in emerging markets, forming the backbone of societies and economies. An incredible opportunity exists to increase women's participation. Currently, only 38% of global MSMEs are female-owned, and they are more likely to be smaller, informal, home-based and in low-growth sectors. Boston Consulting Group estimates that equalising women's participation as entrepreneurs could boost global economic growth by up to a staggering USD 5 trillion per annum. Many studies also demonstrate the benefits to families and communities of women earning an income. Economic research by the Goldman Sachs Global Markets Institute, for instance, shows that increasing the share of women-owned MSMEs can lead to improved development outcomes, such as higher wages and better health indicators.
Mobile phones can be a crucial tool for supporting female micro-entrepreneurs. They can transform the way that women run their businesses, and even help women start enterprises in the first place – providing a remote means to find customers and conduct business activities around busy family lives and the home. Across low- and middle-income countries (LMICs), female micro-entrepreneurs are using their phones to advertise their products and services online, pay suppliers using mobile money, find information and inspiration for their services or handicrafts through searching mobile internet, keep in touch with customers remotely, receive payments, and seek advice from peers. Women like Alecenter, who taught herself about bicycles by using Google on her phone, and went on to set up a bicycle shop in a large town called Kerugoya in Kenya. She now uses Facebook and Instagram on her phone to advertise her bicycles, and mobile money to receive payments from her customers.
Despite the immense potential of mobile phones to empower female micro-entrepreneurs, women in LMICs are much less likely than men to own one, and to use them as frequently or for such a variety of purposes. Much more research is needed on how female micro-entrepreneurs use mobile for their businesses (and how this differs from male micro-entrepreneurs), and how mobile can help address their needs and challenges. An improved understanding of this across LMICs will help governments, the mobile industry and the development community to support female micro-entrepreneurs to thrive.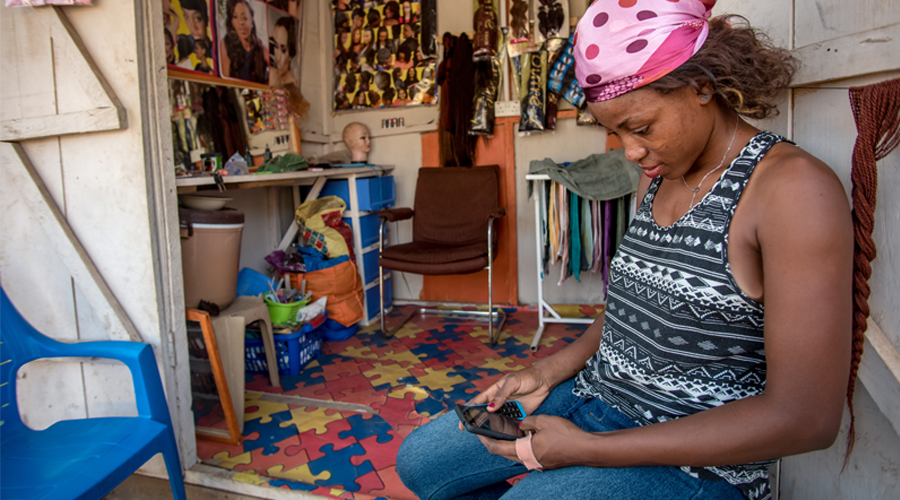 To help address this knowledge gap and realise this opportunity, we are delighted to launch a three year project to accelerate the digital and financial inclusion of female micro-entrepreneurs in LMICs in Africa and Asia. We will conduct research to better understand how female micro-entrepreneurs are currently using mobile for their business, the barriers they face and the opportunities to reach them. Our focus countries are India, Pakistan, Kenya and Ghana, and we will also be collecting and sharing insights from additional countries in Africa and Asia. Drawing on these findings, we will support mobile operator partners to identify, develop and scale approaches to reach female micro-entrepreneurs. A number of our operator Commitment Partners and GSMA Innovation Fund start-ups (including some in Ethiopia and Pakistan) are already purposefully targeting female micro-entrepreneurs with their products and services, and we are proud to be supporting them on this journey.
We are also excited to be co-chairing a new Broadband Commission Working Group with the International Trade Centre on the digital inclusion of MSMEs in LMICs, and to be part of the Women's Digital and Financial Inclusion Advocacy Hub launched by Women's World Banking and the UN Capital Development Fund, which focuses on women entrepreneurs.
In the coming year we will be sharing what we have learned with stakeholders who are interested in improving the digital and financial inclusion of women micro-entrepreneurs. If you'd like to hear about this, please register for our newsletter here. We'd love to hear from you if you are working in this space – please email connectedwomen@gsma.com.
Our work to better understand female micro-entrepreneurs and support partners to reach them is funded by the Bill and Melinda Gates foundation. The Connected Woman team is funded by the UK Foreign, Commonwealth and Development Office (FCDO), and the Swedish International Development Cooperation Agency (SIDA) and supported by GSMA and its members.