On 17 November 2021, the GSMA Digital Utilities programme together with Utopia, an innovation group focused on emergent cities, hosted a workshop with over 25 participants. This virtual invite-only convening featured stakeholders from both the public and private sectors as well as mobile operators, enabling organisations, and civil society. Organisations working on transport included Driveme, the Lagos Metropolitan Area Transport Authority (LAMATA), Lagos Urban Development Initiative (LUDI), MAX.ng, Road Preppers, Shuttlers, Uber and the World Resources Institute. Waste management stakeholders present were , Dow, GIVO, Nigeria Climate Innovation Center, Lawrence Price and Company Ltd, Recyclepoints, and Enviromax Global Resources.
The workshop provided a forum for stakeholders to discuss key challenges and opportunities in the transport and waste management sectors while placing a particular focus on collaboration between private sector innovators and the public sector.
Srinivas Rao (Chief Digital Officer for MTN Nigeria) provided a keynote and welcomed participants to the workshop and expressed the importance of such convenings. He highlighted that African start-ups are growth factories of the future and are uniquely placed to address some of the challenges facing the continent. Therefore, the role of public-private partnerships is to encourage ideation and risk taking in government, while also supporting start-ups along their scaling journey. Rao also noted that for start-ups to excel, it is paramount for the government to create an enabling environment through measures such as special economic zones, incentives, and supportive regulation to drive cross-sectoral- and multi-stakeholder-collaboration. He further stressed MTN's commitment to support Nigeria's start-up ecosystem and pointed out that for start-ups to clearly highlight their value to mobile network operators (MNOs), it is not enough to merely present a flashy idea, but a clear vision, a strong purpose, a convincing business model, and demonstrated market traction are critical.
Urban mobility in Lagos
Faced with rapid urbanisation and increased motorization, sustainable transport solutions backed by effective policies are needed in most African cities. As we highlighted in our previous blog, this is particularly important for Lagos where the lack of affordable, reliable, and sustainable transport modes carries huge economic and social costs for commuters, riders, and the wider city. The Lagos Metropolitan Area Transport Authority (LAMATA) has ongoing initiatives including Non-Motorised Transport (NMT) policy, prioritising pedestrians, cyclists, and public transport users. Additionally, the city introduced the Bus Rapid Transit (BRT) to ease congestion on the roads for commuters which now uses a digital fare payment system. More recently, the government launched the First and Last Mile (FLM) Bus Scheme to ply specific routes in areas of residence. These buses are meant to provide a safe and comfortable intermodal transport system for the city residents. Under this scheme, the government is also looking to partner with the private sector by offering financing options to investors.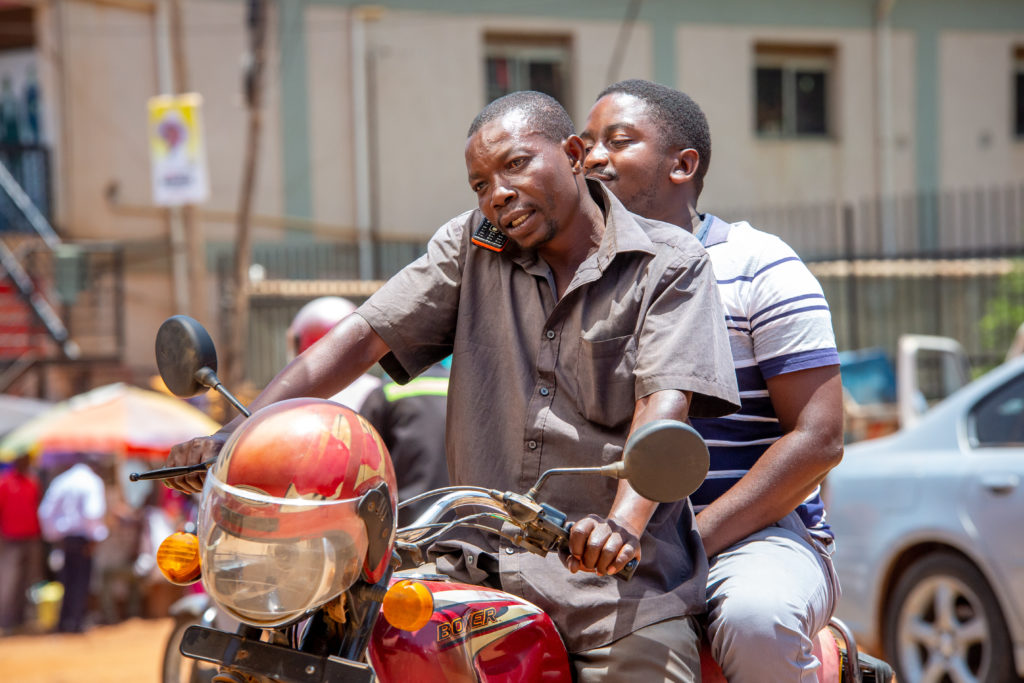 With these ongoing efforts from the public sector, the private sector is also working towards providing new mobility services such as ride-hailing and car-sharing services. Given that some of the services offered by the private sector are quite novel and innovative, there are some challenges arising from operating in a nascent ecosystem. The workshop participants discussed some of the key challenges facing the sector which included:
Lack of cooperation among the start-ups and the need to advocate for common interests: Participants came to a consensus that there was a need for private sector innovators operating in the Lagos transport sector to come together as one voice. Collaborating could lead to better outcomes due to more structured engagements with the public sector. Collective efforts can also be a driver of strategic partnerships as stakeholders leverage knowledge sharing amongst themselves.
Institutional overlap: There are multiple government agencies and ministries that work on transport planning in Lagos. Start-ups highlighted that it was at times difficult to identify which department to reach out to when addressing certain issues. Well-defined roles and responsibilities for each department can increase inter-agency coordination as well as successful implementation of projects by all stakeholders. LAMATA advised the start-ups to refer to the harmonized Transport Sector Law and decide which agency to approach.
Outdated laws: There hasn't been much change in transport laws in Lagos to address the unique mobility solutions and services that have proliferated because of digitisation. Start-ups, therefore, work in uncertainty, limiting their ability to deliver solutions and attract investment. For example, in 2020, the Lagos State government banned commercial motorcycles from plying various roads which severely affected players in this space.
Despite these challenges, there are key opportunities that stakeholders can leverage to foster public-private partnerships:
Goal alignment between the public and private sectors: The state government has prioritised NMT and mass transport through Bus Rapid Transit (BRT) and First and Last Mile initiatives. Start-ups can work on complimentary issues which will reduce mismatch in priorities, allowing the public sector to act as enablers, rather than opposers to digital solutions.
Clear regulatory framework: The government should work with the private sector and civil society to update their regulatory and policy frameworks to respond to the evolution of business models and services enabled by digital innovation. This will increase long-term certainty around Lagos' enabling environment and increase investor confidence. For example, Max.ng and Yamaha recently launched a motorcycle assembly plant in Oyo State since the local government is keen on improving the transport sector in the region.
Waste Management in Lagos
Waste management in Lagos is largely informal, characterised by disaggregated waste pickers, overflowing landfills and dumpsites. Lagos churns out about 13,000 metric tonnes of waste daily, with the municipal authorities collecting only forty per cent. Therefore, there is need for innovative private sector alternatives to help tackle the challenge. During the workshop, stakeholders shared some of the challenges facing the sector.
Linear waste economy: Less than five per cent of plastic waste in sub-Saharan Africa is recycled. Most of the waste ends up in landfills and dumpsites while the rest is strewn across the streets, clogging up the drains. With underutilized Extended Producer Responsibility (EPR) policies, there are no incentives for producers to adopt responsibilities for their packaging and end-of-life products.
Manual collection systems: Despite increased efforts to adopt recycling, the systems in place do not follow best practices which would accelerate the transition to a circular economy. During recycling, most waste is dumped onto the same conveyor belt, as sorting is largely done manually, leading to lower quality recycled materials.
Ineffective use of data: Private companies that deploy digital solutions such as IoT develop a lot of data and insights that is crucial in waste management. They can visualise the entire waste journey, providing easy traceability along the value chain. However, the public sector sometimes views data collection as an expensive and secondary venture that does not directly address its core service mandate.
Despite these challenges, there are key opportunities for digital solutions and innovative partnerships in Lagos' waste management sector.
Increased focus on the circular economy: There is significant opportunity in plastic and waste management to move from a linear to a circular economy. 90% of waste can be reused, saving on landfill costs while reducing solid waste. By having a closed-loop system, plastics will be managed responsibly throughout their lifecycle. Moreover, solid waste can easily be converted into alternative energy sources or compost, accelerating the transition to a circular economy. The Lagos State Waste Management Authority (LAWMA) has pledged to support the federal government in implementing EPR policies, especially for electronic waste.
Digitalisation: From digital payments to traceability tools, the waste management sector has a chance to leverage digital tools. This will not only improve operational efficiency but also increase data collection. Data is an integral ingredient in promoting change by enabling the development of insights to understand how waste can be reintroduced into the circular economy. Additionally, data will help create transparency in the sector and identify gaps in financing and logistics. Not long ago, the Lagos State Government (LASG) launched CitiMonitor, an environmental monitoring and reporting software application to track and report infractions. Such initiatives are a step in the right direction.
Important lessons learned
Across both the mobility and waste management sectors in Lagos, digital solutions pioneered by private sector innovators are already playing an important role in supporting more inclusive and sustainable service delivery. To further unlock the potential of these solutions, innovative partnerships and further collaboration between private sector innovators and the public sector are critical. The public sector can also support innovators by providing long-term regulatory clarity, public policy support, and critical infrastructure. Private sector innovators, on the other hand, have to internalise key public sector objectives, and learn how to articulate and showcase their value to government and society at large. to increase the possibility of cooperation and enabling regulation.
We would like to thank all those who attended the workshop, as well as our co-host Utopia, for their time and valuable insights, and remain at your disposal for any follow-up inquiries – please contact Jisas Lemasagarai. Our next city workshop will take place in March 2022 (more details to follow soon) and our teams looks forward to continuing to support urban resilience in low- and middle-income countries by enabling access to essential utility services through digital solutions and innovative partnerships between innovators, mobile operators, and government.
The Digital Utilities programme is funded by the UK Foreign, Commonwealth & Development Office (FCDO), and supported by the GSMA and its members.