After a short pause, we wrap-up our blog series on MNO led e-waste management efforts with a project from Orange Egypt. In this blog we will explore how Orange's e-waste management efforts are integrated into their overall environment management system (EMS) and also linked to the national e-waste management plan of Egypt.
Strong process driven approach ensuring end-to-end management of the project
Orange Egypt (formerly Mobinil) has had a structured approach to environment management since their inception in May 1998. In 2001, their EMS was successfully audited by TUV SUD and ISO 14K certificate awarded. Orange have reviewed the EMS annually and conduct a surveillance audit every three years. This has helped them to maintain and improve their environment friendly practices. Both solid waste management (such as shredded paper) and electric and electronic waste management processes are key activities managed under this EMS.
Award winning e-waste effort from Mobinil
In 2014, Mobinil (former name), won an award for its electronic waste management programme. Mobinil took part in Egypt's national campaign for safe and clean disposal of electronic waste. The two-year campaign was supported by the Environment Ministry and the Communications and Information Technology Ministry. The programme aimed to protect the environment by processing e-waste and also by recovering the critical materials present in tiny amounts used in devices.
Along with other companies who participated in this programme, Mobinil allocated certain areas of its premises as collection points for e-waste. Computers, mobile phones, printers and other accessories have been collected and processed using the latest technology to dismantle and recycle ensuring environmental friendly practices.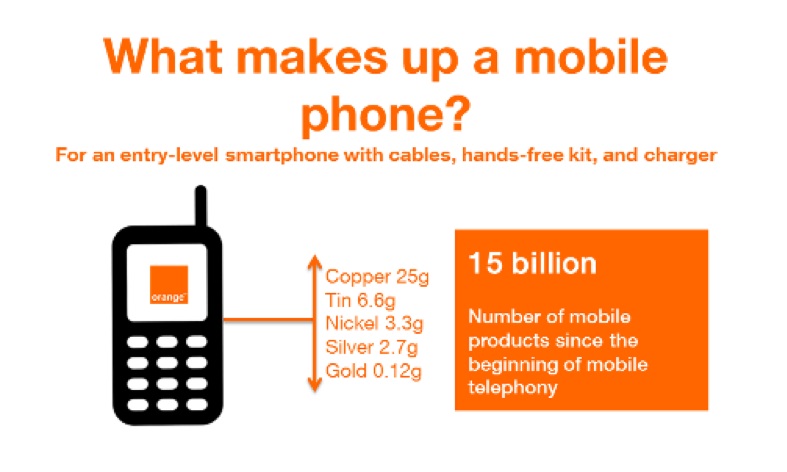 The following is a brief summary of the current and planned initiatives:
Current projects and their impact
Initiative
Description
Collection
Printer and cartridge collection
Collection and recycling of toners, drums and cartridges from copiers and printers.

The project is in collaboration with the following manufacturers:
– Hewlett Packard
– Cannon
– Xerox company

The project includes a part about collection shredded paper and cardboard too, but that's out of scope of this document.
1,476 units
End of life mobile handset and battery collection
Collection and shipping of used handset mobile batteries; through a nationwide advertisement campaign and take-back process.

The project was made under the UN Basel Convention guidelines and in collaboration of the Egyptian Ministry of Environmental Affairs.
25,000 units, weighing an average of 1.5 metric tons
IT equipment recycling and re-use
An e-waste project that aims to close the 'digital divide' in Egypt. It seeks to sort and refurbish Orange waste IT equipment and donates them to charities.

The recipients so far are:
– Governorate of Assuit
– Advance organisation
– Friends of children with cancer
– Resala organisation
– Hospital no 57357
– Mallawi High School
– Injaz corporation
70 PCs refurbished and donated
Regional e-waste forum
Orange was a partner in the regional e-waste management forum held in Cairo.

The conference was organised by CEDARE (Centre for Environmental Development in Arab Region and Europe) and is made under the auspices of the World Bank, ITU, STEP Initiative and the Egyptian Ministry of Environmental Affairs.
Other projects
Initiative
Description
Impact
Alexandria dry cell collection and safe dumping
The project launched under the supervision of Alexandria governorate and its regional environmental office.

It was directed to school youth and aimed to:
– Educate the youth about the dangers of improper e-waste disposal
– Publicise the city's official hazardous waste dump, the first of its kind in the country
– Collaborate and bring closer the youth with official environmental authorities

All participating schools received 'environmental gifts' – mainly plants in return for their collections.

Orange's role was to provide logistical and financial support to the project.
The programme covered 62 schools and collected 800kg of dry cells. these were disposed of in the city's official hazardous waste dump.
Mobile phone partnership initiative
Participating in a used and end-of-life mobile phone collection scheme.

The project made under the auspices of the UN Basel Convention and is considered phase II of the mobile battery initiative. The Ministry of Environmental Affairs is the local partner.

This is a planned activity and the start date is not yet determined.
Already have 2200+ handsets in the warehouse collected from customers during repair operations
E-waste learning centre
Orange also has plans to establish a learning centre for e-waste separation. This project will be a first of its kind and truly a valuable addition to a community where their knowledge about e-wast is almost non-existent.

The plan is to establish a learning centre for garbage collectors in Cairo to provide them with e-waste sorting techniques.

The initiative is in collaboration with CID; a leading NGO in waste collection, sorting and recycling.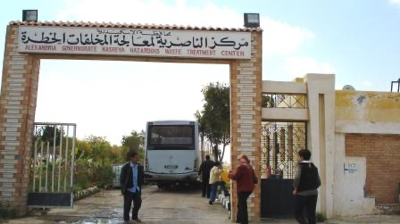 Further to this blog article about Orange in Egypt we are proud and happy to present the GSMA e-waste legislative frame work map that summarises the e-waste policies of 21 countries in Asia and Africa. We are progressively adding other countries in Africa and South, Southeast Asia as well. These policy databases were produced after the GSMA e-waste policy study into understanding the e-waste policy environment in LMICs and how this could impact MNOs, such as Orange, who want to set-up e-waste projects in their countries.