This post is part of a blog series on funding provided by the UK Foreign, Commonwealth & Development Office (FCDO) that the GSMA awarded to nine previous grantees in the water, sanitation, education, health and food security sectors which enabled them to continue delivering essential services to customers following the outbreak of the COVID-19 pandemic. Here we look at changes in the use of mobile money across the water and sanitation sectors during the pandemic.
Mobile money is an invaluable tool for facilitating safe and efficient payment services within different parts of the economy. Over the course of the pandemic, it has enabled workers to receive wages, the humanitarian sector to disburse assistance, and the agricultural sector to keep value chains open. Furthermore, mobile money is playing an increasingly important role in the water and sanitation sectors, demonstrated by the experiences of Drinkwell, Loowatt, Safe Water Network (SWN) and Uduma during the pandemic. The four start-ups are at different stages of integrating mobile money as a payment option, but each provides valuable insights into the benefits and challenges of moving away from the use of cash.
Regulatory changes incentivise customers to pay for water and sanitation services via mobile money
Governments and several mobile money providers and their regulators have introduced an array of policy measures aimed at accelerating the adoption of digital payments. This includes waiving transaction fees, making Know-Your-Customer (KYC) and on-boarding requirements more flexible, and declaring mobile money providers and agents an essential service. These changes, along with the potential risks of handling cash, have led more consumers to switch to digital payments as a safer and more accessible option. In 2020, the number of registered mobile money accounts grew by 12.7 per cent globally to 1.21 billion accounts – double the forecast growth rate.
This has some benefits for the start-ups that were awarded a grant by the GSMA, which was provided by the UK Foreign, Commonwealth & Development Office (FCDO). In Madagascar, mobile money providers Airtel and Telma temporarily waived transaction fees. This supported the efforts of Loowatt, which uses mobile technology to support the servicing and maintenance of waterless container-based toilets, to encourage customers to switch to mobile money payments. In the second half of 2020, 110 Loowatt customers reported being first-time mobile money users when paying for their household sanitation services.
Meanwhile, regulators in Ghana relaxed the KYC requirements for new customer enrolment and granted authorisation for self-registration. This potentially benefits Ghanaian companies such as SWN, which builds and owns water treatment and distribution stations that integrate mobile payments, prepaid metering and machine-to-machine connectivity. The changes to KYC requirements encourage people who either lack certain types of identification or have to travel to nearby cities to complete the mobile money registration process.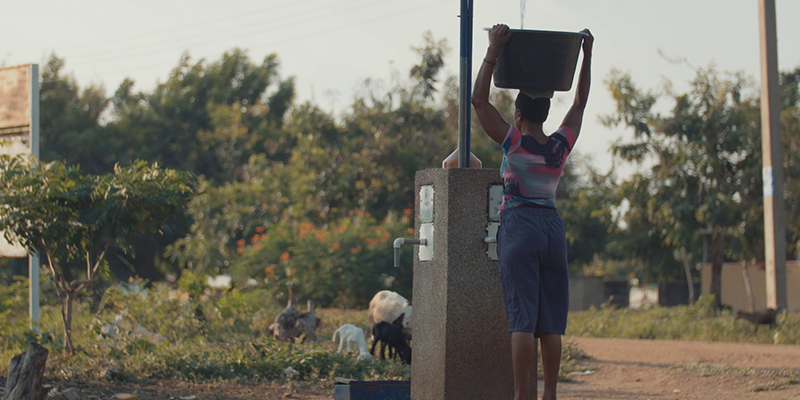 The advantages of mobile money for customers and utility service providers
Public health concerns about in-person payments have led more billers to open accounts and more people to make bill payments digitally, including with mobile money. The need to reduce social contact has also encouraged customers to use mobile money at water facilities. For example, Drinkwell and SWN distribute water via digital ATMs, while Uduma uses hand pumps and standpipes, which are managed by a digital prepayment and sales monitoring system. At each of these facilities, staff are employed to oversee the process and manage payments. Although the fund helped start-ups to purchase personal protective equipment (PPE) for staff, transactions can be made even safer by using digital payments, which reduce the potential risks of handling cash and make it easier for customers and staff to maintain social distancing. This helps contain the spread of the virus in the local community.
Mobile money reduces other risks associated with cash transactions, such as theft or loss of cash, and saves travel time. Furthermore, mobile money can save users money in situations where limited coin denominations mean they are not always given sufficient charge from their water payments if the amount falls between coin denominations. This can be the case in Burkina Faso, where Uduma encourages users to pay via mobile money or other digital finance solutions. As of mid-2020, Uduma reported that 36 per cent of NFC card top-ups were via mobile money,
Integrating with mobile money platforms provides several benefits for water and sanitation providers. A GSMA and CGAP study found that the cost of cash collection equalled three – 20 per cent of total revenue for water and sanitation providers. By switching to digital payments, the study noted that providers could reduce cash collection costs by 57–95 per cent, as a result of reduced staff time and vendor commission. In turn, lower costs can help water and sanitation providers extend their services to low-income populations. For example, Loowatt charges a £0.04 transaction fee for customers paying with mobile money, versus a £0.29 cash processing fee.
Mobile money and other digital payment methods can also improve revenue collection efficiency. For example, SWN introduced mobile money services and machine-to-machine connectivity for its water ATMs and prepaid meters on household connections. This allowed SWN to recover payments from households in arrears and reduce non-revenue water (water that is produced but for which revenue is not collected) arising from billing issues. In addition, customers paying by mobile money give SWN data on usage which can be used to improve business planning and pricing. During the pandemic, SWN has worked closely with MTN to ensure its mobile payment system remains fully operational.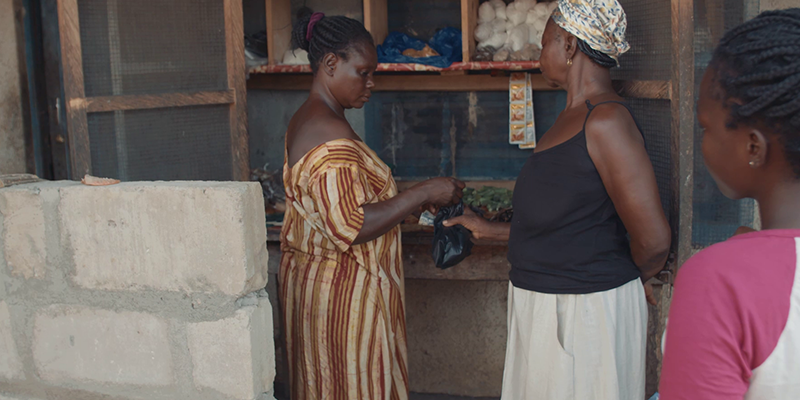 Barriers to mobile money usage remain
The GSMA Intelligence's Consumers in Focus Survey indicates that one in three individuals that are aware of mobile money but do not hold an account do not know how to use the service. This can create challenges for water and sanitation providers integrating with mobile money services in countries with low mobile money adoption, as new users likely need training on how to make payments. In Madagascar, Loowatt conducts one-to-one training on how to use mobile money with customers. Likewise, SWN employs field officers to assist and encourage prepaid customers to self-recharge via mobile money. This helps customers learn new digital skills and increases their trust in digital payments, but it also creates new costs for water and sanitation providers which could offset the savings from reduced cash handling.
Furthermore, there can be technical challenges for water and sanitation providers when it comes to integrating with mobile money services. An example can be seen with Drinkwell, which provides safe drinking water to households in Dhaka via water ATMs. It encountered problems integrating its water ATMs with mobile money providers because not all of the ATMs were GSM-enabled. As a result, at the end of December 2020, 11 out of 50 water ATMs were still not integrated with mobile money. As Drinkwell and its partner Dhaka Water Supply and Sewerage Authority (DWASA) want to have a uniform experience across all of the water ATMs in the city, the decision was taken not to offer a mobile money payment option to end-users until integration is complete on all the ATMs. In the meantime, Drinkwell continues to use mobile money to transfer cash from caretakers (who collect customer payments) to Drinkwell's account.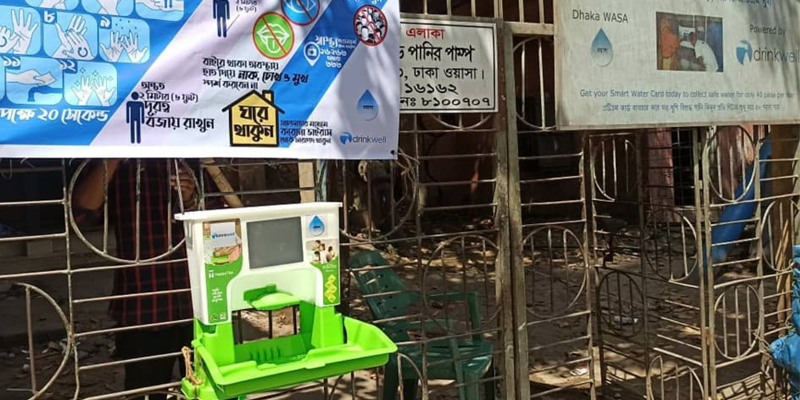 Maintaining momentum
Integrating with water and sanitation providers allows mobile money providers to build consumer trust in mobile money as these services are essential to daily life and require regular payments. This reduces the reliance of mobile money providers on the two primary mobile money use cases: person-to-person (P2P) transfers and airtime top-ups. As a result, mobile money providers are working to lower barriers for partnerships and services and enable the seamless integration of thirdparties with mobile money platforms. This helps overcome some of the barriers to adopting mobile money payments for water and sanitation providers.
However, other barriers to adoption remain. According to the GSMA Intelligence's Consumers in Focus Survey, over half of those individuals that are aware of mobile money but do not hold an account prefer to use cash. While mobile money use cases for essential services such as water and sanitation can help to shift preferences, further work remains to change consumer behaviours.
Efforts by governments to digitise their economies are likely to play an important role. For example, initiatives such as the relaxation of KYC rules can enable more people to realise the benefits of mobile money. However, other regulatory changes create challenges for mobile money providers. With transaction fees waived and consumer spend down, providers have found it difficult to reap the commercial benefits of higher mobile money usage which poses a risk to the sustainability of the industry. Overall, the experiences of the start-ups that received a grant from the GSMA highlight that awareness of and familiarity with mobile money among their customers is improving. There are strong benefits of mobile money for water and sanitation providers and their users, and it is likely that the pandemic has laid the foundation for future growth in the use of digital payments in the sector. However, there is more work to be done to improve the integration experience, and key regulatory decisions are still to be taken.
---
The Digital Utilities programme is funded by the UK Foreign, Commonwealth & Development Office (FCDO), and supported by the GSMA and its members.