This is one of a series of blogs that deep dives into our framework to help mobile operators close the gender gap in their customer base. This blog focuses on one of the five themes that we believe mobile operators should focus on to address the most common barriers preventing women from owning and using mobile phones across markets: "Affordability", including handsets, tariffs, data plans and transaction fees. The other blogs in the series focus on the remaining four themes: "Accessibility", "Usability and skills", "Safety and security" and "Relevance".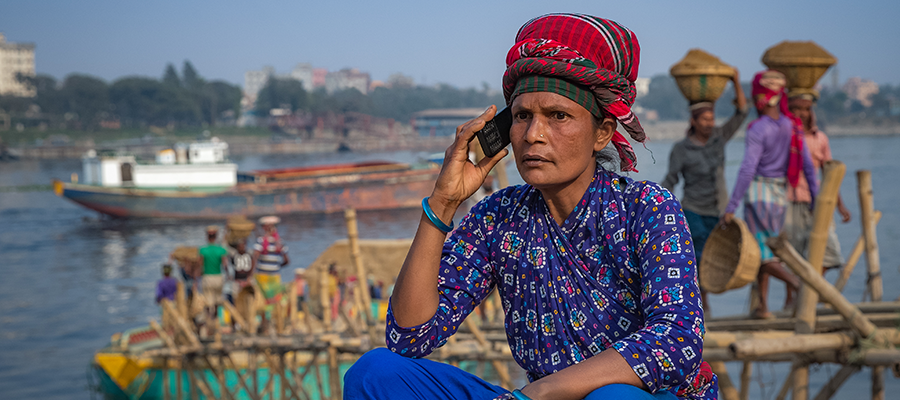 Why is affordability an issue for women?
Our experience and research across multiple markets in Africa, Asia and Latin America has revealed that women are usually more price sensitive than men when it comes to mobile, as they are less likely to earn an income and/or have autonomy over spending any income that they do earn, and need to trust a service in order to part with their hard-earned money.
What can operators do to ensure services are affordable for women?
To close the gender gap in their customer base, operators need to ensure that their product and service design and marketing and distribution approaches consider the barriers women face related to affordability (see the visual in our framework blog).
Figure 1 shares some examples of what operators can do to ensure mobile services are affordable for women and offer value for money during both product and service design and marketing and distribution activities.
Figure 1:
For example, product and service design teams could include mechanisms to support customers more easily control their mobile spend (e.g. notifications when the customer is reaching their credit limit), which are likely to particularly appeal to more price-sensitive female customers.
Since affordability is the most significant barrier to women's mobile ownership (and the second most significant barrier for mobile internet use), many mobile operators have been investigating innovative ways to equip their customers with low-cost handsets. For example, Safaricom PLC in Kenya launched the Maisha ni Digital Campaign which aims to increase smartphone uptake by offering affordable 4G devices (the Neon smartphones). In India, Vodafone has partnered with an NGO to target credit-worthy female entrepreneurs in women's self-help groups with loans for internet-enabled handsets to support them with their business activities. Recipients pay back the loan through instalments, and receive complimentary data and training on how to use their handsets, find suppliers and market their business. In Bangladesh, Robi Axiata has launched a monthly smartphone bundle programme with preferential rates for female customers (Box 1).
Box 1: Robi Joyeeta smartphone bundle programme
Robi Axiata partnered with Bank Asia and Cignifi to launch Robi Joyeeta in July 2018, a monthly smartphone bundle programme with preferential rates for female customers.
Robi works with big data analytics partner Cignifi to identify suitable credit-worthy customers for the Joyeeta offer. Variables such as usage, top-up pattern, age on network, and other factors are considered. Offers are made to pre-qualified customers via SMS, IVR call and the call centre.
Pre-selected women are able to purchase a Micromax Q440 4G handset, and a voice, data and SMS bundle for an attractive monthly instalment without any credit or deposit. Female customers are charged BDT 499  (~$USD 5.6) per month over 15 months, whereas male customers are charged  BDT 599 (~$USD 6.8) per month over 12 months and require a minimum 20% deposit. Customers receive automatic SMS reminders to pay their monthly bill through bank branches or agent banking.
Through the Joyeeta programme, Robi aims to to double the number of female subscribers who use mobile data services, to reach 0.5 million devices. By helping to address the affordability barrier faced by women in accessing smartphones, Robi Joyeeta empowers women by unlocking the life-enhancing opportunities that access to smartphones and mobile internet can bring.
Analysis has revealed some encouraging results to-date. Half of the customers  who took up the offer upgraded from a feature phone to a smartphone, suggesting that many female and male customers  are using their own smartphone for the first time. Furthermore, data usage increased significantly after smartphone conversion. In the case of 3G to 4G conversion, data usage grew three-fold, and for 2G to 4G conversion, data usage grew seven-fold. Robi is currently preparing for a second phase with additional attractive options.
It's important to emphasise that ensuring affordability for women does not necessarily involve launching an entirely new product, service, marketing campaign or distribution approach. Often it is just about operators tweaking what already exists to ensure that they reach women as well as men. For instance, some mobile operators have moved away from charging a flat fee for person-to-perons (P2P) mobile money payments, and instead charge a percentage amount, or no amount for micro-transfers. This is likely to particularly appeal to women, who in many settings are more likely than men to prefer low-value, high frequency transactions. In Kenya, for instance, Safaricom's M-PESA Kadogo does not charge users for transactions under KSH 100 ($USD 1).
Ensuring services are affordable and represent value for money to women will help them reap the full benefits of owning and using mobile phones to enhance their lives, as well as provide commercial benefits for operators.