The GSMA Mobile Money team recently conducted a Capacity Building workshop on 'Mobile money for promoting financial inclusion' in Hanoi, Vietnam. The workshop was well attended with 150+ representatives from the Ministry of Information and Communication (MIC), Vietnam Telecom Authority (VNTA), State Bank of Vietnam (SBV) and mobile operators. Discussions took place on global mobile money regulatory models and case studies. The workshop aimed to support SBV in developing effective regulatory guidelines for mobile money, acknowledging that they are working on mobile money pilot licences for mobile operators. The GSMA is committed to supporting the creation and strengthening of enabling regulatory environments for mobile money whilst also working to achieve the Sustainable Development Goals (SDGs). In this context, we are glad to support regulators and mobile operators in Vietnam in their endeavour to launch and scale mobile money services.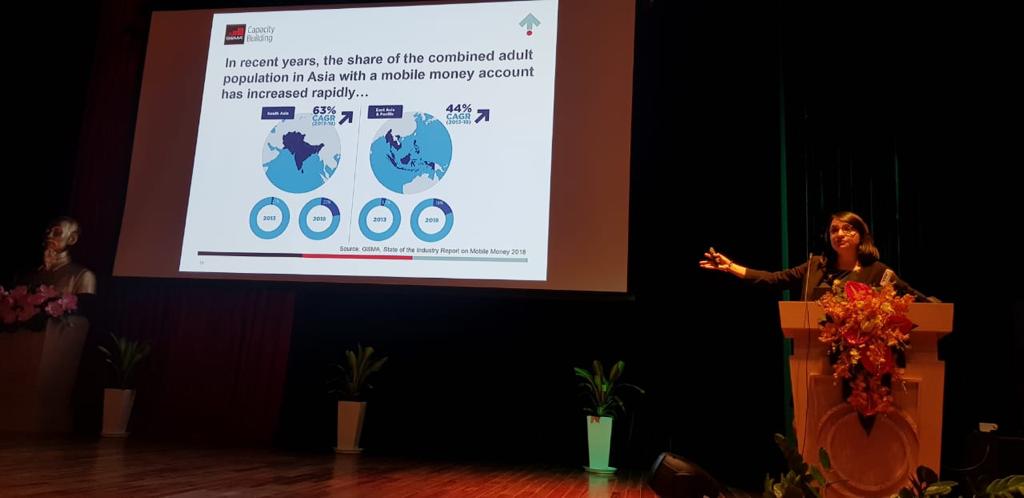 According to the Global Findex, only 31 per cent of the adults in Vietnam had access to a formal account as of 2017 (compared to 21 per cent of adults in 2011) with an estimated 50 million adults remaining unbanked. In fact, Vietnam is one of the 25 countries prioritised by the World Bank as part of the UFA2020 programme, which endeavours to enable 1 billion people globally to gain access to a transaction account through targeted interventions, due to its large population and low rate of financial inclusion. Vietnam issued regulatory guidelines on non-cash payments in 2012, followed by a government-issued circular guiding the intermediary payment services in 2014. Under the current regulatory framework, 29 players are offering various payment intermediary services in Vietnam.
Here are some of the most vital learnings from the workshop, regarding Vietnam's evolving digital payments market:
Vietnamese customers are high adopters of digital payments:
A dynamic Southeast Asian market with more than 60 per cent of its population economically active, Vietnam has a mobile penetration (unique subscribers) rate of over 78 per cent. Among mobile phone users, 84 per cent were smartphone users in 2017, compared to only 78 per cent the year before. The State Bank of Vietnam revealed that transactions over digital wallets and mobile applications rose by 161 per cent and 126 per cent respectively during the first three quarters of 2018. Vietnamese customers are increasingly adopting digital payments, and the Vietnam mobile payments market is projected to reach $71 million by 2025, demonstrating a CAGR of 18.2 per cent from 2018.A higher mobile penetration than bank accounts demonstrates the potential of mobile money to increase financial inclusion and further push digital financial services in Vietnam. In 2018, mobile payments in Vietnam increased by 61 per cent, but predominantly in urban areas. It's clear that Vietnam needs an affordable country-wide payment infrastructure, and mobile money services have the potential to bridge this gap.
Regulatory support is the key to success:
Under the current regulatory framework, 29 players (such as MoMo and Viettel Pay) are offering various payment intermediary services in Vietnam.In 2018, GSMA Mobile Money launched an interactive tool to comprehensively measure the effectiveness of mobile money regulatory frameworks. The Mobile Money Regulatory Index supports dialogue between regulators and mobile money providers on reforms that can promote market growth. Vietnam scored 69.96 on a scale of 100 in our assessment, with the highest score obtained for Transaction Limits, and the lowest for the Agent Network.The State Bank of Vietnam disclosed that they have revised the existing regulatory guidelines, essential to promoting mobile money in Vietnam. The updated guidelines are under review and a consultation process is underway with other relevant ministries. MIC in co-ordination with SBV are working to develop a mobile money project to permit MNOs to pilot mobile money service not linked to bank accounts.

Mobile operators need to remain agile to ensure their core assets remain market strengths rather than liabilities:
The workshop allowed us to interact with key mobile operators and understand the advances they have made in mobile money pilot planning. Mobifone, VNPT and Viettel have commenced plans to launch mobile money pilots in 2019 following appropriate permits. Vietnam's MNO market is largely prepaid, with over 90 per cent of customers using scratch cards to recharge. In order to successfully launch mobile money services, it is imperative that operators launch an extensive agent network, especially in underserved rural areas. Transitioning prepaid scratch card-dependent customers to an alternative mobile money distribution channel with a digital interface will be vital to ensure the success of mobile money services in Vietnam's digital financial landscape.
It is evident that the government and regulatory push in Vietnam towards mobile money as a means of increasing financial inclusion and enhancing digital society is unwavering. If the enthusiasm among workshop participants is an accurate indication, the needle on financial inclusion in Vietnam – with a concerted focus on mobile money – should accelerate this year. The GSMA looks forward to continuing to support all stakeholders in this endeavour.