This post is part of a two-part blog series on a programme for Scaling Innovation and Supporting Entrepreneurship across the Indo-Pacific during the pandemic. This programme was funded by the Australian Government's Department for Foreign Affairs and Trade (DFAT) and provided technical assistance to 10 start-ups in Cambodia, Fiji (3), Myanmar (3), Papa New Guinea (2) and Samoa. Here we look at the impact of the programme on Cyber Food, an online food delivery start-up
Cyber Food: Pioneering online food delivery in Fiji
Founded in 2018, Cyber Food is a food delivery platform in Fiji. It started as a restaurant delivery service, but it is now focused on delivering groceries to customers. In 2021, Cyber Food were selected by the GSMA and DFAT as part of a cohort of start-ups on the scaling innovation and supporting the entrepreneurship ecosystem across the Indo-Pacific programme.
Cyber Food project timeline in Fiji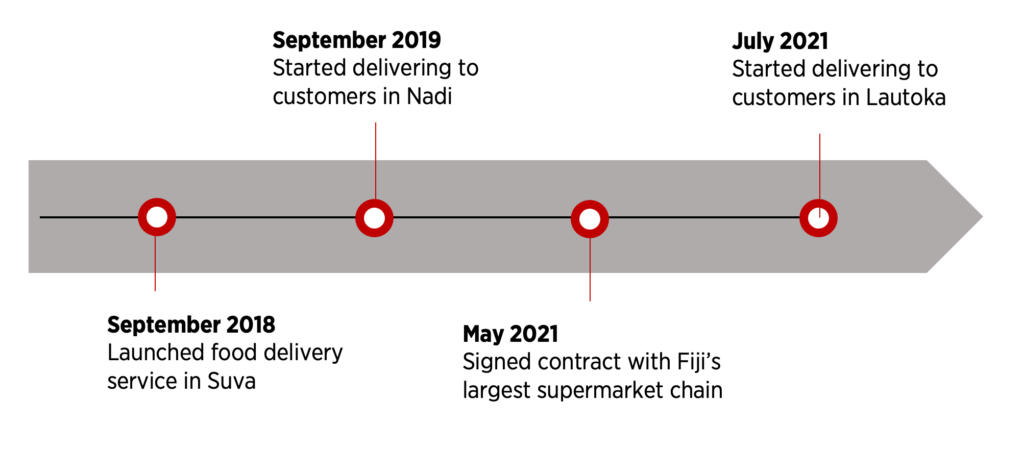 Online food delivery comes to the fore in the pandemic
Largely spared an outbreak in the first year of the pandemic, cases of COVID-19 in Fiji increased dramatically in 2021. Most public places on the main island had to close, other than essential businesses including supermarkets and pharmacies. Even then, concerns around catching the virus in busy public places led several people to stay at home. Many restaurants in Fiji also faced restrictions, such as being forced to close for dine-in or maintain limited dine-in operations due to social distancing measures.
Cyber Food played an important role in supporting local people and businesses during these times. The start-up accepts grocery orders from customers via Facebook Messenger, WhatsApp or Viber. Cyber Food then instructs one of its drivers to get the items from the grocery store and deliver them to the customer. In the future, Cyber Food aims to develop a more automated solution for its grocery delivery services. Cyber Food's service allows users to get their items without having to visit a grocery store, which reduces their risk of catching COVID-19. As the drivers have a strong knowledge of store layouts, it means they can shop faster, which also helps to reduce the spread of COVID-19.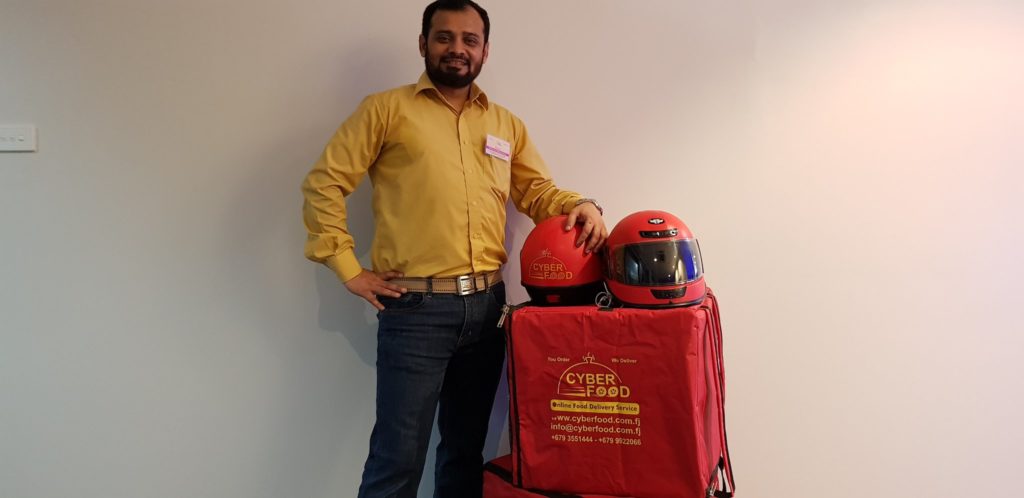 Cyber Food founder, Majid Shahzad
In addition, Cyber Food operates a website and digital app that allows customers to order from local restaurants and pay via mobile money (M-PAiSA) or credit/debit card. The start-up also accepts restaurant orders from customers via phone, SMS, OTT messaging services and social media. This allows Fijians to continue enjoying their favourite foods during periods of lockdown and social distancing measures.
Scaling innovation and supporting the entrepreneurship ecosystem
To help Cyber Food scale its business at a critical time, the GSMA provided support in the following areas:
Mentoring: A dedicated mentor and entrepreneur in residence was assigned to Cyber Food's management team for 6 months to assess the start-up's business needs. They helped to identify Cyber Food's unit economics were unsustainable, delivery costs were too high, and restaurants were reluctant to accept a commission-based model, limiting Cyber Food's revenues. As a result, the mentor helped Cyber Food to develop a new business plan that focused on providing a grocery delivery service through private car owners.
Technical assistance: The GSMA worked with UrbanEmerge and The Hungry Lab to provide bespoke technical assistance in response to the business needs identified by Cyber Food's mentor. Key outcomes included the creation of financial models to help Cyber Foods get a better understanding of their key business metrics, as well as improvements to Cyber Food's website and a digital marketing strategy to help with Cyber Food's business expansion.
Gender technical assistance: The GSMA worked with specialist advisory firm Value for Women to help Cyber Food introduce new policies and systems for advancing gender inclusion. For instance, Cyber Food introduced more gender-balanced interview panels to improve hiring decisions. The start-up also received tangible advice that it could use to reach more women with its services.
Training sessions: The GSMA organised a two-day workshop on working with mobile operators, giving start-ups practical advice on building relationships. As part of the session, Cyber Food refined their business pitch and had the opportunity to pitch to a CEO from local mobile operator.
Cyber Food has experienced strong growth in 2021
Cyber Food is playing an important role in Fiji's COVID-19 recovery. The food delivery service has provided a vital lifeline to many people during the pandemic, particularly those people who are most vulnerable to the virus or people facing periods in quarantine. This is demonstrated by the fact it recorded a four-fold increase in monthly active users in the first half of 2021, albeit from a relatively low base. A key reason behind Cyber Food's recent growth is the contract it signed with Fiji's biggest supermarket chain in May 2021.
Cyber Food's food delivery service is also helping local business owners offset the impact of the pandemic on business trade. For instance, Cyber Food helps grocery stores to continue serving customers who are self-isolating. Restaurant owners have also turned to food delivery to boost revenues due to the impact of closing their restaurants and operating at reduced capacity during the pandemic.
Furthermore, Cyber Food is giving an opportunity for local car owners to partner with them and deliver food to customers. The start-up is specifically targeting car owners who are unemployed, which is important given that many Fijians have lost their jobs due to COVID-19's impact on tourism. Cyber Food offers training to all new staff. Furthermore, private car owners delivering food for Cyber Food make an average of $250 a week. This highlights how innovative services like Cyber Food create new job opportunities in the ecosystem.
2021 has been a significant year for Cyber Food. The start-up experienced rapid user growth following a pivot to groceries and a new delivery model, enabling it to contribute to Fiji's COVID-19 recovery. The GSMA and DFAT's support can also help Cyber Food continue this success into 2022 and beyond. The work on website and app development, digital marketing and partnership-building will help to attract new users to Cyber Food's platform, while the move to professionalise key business functions will enable the start-up to track key business metrics more closely.
The Ecosystem Accelerator programme is supported by the Australian Government, the GSMA and its members.