Regenize is a recycling collection solution that's on a mission to make recycling more accessible, inclusive, and rewarding. They provide a 'freemium' recycling collection service that incentivises residents with Remali, a virtual currency that can be redeemed for various rewards such as airtime, data and grocery vouchers.
In South Africa, there are high processing rates for recyclable waste that makes it to facilities. However, there are low household waste separation and collection rates with only 7.5 per cent of South Africans separating their waste. South Africa's recycling sector rests on the roughly 90,000 waste pickers that collect material from households and business. These waste pickers make huge contributions to the sector. It is estimated that they save the government up to $50 million a year through landfill airspace, and it estimated they collect up to 90 per cent of all the recycled paper and packaging waste. Despite this, they work in dangerous conditions, searching through bins or landfills as they do not have access to clean, separated recyclables.
The GSMA are supporting Regenize to scale their solution through establishing new Decentralised Recycling Hubs (DRHs) and developing version 2.0 of the Recycling App and Remali App. Regenize will provide the waste pickers with uniforms, fossil-fuel-free recycling tricycles, equipment, mobile devices, access to clean recyclables and a DRH to sort and store recyclables in a safe environment. Residents working with Regenize will earn a virtual currency, Remali, each time their recyclable waste is collected (1 collection = 150 remali = 1.50 Rands). The Remali earned can then be redeemed for various rewards, such as airtime, data and grocery vouchers. Alternatively, they can use a QR code to access their Remali at a local shop in their community.
We caught up with Chad Roberts and Nkazi Miti, the founders of Regenize, to discuss their solution, and how they expect it to develop in the coming months and years.
What need does your service cater to?
Regenize provides a decentralised recycling collection service that is accessible to all lower-income residents and communities, inclusive of waste pickers, and rewarding for all. The three-pronged approach ensures that we reach all stakeholders involved in the recovery and diversion of recyclables at source. The recyclables diverted include dry materials such as paper and cardboard packaging, plastics, glass, lite aluminium, and steel. We use technology in the form of a recycling collections application and Remali, our virtual currency.
Firstly, the Recycling App enables us to manage the accessibility and inclusivity of the service. We can onboard and track residents' recycling with Regenize, the waste pickers that serve those areas, and the waste recovered, sorted and diverted from landfill at source. It allows us to have accurate data collated about the recycling activities and interactions with recycling residents.
Secondly, the app and Remali act as a behaviour change tool, that educates and incentives good actions such as recycling – ensuring a consistent stream of sustainable behaviours. As residents provide recyclables, they earn Remali, and can use those Remali to redeem vouchers on our online and offline platforms.
In essence, Regenize sets up Decentralised Recycling Hubs (DRHs), signs up and activates local communities with a localised professional service, and incentivises the participation of household residents. Regenize is currently in the process of launching the second version of our technologies and expanding into the greater Cape Town Metropole, poised to service over 10,000 households in the next 12 months.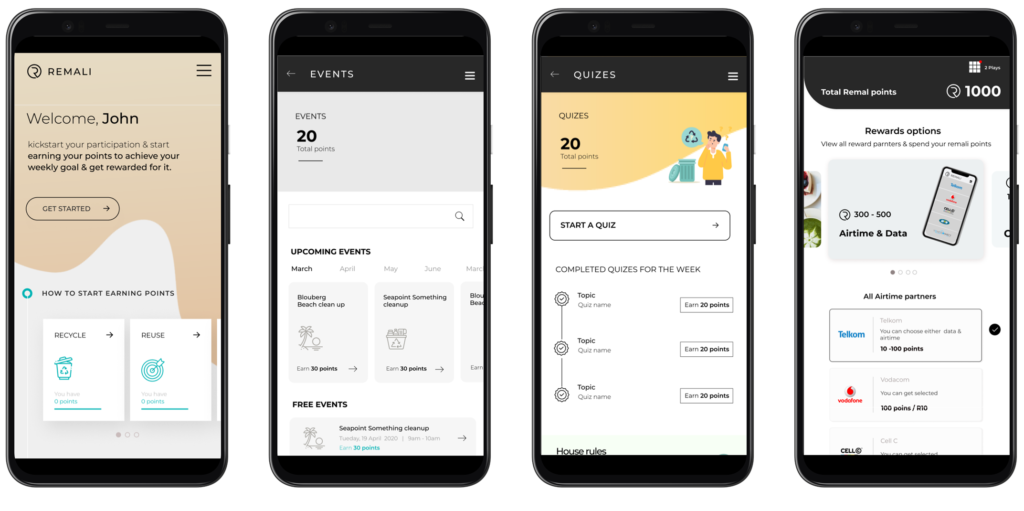 What are the challenges you expect to encounter in deploying the solution and with digital adoption?
Though South Africa has a high rate of mobile usage and access, many lower-income communities struggle to access affordable and reliable network and internet service providers. In addition, data is expensive and a low priority to households' expenditure in general. This results in a large population using feature or limited feature mobile devices that may only access limited applications such as social media and basic tools.
To alleviate this, we have developed an offline version of Remali – also known as 'Simplified Remali' – linked to local convenience stores (spaza shops). This allows for residents to redeem rewards earned from recycling activities through their local participating stores. This method helps stimulate the local economic activity and facilitates the use of mobile by spaza shop owners to perform transactions.
We have also been developing a USSD variation of Remali that can be accessed by users of feature mobile devices. This is an important feature of our technology that will be availed post version 2.0 of the Recycling App and Remali App.
What are you expecting to learn through the GSMA project?
Regenize has participated in various accelerators and programs to assist in its development. During the work that will be done with the support of the GSMA, we expect to learn about integrating technology for purpose (impact) within lower-income communities. We are also hoping to learn how to leverage telecommunications industry expertise, support and infrastructure to sustain that impact.
Part of this is connecting with industry leaders, experts and further developing our business model to facilitate the expansion and scaling of our technologies.
How do you see your business model evolving?
Initially, Regenize was developed as a recycling software technology company set to grow towards a SaaS model in which its Recycling and Remali software technologies would be made available for licensing or white-labelling. However, we had to backward integrate into a company focusing on recycling collections to develop our reputation and offering in the waste industry. We have grown our IP and will be seeking to franchise aspects of the model (software technologies, decentralised infrastructure) in order to maximize its reach and impact. Regenize is aiming to create an accessible, inclusive, and rewarding environmentally sustainable ecosystem in Africa. Within five years, we are aiming to achieve a national replication within South Africa with a potential partial replication of this offering in other African countries to be piloted.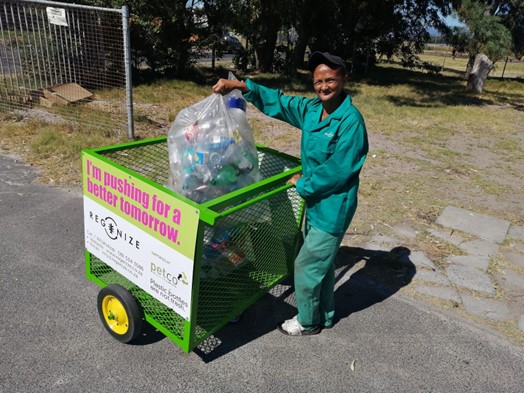 What partnerships have you formed, and what partnerships do you hope to form in the near future?
We have a standing support network from MTN, one of the major mobile network providers in South Africa. The relationship was cultivated during our participation in the MTN University of Cape Town Graduate School of Business (UCT-GSB) Incubation Programme, in 2018. Part of the programme facilitated the formation of a post participation, collaborative relationship with MTN. One of MTN's leading project objectives is the expansion of its Ayoba Services, a super app which offers users access to digital and rich media services through channels, micro-apps, and payment solutions. Regenize will tap into this with its Recycling and Remali Apps. This partnership will be activated with the completion of version 2.0 of our Recycling App and Remali App.
In addition, we are currently further developing our network and reach through the support of SEED. SEED is an organisation that promotes entrepreneurs developing solutions for sustainable development in developing countries. Our relationship was formed through the SEED Accelerator Programme, which has now enabled us to access interest and partnerships linked to the franchising of our services throughout Africa in the near future.
We are also working towards adding fast-moving consumer goods (FMCG) industry stakeholders as partners by leveraging the diversion of plastic and paper packaging policies and related environmental taxation strategies being implemented by the government. We are seeking to onboard FMCGs to our Remali offering.
In addition, as growth and expansion is achieved, we will seek to partner with local municipalities to integrate with local waste management services in selected areas.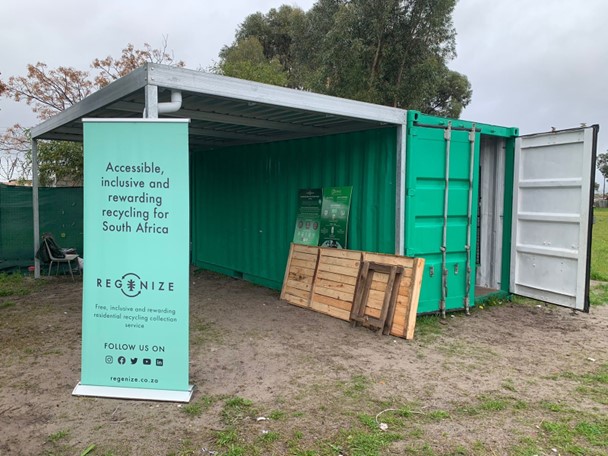 What needs to happen to make this product/ service scale and become sustainable?
We have developed a suite of services, implementation standards and supporting technologies that form our IP. Our success is driven by our value proposition to partner, namely:
Free Decentralised Recycling Collections Services (FDRC) – this sets up a recycling collections service, inclusive of waste pickers that perform that work with us to service local households. It is unique in that it enables recycling services to be available to low-income communities that would otherwise not receive it due to lack of infrastructure and government priority and investment.
Remali – the virtual currency is built as a behaviour change tool that not only incentivises individuals with additional opportunities for disposable income, but also acts as an education and activation tool that drives them towards making zero-waste lifestyle choices.

Customer-centric support technologies – that enable a personalised profile and journey for individuals activated to perform recycling and other zero-waste activities through Regenize.
For a successful replication partnership of these services, we would require the following:
License-based agreements with franchise partners that are flexible based on the environment of the implementation. Also, Regenize and its partners would need to align on strategy with any existing technologies being integrable.
Government integration in which our recycling service can be subsidised as part of a public waste management expenditure budget.
Retailer and FMCG integration in which environmental strategies are aligned and plastic packaging waste is diverted from seas and landfill.
To make all this possible, we are looking for supporting partnerships in the form of technology industry infrastructure providers, expertise and advisory for the integration of its technologies with retailers, FMCGs, Government and Producer Responsibility Organisations (PROs). In addition, we will require impact-focused investments to finance the expansion and replication.
THIS INITIATIVE IS CURRENTLY FUNDED BY THE UK FOREIGN, COMMONWEALTH & DEVELOPMENT OFFICE (FCDO), AND SUPPORTED BY THE GSMA AND ITS MEMBERS.