This is the first blog in a series introducing the grantees and key partners supporting The GSMA Innovation Fund for Digitisation of Agricultural Value Chains.
In 2019, the GSMA AgriTech programme launched The GSMA Innovation Fund for Digitisation of Agricultural Value Chains, which aims to scale digital solutions for the agricultural last mile and improve smallholders' financial inclusion, livelihood and climate resilience. The Innovation Fund prioritises digital enterprise services targeted at organisations, like agribusinesses and cooperatives, procuring from smallholders living on less than $2 (USD) per day. It emerges from the success of the 3-year mNutrition Initiative that tested and scaled digital advisory services for smallholder farmers in six markets across Africa and Asia. This Fund is the latest step in the programme's evolution to unlock the impact of a wider range of digital agricultural use cases.
Background
While we reached over 15 million farmers through our mNutrition Initiative, exceeding targets, we observed that digital advisory services offered in isolation provide a very narrow value proposition to smallholder farmers. By bundling these services with additional use cases (for example, digital financial services, digital procurement or agri e-commerce) we can deliver much more holistic value.
For example, although pushing advisory messages to farmers about new seed varieties or types of fertiliser is useful, it may not be actionable unless the farmer has access to input suppliers and has working capital to buy these inputs – most smallholder farmers do not. Further, providing advice on market prices alone is of little value, if a farmer cannot access fair crop buyers due to poor market linkages. These are just two examples of gaps that the Innovation Fund aims to address.
About the fund
With the goal of improving smallholders' financial inclusion, livelihood and climate resilience, this Innovation Fund aims to scale digital solutions for the agricultural last mile. To achieve this, the Fund is investing in seven grantee-led consortia who are committed to design, develop, launch and scale commercial services incorporating a range of digital agriculture use cases including:
Digitising procurement records and smallholder farmer profiles (static and dynamic information);
Digitising procurement payments to smallholder farmers via mobile money;
Offering digital advisory services; and
Providing digital financial services (loans, savings or insurance).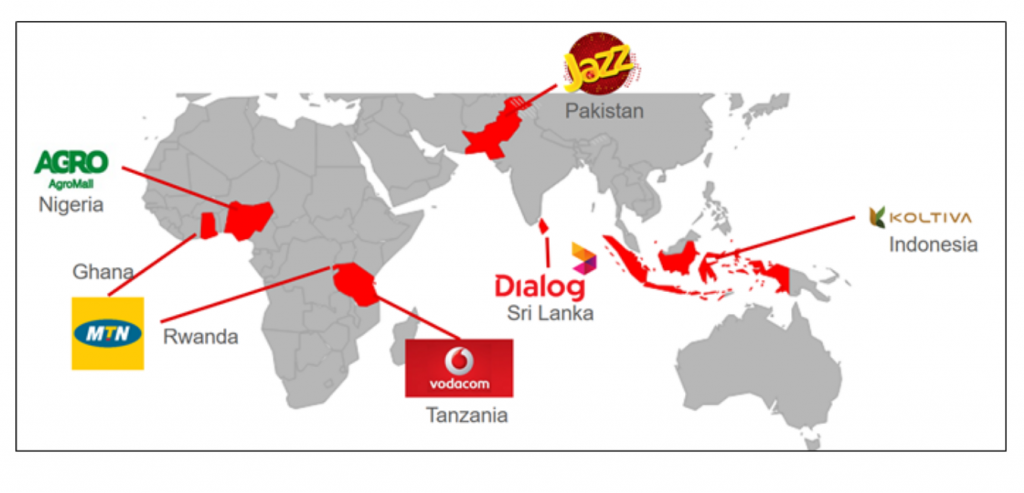 Partnerships set-up
The consortia are led by either Mobile Network Operators (MNOs) or agritech companies who have been awarded 2 year grants via a competitive selection process. Each of the grantees has formed a consortium with local agribusinesses and financial service providers who play critical roles in enabling smallholder farmer access to digital agriculture services. Consortium member roles and expected benefits are as follows:
Agribusinesses will use the digital services developed as part of the Innovation Fund to optimise last mile operations and improve engagement with their supplier base. By digitising farmer profiles and procurement records and payments, agribusinesses will experience operational efficiencies and cost savings.
Farmers will benefit too as they become more digitally literate and build up digital footprints consisting of transactional data and other farm and farmer data – key prerequisite to achieving financial inclusion.
Financial service providers will leverage these digital footprints as functional economic identities to assess the creditworthiness of farmers and offer them financial services tailored to the needs and realities of smallholder farming. These financial services will allow farmers to withstand climate shocks and invest in climate mitigation.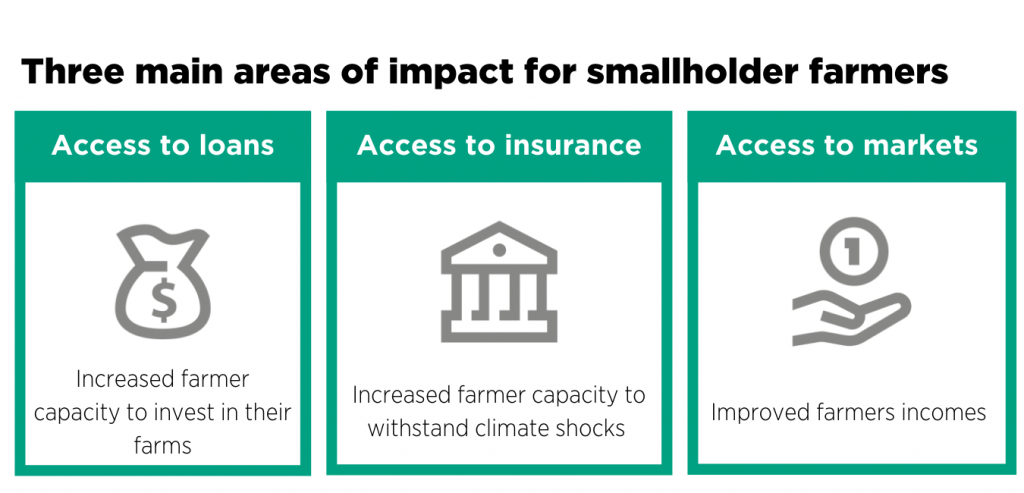 Future blog posts in this series will examine the Innovation Fund's Theory of Change outlining how we are planning to achieve our intended impact on farmer incomes and climate resiliency, so stay tuned.
Specialty support provided by GSMA AgriTech
The GSMA is supporting each of the seven grantees with risk capital and a comprehensive package of targeted consultancy services covering a range of areas such as user experience research; business intelligence; monitoring, evaluation and learning; product and project management; and reporting. Two partners who enable this support package include Altai consulting, who is leading on monitoring, evaluation and learning, and design firms Cobalt and YUX, who are providing user-centric research and product design.
The ongoing COVID-19 pandemic forced the grantee consortia and support partners to adapt to new ways of remote working while continuing to engage rural smallholder farmers on in-depth design research and impact assessment activities despite the challenging operating conditions. Stay tuned for future blogs in this series will feature lessons learnt.
Call to action for prospective partners
Innovation Fund grantees are keen to scale their digital services to reach more agribusinesses, financial service providers and farmers in across different value chains.  To enable this, we are excited to facilitate new connections and broker partnerships with our grantee consortia. If you represent an agribusiness, bank, or insurance provider in any of the seven grantee markets and are interested in learning about opportunities to partner with Innovation Fund grantees, we would love to hear from you. If you are not active in our seven grantee markets but are still keen to learn about the benefits of digital agriculture or develop your own digital service, we would still love to hear from you to explore different ways to support. Get in touch at agritech@gsma.com and join us on the journey in digital agriculture!
---
THIS INITIATIVE IS CURRENTLY FUNDED BY THE UK FOREIGN, COMMONWEALTH & DEVELOPMENT OFFICE (FCDO), AND SUPPORTED BY THE GSMA AND ITS MEMBERS.