This blog post is the first in a two-part series on mobile money agent loyalty.
With mobile money agents growing to 4.3 million across the globe, it is clear that the industry is not only making a huge investment in developing services, but also in growing their frontline partners who are active and productive participants in mobile money distribution. Beyond providing cash-in and cash-out services, mobile money agents offer an important entry point for customers by signing them onto the service, educating them on existing and new use cases, and promoting ecosystem use cases, such as disbursements and service payments (Business-to-Customers (B2C), Customer-to-Business (C2B) and Business-to-Business (B2B)). Some mobile money agents also distribute airtime, sell devices and offer other services, making them an important asset in the business. Most importantly, especially in underserved rural communities, agents provide customers with financial service awareness and education. Furthermore, agents serve as a first line of support for customer escalations, owing to the trust bestowed upon them by their customers.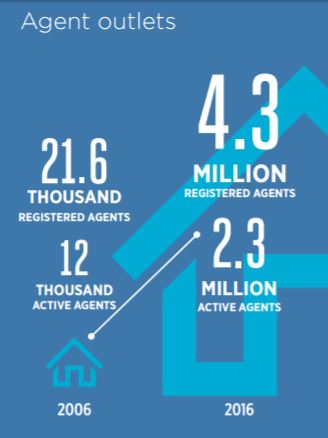 Despite the fact that business opportunities in mobile money continue to entice agents to sign up, the global number of active agents still remains relatively low at 2.3 million, representing only a little over half the total number of registered agents.[1]
[1] An active agent outlet is an agent outlet where any of the tills were used to facilitate at least one transaction within the last 30 days
Further, agent commissions are one of the highest costs that a provider will incur, with more than half of the total mobile money revenues going to payment of commissions in 2015. This comes with additional OPEX and CAPEX burdens from technology, administrative, marketing and personnel, especially at the start-up and high-growth stages. The business value (in terms of brand strength, growing profits, meeting consumer needs, etc.) that a provider attaches to mobile money services will be demonstrated by how much investment they make, and importantly, on how their agents deliver the highest standards to promote services to customers.
Over the years, we have learnt that mobile money providers struggle to understand how they can improve the relationships with their most important customer-facing partners to continuously bring value to customers, and consequently their business. Agents also need to see immediate value in doing business with providers. If this value not provided by the provider when they sign up, they will either churn and close the business completely, sign up for the same business with a competing service to increase their chances of growing their income, or face endless challenges that lead them to perform poorly.
Why providers should consider an agent loyalty program
Successful loyalty programs are dependent on the speed of implementation, viability of the loyalty use case, value proposition to the agent, and creative and innovative nature that attracts agents and incentivises them towards the desired actions.
Mobile money providers may have different motivations to win the loyalty of their agents, and these may include:
• To increase agent stickiness and by extension customer stickiness, since agents act as ambassadors to the service
• To promote a new product in the market, as trusted partners are best placed to position your products in the market
• To enter a new market, as new agent acquisition is required and a loyalty program would increase agent market share in the long term
• To ring-fence agents against all kinds of competition that will threaten mobile money services. Competition is no longer from other mobile money services, but also from banks and other industry players. Banks have started to cut down costs and are moving to an agency model, while other industry players are increasing their footprint in emerging markets and could easily buy out a provider's trained agents
• Anti-competition regulation may force operators to share their network with their competition. Where the agent has to decide which operator to invest their float, the one with the strongest value proposition for their customers and agents would more easily win the day since this is assured revenue for the agent
• To drive quality, as agents adhere to liquidity requirements, set AML standards, customer acquisition and education, and branding
• To encourage agents to offer good customer experience by driving transaction volumes and therefore increase active customer market share
In the next blog post, I will discuss recommendations for providers when offering mobile money agents incentives for their loyalty.
Notes: 
[1] An active agent outlet is an agent outlet where any of the tills were used to facilitate at least one transaction within the last 30 days