It's easy to assume that pay-as-you-go (PAYG) solar has great value for mobile operators as customers use mobile money for regular payments, and can more easily keep their phones charged. But we need to quantifythis value in order to really understand why and how resources should be invested to strengthen these partnerships that can jointly expedite and improve energy access, along with digital and financial inclusion. Through our recent study, "The Value of Pay-as-you-go Solar for Mobile Operators," we have demonstrated through data how valuable those partnerships are. To answer the second part – on the implications for investing in these partnerships – we hosted a discussion with mobile operators, MTN Benin and Orange DRC, PAYG solar provider, Fenix International, and the energy access research group from UNCDF. Here are a few of the key points from that conversation.
First, a reminder of the findings from our study. We looked at data from mobile operators across five African markets and saw that key mobile usage indicators increased when customers started using PAYG solar, and the growth always outperformed the control group of customers (without PAYG solar) for the same period. As summarised in the infographic below, PAYG solar drives increased usage of mobile money and GSM services (SMS, voice and data) and thus generates more revenue per user (ARPU) for operators. We see that PAYG solar firstly enables mobile money adoption or re-activation, and then promotes mobile money usage beyond just solar payments, including more sophisticated loans and savings products.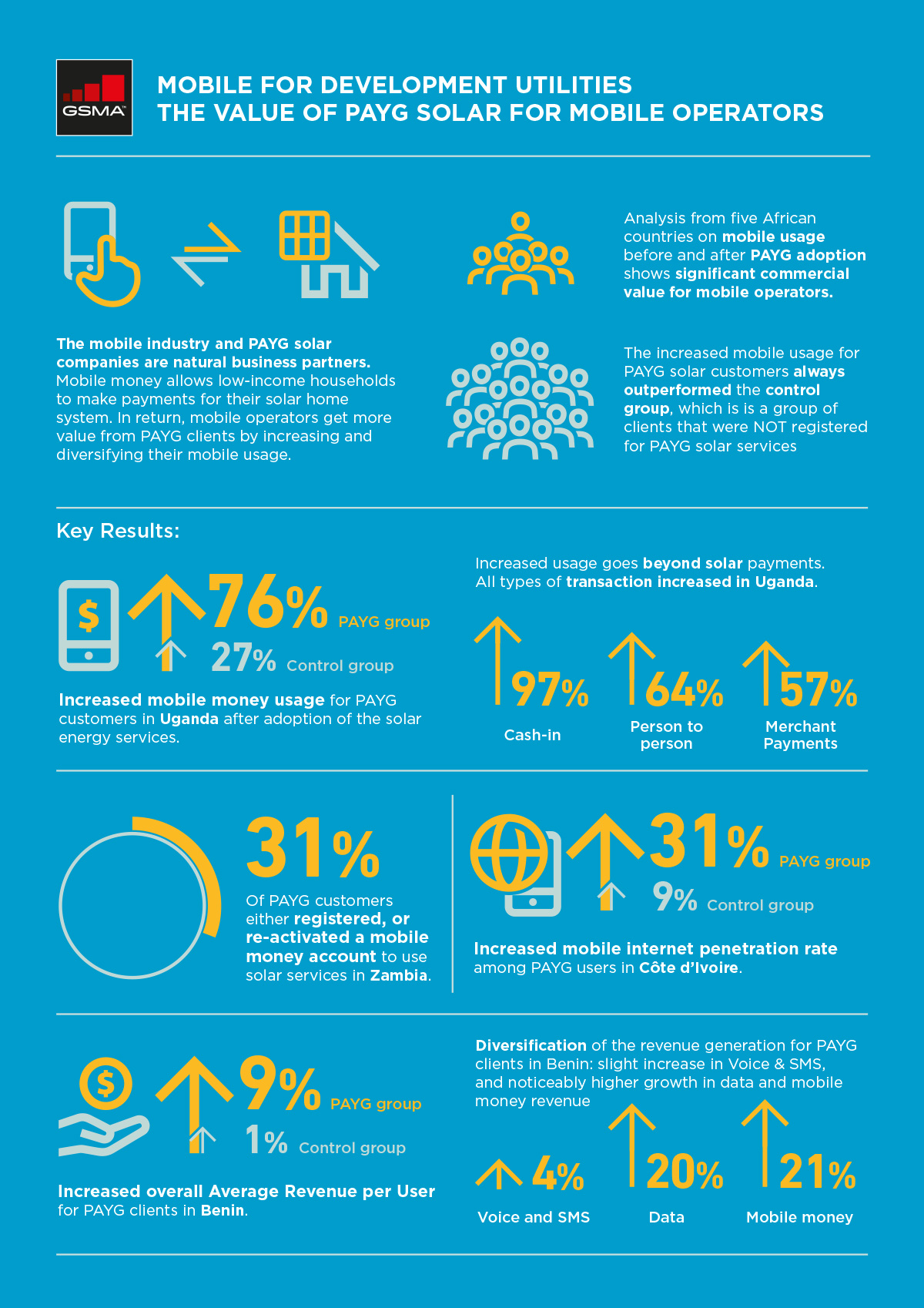 Our virtual discussion exposed some additional evidence of value, and a strong appetite for mobile operators and PAYG providers to work more closely together in a few key ways. Beyond the below summary, you can watch the full recording of the event.
The value of PAYG solar for mobile operators is significant, with customers' increased GSM usage a welcome surprise
The conversation kicked off with Hermann Ahouandjinou, Head of MTN Mobile money Benin, Sales and Distribution.MTN Benin was drawn to collaborate with PAYG solar companies in order to increase their active mobile money subscribers, and the data shows it is a success through both new or repeat activations (between 20 – 23 per cent for Benin) and usage. What pleasantly surprised Hermann, was that new PAYG customers in Benin increased their data usage by 20 per cent (compared to eight per cent of the control group) and that even voice and SMS usage increased despite a downward trend for the control group, as also seen in the broader industry.
Akim Musimwa, Director of Orange Energie at Orange DRC, shared that these trends are even more pronounced in the DRC. The market has lower mobile money penetration to begin with, so close to 50 per cent of their new PAYG solar customers activate or re-activate mobile money to use the service. They've also seen that among PAYG solar customers, around 25 – 30 per cent that had stopped using GSM services previously, became active again, reinforcing the correlation between reliable charging and phone usage.
Alison Boess, Head of Global Credit for Fenix International, reflected on the evidence for PAYG solar driving financial inclusion, as the study showed customers increase their usage of mobile money across all transaction types, not just merchant payments for solar, as shown below. Considering this, and the impact on GSM services, she noted, "it's exciting because we can talk with any [mobile operator] partner about what their strategic priorities are…. a partnership with a Pay-go company can help solve for some of these….".
We also heard about similar evidence from Robin Gravesteijn, the UNCDF Lead for Data and Research on Clean Energy, collected through their action research with Schatz Energy Centre, Dalberg Data Insights and the Uganda Energy Association. Their study also demonstrated the wide impact that PAYG solar has on quality of life, such asa reduction in traditional fuels, increased savings, improved health and safety, and increased study hours for children, thereby helping to achieve several SDGs. Robin also provided cautionary evidence of how the announcement of mobile money taxes, in Uganda in 2018, immediately reducedthe first-time mobile money activations by PAYG solar customers – dropping from 17 to 10 per cent. Yet, when the mobile money tax on bill payments was reversed, the PAYG solar activation rates quickly recovered, demonstrating the risk to both financial inclusion and energy access from these policies.
Yet Robin also highlighted the huge opportunity for expanding PAYG solar in Uganda where 72 per cent of the population lacks electricity, and yet only 12 per cent use PAYG solar (as of December 2018), but 44 per cent of the population have a mobile phone subscription. Clearly, there's more work to scale these solutions faster, which begs the question of how mobile operators and PAYG providers can strengthen their partnerships to achieve that.
How can mobile operator and PAYG solar partnerships provide greater impact and value?
This has been a key focus of the GSMA's work in this industry, and the panel conversation referred to some important best practices. Alison from Fenix and Hermann from MTN Benin spoke about the opportunity for coordinated marketing strategies, which Fenix and MTN Uganda demonstrated early on in their GSMA Mobile for Development Utilities Innovation Fund grant. Hermann suggested giving PAYG solar customers an additional mobile credit bonus when they make top-ups for their solar home systems.
Alison also referred to the key strategy of turning their PAYG solar sales agents into mobile money agents, which can become a necessity for PAYG solar companies where mobile money agent networks are not well-developed. Fenix's recent pilot with MTN in Zambia, to measure the value of this dual-agent model, suggests that agents can benefit from increased income, and they can instil more brand loyalty with customers. CGAP previously researched this on a deeper level to see that PAYG solar companies might benefit from even becoming mobile money "master agents," thereby operating their own network of mobile money agents. However, this hasn't been widely adopted yet.
Related to this, it's key for mobile operators to offer easily accessible and robust mobile money services. Akim from Orange DRC and Hermann from MTN both reflected on the opportunity the report suggests for operators to benefit from the growing number of PAYG models, beyond energy, that can reach a new customer segment with essential services, like water and cooking gas. To fully capture those opportunities, mobile operators can ensure their APIs allow for easy integrations. GSMA has developed harmonised mobile money APIs to support this. GSMA also created the Instant Payment Notification Hub to ease payment integrations, which has now been spun out to the industry and is operated by Beyonic Inc, which was recently acquired by MFS Africa, which we anticipate will lead to further scale of the payment solution.
One of the big unanswered questions was around using data for credit scoring. The panellists discussed that there's opportunity for this to work in both directions –mobile usage history may be a good indicator of creditworthiness for a PAYG solar product, and repayment on a solar product could be used for pre-approval for more sophisticated mobile lending products. Although this opportunity has been long-discussed, and remains highly attractive to both parties in order to scale more quickly and reduce the default rate of their client base, we believe it continues to be held back by some important barriers. Of utmost importance are customer privacy and protection, as well as adherence to the regulations that protect them, and there are ethical considerations to be made – particularly in light of increasing concern about over-indebtedness through non-operator mobile lending apps. Resource constraints to develop these models are another factor. Although, it is possible to conclude that the findings from our report demonstrate that the value of PAYG solar for mobile operators may be worth the costs to in order to scale PAYG models.
In closing, the panel was keen to see more done in all areas of strengthening mobile operator and PAYG partnerships – particularly in the areas of data analytics. And of course, GSMA is eager to support strengthened partnerships through further research and convenings. What's clear from our research and the discussions is that mobile operators and PAYG solar providers are essential to one another's scaling objectives. Yet more can be done to drive these synergies further, in order to expand a really powerful combination of digital and financial inclusion with energy to improve so many aspects of daily life.
The GSMA Mobile for Development (M4D) Utilities programme is funded by the UK Department for International Development (DFID), USAID as part of its commitment to Scaling Off-Grid Energy Grand Challenge for Development and supported by the GSMA and its members.