One year ago today, world leaders, humanitarian agencies, civil society, and the private sector gathered in Istanbul for the World Humanitarian Summit (WHS). The WHS was called in response to the scale of human suffering caused by conflict and disasters around the world, and in recognition of the need to improve the delivery of humanitarian assistance for the 130 million people who depend on it for survival. The WHS aimed to generate new commitments to action from different stakeholders as part of the Agenda for Humanity. Key themes included providing more dignified and people-centred assistance, investing in local capacity and systems, and transcending the humanitarian-development divide. Within this context, Secretary General Ban Ki-moon made an appeal for cash-based assistance to become the default modality of distributing humanitarian aid where possible.
Transitioning from delivering in-kind assistance towards cash-based interventions (CBIs) has been a dominant theme within the humanitarian sector as organisations struggle to meet growing needs with fewer resources. Large humanitarian agencies looking for improved efficiency, accountability and effectiveness of service delivery are increasingly prioritising cash and digital financial services. For example, UNHCR adopted a specific commitment to scale up the use of CBIs, and to double the amount of funds programmed for CBIs by 2020. This policy states explicitly that UNHCR operations will, as a rule, use digital means to deliver cash-based interventions. Other organisations such as the International Rescue Committee have followed suit, committing to delivering 25% of their aid through cash transfer (including digital) by 2020, and there are many others who are trying to unlock the potential of shifting from in-kind assistance to digital transfers. There are growing examples from the field from World Food Programme (WFP), Mercy Corps and other agencies who are implementing and scaling programmes through cash and digital financial services.
At the WHS, the GSMA made a commitment to expand the remit of the Humanitarian Connectivity Charter to include a focus on this emerging topic. We, along with other private and public sector actors, also committed to building a set of shared Principles for Public Private Cooperation in Humanitarian Payments which were launched in 2017 at The World Economic Forum's Annual Meeting in Davos. Our commitment was born from the belief that mobile money and other mobile financial services could play a key role in the transformation of humanitarian assistance, and that further research into feasibility, partnership models and impact were required to understand this opportunity. By 2016 there were 277 live services across 92 markets, including two-thirds of low- and middle-income countries. Registered accounts have grown nearly six-fold in the last five years to more than half a billion in 2016, helped by a growing network of mobile money agents.
MNOs have continued to partner with humanitarian organisations to support the roll out of humanitarian cash transfers via mobile money. In Iraq, Zain has partnered with IFRC to distribute cash assistance via Zain Cash, in support of those impacted by the ongoing conflict. There are 30 cash-out locations in Mosul, and 2500 across the country. In Chad, Tigo has partnered with the United Nations to support the dispersal of humanitarian cash transfers across the country via Tigo Cash, and in Tanzania Airtel is working with humanitarian agencies including WFP to facilitate humanitarian cash transfers.
A new GSMA study, published today, highlights some of the key considerations for cash transfer programmes aiming to utilise mobile money. The study landscapes humanitarian use cases addressing displaced populations across three markets: Rwanda, Haiti and Pakistan. The key findings of the report, whilst familiar to many who have engaged in mobile money and cash transfer programming, are an important reminder of the constraints and opportunities of utilising mobile money as a modality for humanitarian cash transfers. The study addresses the key enablers for the use of mobile money as a modality for humanitarian cash transfer, as well as demonstrating the benefits and restrictions of different mobile money forms for cash dispersal. Each of these components will impact the successful implementation of a mobile money based humanitarian cash transfer programme.
To bolster the chances of success, stakeholders should follow these high-level guidelines:
Assessment of project feasibility: Both country and humanitarian contexts will impact the feasibility of cash transfer programmes utilising mobile money. Network and agent coverage, agent liquidity, device ownership, KYC requirements, gender gaps, and the lead time required to establish effective partnerships, must be taken into consideration by both parties. A common and realistic understanding of the challenges, opportunities and costs associated with serving displaced populations via mobile money will help determine project feasibility as well as operational and financial sustainability. Mobile money will not always be a relevant mechanism for the disbursement of aid.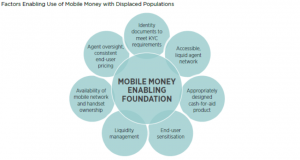 Mobile money delivery mechanisms: In scenarios where humanitarian cash transfer via mobile money can be successful, there are several ways of disbursing CBIs to meet the needs of the beneficiaries in different phases of displacement: (1) transfer of funds into a mobile account, (2) cash-out only voucher, (3) merchant voucher. Each has advantages and drawbacks for the parties involved, including implementation costs, beneficiary identification requirements, long-term financial inclusion impact, self-sufficiency, commercial sustainability, and beneficiary transaction monitoring.
Awareness of the need for reforms: In order to operate in an enabling environment, procedural and regulatory reforms may be required from various stakeholders. SIM dormancy periods may need to be extended to facilitate the receipt of infrequent disbursements. MNOs may need to deploy new fixed or roving agents to ensure sufficient liquidity. Humanitarian organisations may need to stagger payments to relieve pressure on mobile money agent networks. Regulators may need to implement special KYC rules to ensure persons without formal identification are able to benefit from mobile money services.
Preparedness and collaboration: Preparedness is not just about contractual partnerships. It often requires ongoing collaboration between humanitarian organisations and MNOs to create and support the infrastructure required to serve those in need. Collaboration is, for example, often crucial to ensure infrastructure economics, end-user awareness, logistical planning and implementation, and to overcome regulatory hurdles. Efforts should be made to reduce fragmentation between humanitarian agencies to reduce the use of costly bespoke solutions rather than leveraging existing services and infrastructure. Minimum standards and cohesion are required around issues such as beneficiary registration, KYC for humanitarian use cases, platforms and investment, as well as consensus amongst donors on traceability, if long term scale and impact is to be achieved.
Design for differences between and within displaced populations: Displacement has different phases, during which different types of support and service are needed. This has implications for how mobile money deployments should be structured, and which form of mobile money can be best used to serve these needs.
Working together, humanitarian organisations and mobile money service providers have the ability to use mobile technology to lead successful digital humanitarian cash transfer programmes. This can help to achieve increased resilience and transparency, improved efficiency and effectiveness, and most importantly, to better-serve affected people around the world. There is growing momentum around this topic, with recent publications from BMGF, IRC, ODI, CaLP and CGAP (among others).
We hope this conversation continues to grow and that this new report will help inform and contribute to progress at the intersection between digital financial services and humanitarian response.
Download and read the full report here. To join the conversation on social media around the one-year anniversary of the World Humanitarian Summit use the hashtag #ReShapeAid