Why does online safety and security in mobile internet usage matter during Covid-19?
With the lockdown continuing in countries across the world, the reliance on mobile internet services for work, education, entertainment and social activities has increased manifold. Vodafone, which operates in more than 65 countries, says it has "already seen data traffic increase by 50% in some markets."[1] While overall there is a surge in mobile internet usage, there is a corresponding need for consumers to be able to use online services safely and securely. If consumers cannot trust the integrity of online information or services or worry that sensitive personal information could be insufficiently protected online or that they could face harassment, then they are much less likely to go online or use these services.[2]
Although there is no comprehensive global data source available on online fraud, harassment and safety breaches on mobile phones, as we transition from in-person to online modes of communication, we have seen an ever increasing number of news reports on fake news, online scams and frauds.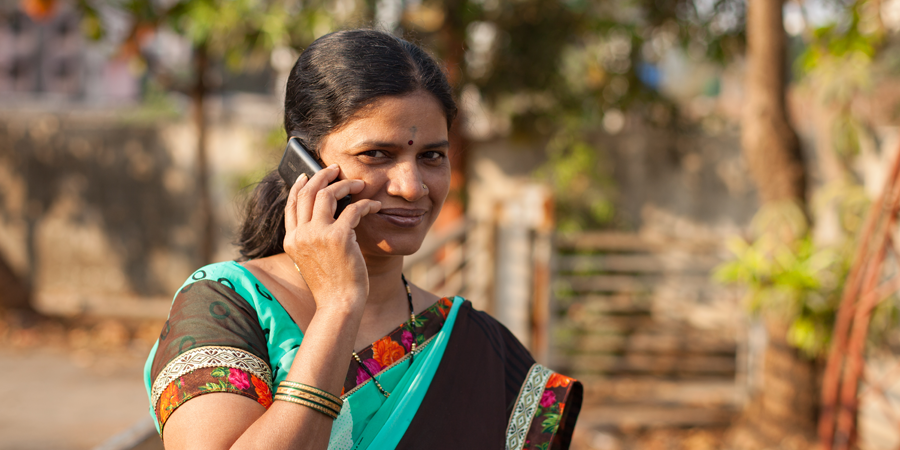 Women at a higher risk of online fraud and harassment?
Women are more likely than men to experience online harassment and fraud from strangers including threats, stalking, and zoombombing.[3] The GSMA Gender Gap report 2020 has found that women tend to perceive security concerns related to owning and using mobile devices, and harassment from strangers, as the third most important barrier to internet adoption and usage.[4]
Socio-economic benefits from addressing women's mobile related safety concerns
Addressing women's mobile-related safety concerns will help to reduce the gender gap in mobile access and use, driving digital and financial inclusion for women, connecting women to life-enhancing services and supporting the Sustainable Development Goals.[5] Helping women feel safer when using a mobile is also a commercial opportunity for mobile operators. Mobile-related safety concerns reduce mobile access and use for women, and lead to revenue loss for the industry, in four main ways[6]:
Reduced customer acquisition: Fewer women start using mobile due to safety and harassment concerns.
Reduced average revenue per user (ARPU): Women limit or stop using mobile, particularly mobile internet.
Increased churn: Women change their phone number/SIM (and potentially mobile provider) to avoid harassment and other threats.
Reduced handset and data revenue: Women may avoid higher end devices or smartphones due to fear of theft or online mobile related safety concerns.
Initiatives to address mobile-related safety concerns have the potential to not only help mitigate lost revenue, but also attract new female customers as women (and their gatekeepers) are reassured and brand perception is enhanced.
A Case Study of Vodafone Idea's Sakhi service
In October 2018, Vodafone Idea Ltd launched Sakhi, a service to address key barriers women face to accessing and using mobile in India, as well as women's concerns about personal safety – both the safety issues and threats that may arise from owning a mobile and general safety concerns that women experience that mobile could help address[7].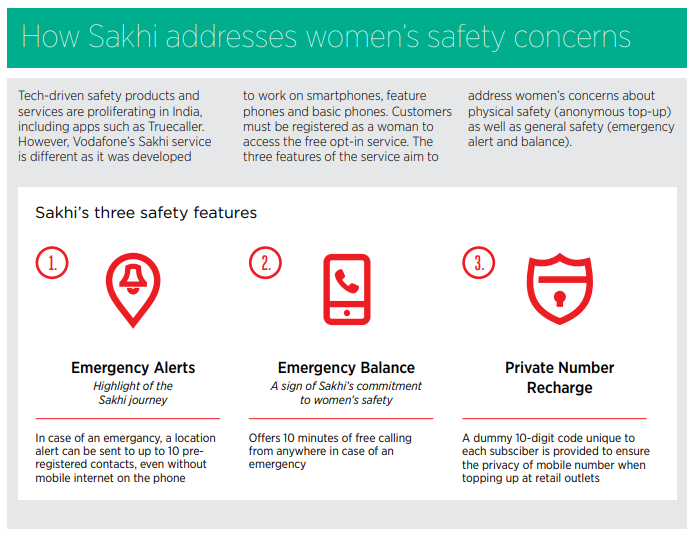 Sakhi has successfully reached millions of women in India due to the proposition focussing on safety and empowerment. It was offered as a free service and usable on any type of mobile phone (smartphone, feature or basic). It had different features responding to different customer needs and segments and a strong marketing campaign that many women could relate to. It was an innovation much needed to address the growing security concern for women in India.
How could your organisation use innovative approaches to alleviate men and women's safety concerns and help close the usage gap?
Start-ups and SMEs in partnership with MNOs, Government bodies, development community and other stakeholders could implement the following approaches to enable men and women to have safe and secure use of mobile internet services –
1. Innovative products or solutions that address safety and security concerns – these sort of innovations include measures such as anonymous top up services, call blocking services, and "safety" services like apps to help women alert contacts.
2. Help women navigate the internet confidently and safely, and feel secure and in control when using internet apps and services [8] – Provide training in how to avoid and respond to negative behaviours and threats; develop tools to transparently and easily allow users to control their privacy and security settings and manage data use.
3. Develop apps, services and other measures to help women feel safer online [9] – Make it easy and safe for customers to report online abuse; collaborate with relevant government agencies to ensure these reports are responded to quickly and effectively.
4. Raise awareness of the threats preventing women from accessing and using the internet and how they can be addressed [10] – Awareness campaigns, digital literacy programmes and formal education programmes/curriculum.
How is GSMA supporting online safety and security?
GSMA continues to support the industry to ensure online safety for all. For example, the GSMA has developed Covid-19 Privacy Guidelines with recommendations on how the mobile industry may maintain trust while responding to those governments and public health agencies that have sought assistance from operators in the fight against the virus. Moreover, the Mobile Internet Skills Training Toolkit (MISTT) includes a training module on online safety, while GSMA's mPower Youth programme is dedicated to promoting safe and responsible usage of mobile internet services through collaborations with stakeholders from across the mobile ecosystem, as well as NGOs and government organisations.
The GSMA has also launched a GSMA Innovation Fund for Mobile Internet Adoption and Digital Inclusion, which aims to support innovative solutions to increasing mobile internet adoption and use. Start-ups and SME's are eligible to apply for grants of up to £250k for commercially sustainable, scalable and replicable projects that focus on innovations in tackling the barriers to mobile internet adoption, including online safety. The deadline for initial submission is 22 May. More details can be found here.