In February, the GSMA Ecosystem Accelerator had a chance to participate in the second edition of Africa Tech Summit in Kigali, Rwanda. The event took place between 13th and 15th of February and brought together several stakeholders including start-ups, mobile operators, other corporates in the ICT space, government representatives, and investors among others. As usual, we thought we'd share some of our insights from this week.
1. The Rise of Africa Tech as an Investment Destination
2018 went down as one of the most successful year for African tech start-ups in terms of raising capital. According to Wee Tracker, African start-ups raised a record breaking $725.6 million across 458 deals in venture investments. If this growth is anything to go by, Africa tech scene is steadily becoming an attractive investment destination with funding across tech companies having more than tripled from about $200M in 2015 to $725M in 2018.
📈🌍Funding raised by #African #startups in 2018 is a burning topic this week. Nothing like a good old excel to understand the figures. Methodologies differ (look at avg. deal sizes) but good news is that funding (in amount and # of deals) is growing massively YoY ! pic.twitter.com/cPB1gLfKeV

— Maxime Bayen (@MaxBayen) January 31, 2019
The discussions at Africa Tech Summit were driven towards understanding the attractiveness of Africa as a Technology Innovation hub. Locally founded start-ups across the continent have struggled to raise commercial investment over the years. Most of would be African investors still prefer brick-and-mortar type of investments including stock markets, bonds, real estate etc. This narrative is changing, albeit slowly, and local investors are setting up funding vehicles that are increasingly focusing on investing in tech companies in the continent. This is giving Africa "Skin" in the game and increasingly attracting international investors. Whilst the international investment is highly appreciated, a lot more education of local investors is needed to ensure we continuously demystify the tech investment in the continent. The beauty of the tech investment landscape in Africa is that most of the start-ups seek to address most of the prominent challenges facing the continent hence a strong link between commercially sustainable businesses with significant return on investment and IMPACT.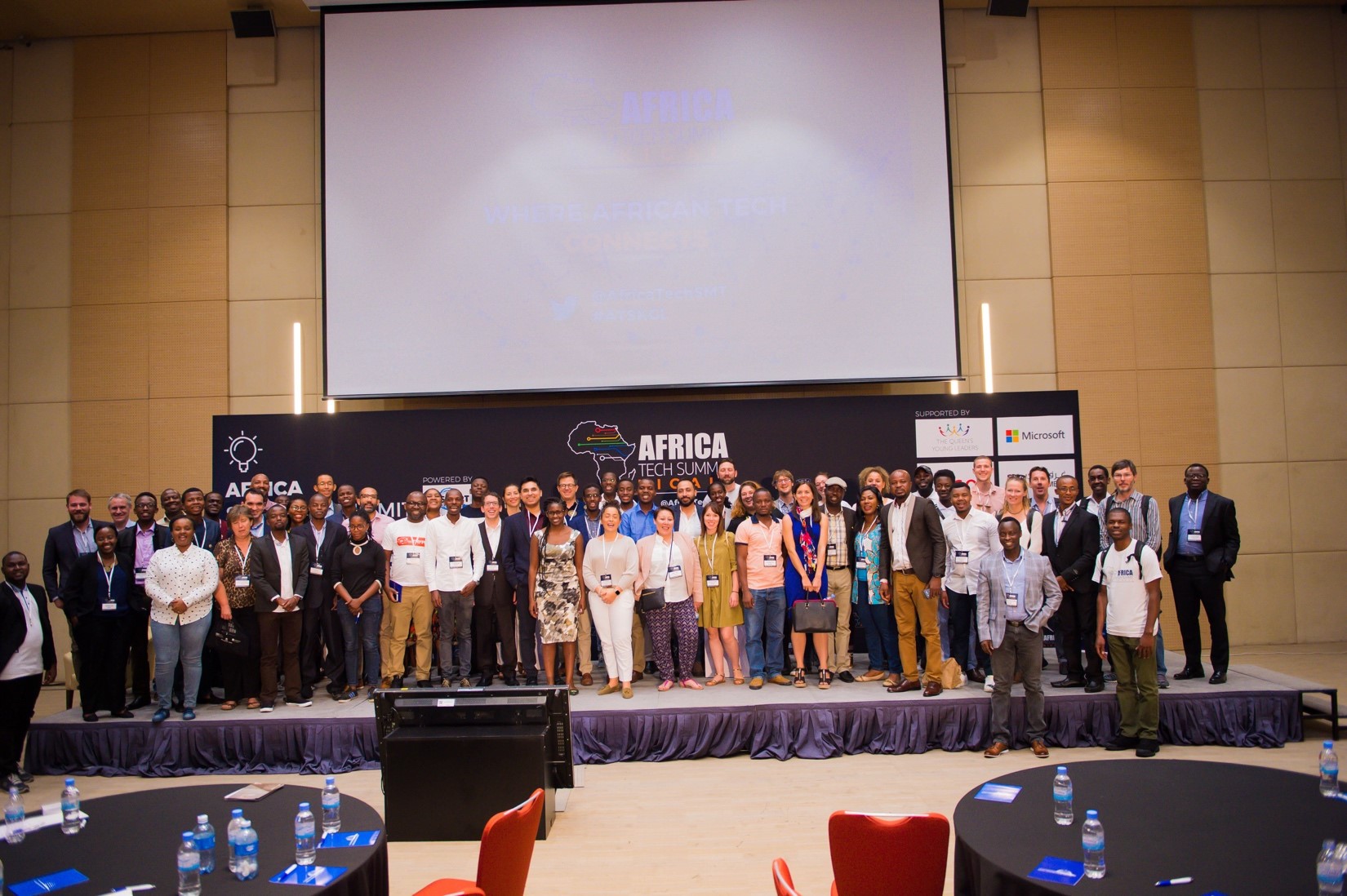 2. Corporate-Start-up Collaboration for scale
This continues to be an interesting topic across the continent, African start-ups have continuously shown great potential for scale, hence the need to work with corporates to achieve the scale. In 2017, the GSMA Ecosystem Accelerator programme in collaboration with MatchMaker Ventures published a flagship report: Opening Doors – A Start-Up's Guide to Working with Mobile Operators in Emerging Markets. The report is a guide aimed at start-ups interested in collaborating with mobile operators in emerging markets. The framework seeks to help start-ups and mobile operators (corporates) identify their respective needs and opportunities alongside their haves and assets thus collaboration seeks to foster a "win-win" for both corporates and start-ups.
Dianne Dusaidi representing Kasha, an e-Commerce start-up offering women and girls health and personal care products, attributed Kasha's scale over the last couple of years to partnering with corporates (Johnsons & Johnsons, Uniliever etc.)in Rwanda and Kenya. The corporates take cognisance of the agility, innovation, efficiency and speed to market attributes that start-ups have, hence the need to partner in the marketplace and work on a joint go-to-market strategy.
Collaboration creates room for disrupting the norm in a particular industry according to Abdulazziz Omar of mPost, a Kenyan start-up that provides innovative product allowing users to access postal services at home or office, as well as on the go through mobile phones. Through the power of mobile technology, mPost works with Posta Kenya to address the challenge and have signed up over 400,000 users over the last 2 years.
On their part, Jumo, a South African based start-up offering mobile financial services platform for mobile network operators and banks, realised the potential of partnering with mobile operators to achieve scale. They partnered with Airtel across different African countries allowing Airtel customers to access short-term loans paid directly via the customer's Airtel Money account. John Ngari, Jumo Kenya's Country Head, says Jumo is bringing in their innovative solution, whilst Airtel provides them with access to their customer base and distribution network.

3. The Future of Fintech in Africa
Fintech remains one of the most scalable verticals on the continent and continues to attract significant funding in the recent past. This is primarily driven by the huge financial inclusion gap which creates room for innovation and disruption. With continuous investment, Fintech is moving beyond payments and looking at lending and savings too. This creates an opportunity to drive scale through partnerships. "We are seeing more and more mobile operators, traditional financial services providers (banks, microfinance institutions) and Fintech companies engaging in partnerships to offer financial solutions across the continent" said Marcello Schemer of Yoco.
Whilst fintech is continuously transforming lives, Hilda Moraa of Pezesha, a digital financial marketplace that converges lending, financial education and debt counselling in Africa, was quick to point out the need to educate the consumer on responsible borrowing. She pointed out that over 50 per cent of the borrowers are doing so to engage in betting activities hence their financial education platform that seeks to educate the borrowers.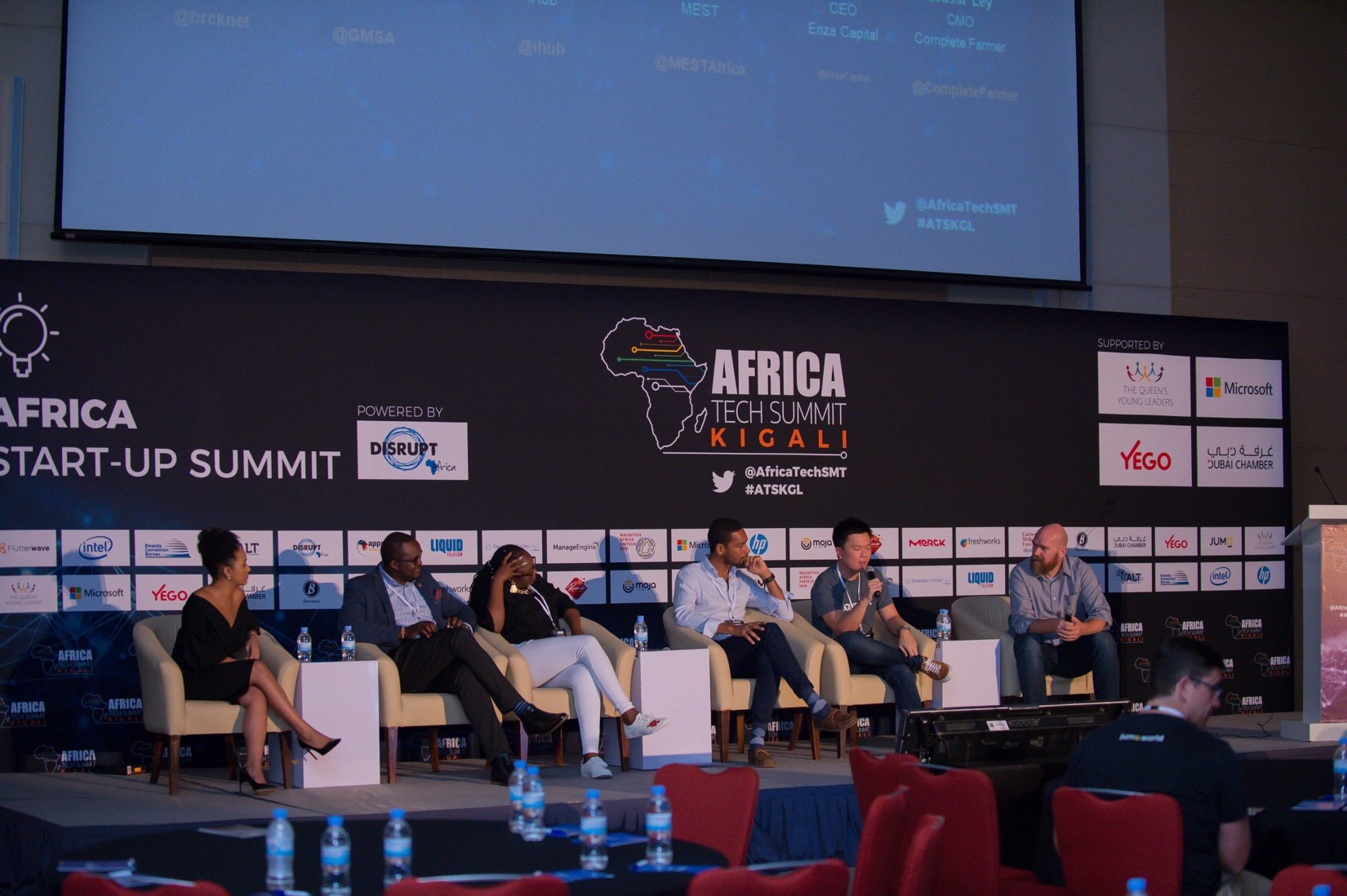 Panel on Building a Conducive Ecosystem featuring (Left to Right) Zoussi Ley (Complete Farmer), Martin Karanja (GSMA), Sheila Birge (iHub), Mike Mompi (Enza Capital) Aaron Fu (MEST) and Erik Hersman (BRCK) – Photo Credit: Africa Tech Summit.
We would like to end this blog post by thanking Andrew Fassnidge and the teams of Apps Africa and Disrupt Africa for inviting us to the event and for allowing us to contribute.
The Ecosystem Accelerator programme is supported by the UK Department for International Development (DFID), the Australian Government, the GSMA and its members.