On December 8th, the GSMA's Ecosystem Accelerator programme participated in Seedstars' Africa summit in Kigali, Rwanda, a one-day event gathering the community Seedstars has built through their extensive coverage of the continent, with local competitions across 18 countries in 2016 alone.
As usual, we thought we would share three quick takeaways from the event.
1. African start-ups are addressing Africa's core challenges
When we heard the 18 start-ups selected by Seedstars through their local challenges deliver their 2-minutes pitches to the audience, something struck us: none of them were trying to launch the next 'hype' service; to the contrary, all were aiming to solve the problems that millions of their fellow African citizens and businesses are facing on a daily basis.
Two topics in particular are topping the list:
Health: Through access to information (Kangpe in Nigeria), insurance (Jamii in Tanzania, iNuka in Kenya), computer-aided diagnostics (DrCADx in Zimbabwe) or assistance for visually-impaired people (Dalli in Algeria), the selected start-ups explore multiple ways to improve African citizen's health.

Education: Through both B2C/B2B2C solutions (Tutorama in Egypt) and B2B platforms to improve the management and productivity of schools or academic institutions (Etudesk in Cote d'Ivoire or Chalkboard Education in Ghana), start-ups all over the continent are developing solutions to strengthen access to education and knowledge.

As Tiago Borges Coelho, country ambassador for Seedstars in Mozambique, put it – with a hint of controversy – during one of the Panel sessions: "In developed markets, start-ups are building technology for things their mums used to do for them: drive them around, cook for them, buy them clothes etc. In developing markets, start-ups are developing technology to provide life-changing solutions to problems local governments have not tackled."

2. Tech hubs are key, and need to adapt as fast as the start-ups they're supporting
This stance on governments is probably too tough, especially in a country like Rwanda, where the government has been extremely active in supporting start-ups and harnessing the power of technology for all. Not many countries in the world can pride themselves with availability of a service that lets anyone order a birth certificate through a basic USSD menu. Governments do play a role in local ecosystems; at the very least, they tend to provide support to local incubators or accelerators for example.
Tech hubs more generally – co-working spaces, incubators, accelerators etc. – are usually presented as the cornerstone of local ecosystems, and there is no doubt they play a central role in nurturing innovation. Reasons for this were discussed broadly, and two interesting points were made about the sustainability of some of their models, and how they should evolve to stay relevant in the ecosystem:
How to keep stimulating innovation, and not create too much of a sense of comfort by providing start-ups with "a free lunch and a free table"?
How to build sustainability, for instance through freemium models where successful start-ups could support the earlier-stage ones financially or through mentorship?
"It takes the entire Ecosystem to sustain innovative ideas." – Max Cuvellier #SSWAfrica #Entrepreneurs #TechSolutions

— Seedstars (@Seedstars) December 9, 2016


3. Overcoming the challenges of start-up-corporate collaboration
If start-ups' attitudes towards tech hubs are overwhelmingly positive, the situation is quite different when it comes to 'corporates'. The very name that was chosen by Seedstars for the panel discussion we moderated – "Dancing with the Tigers" – seemed to echo at least some of the fears and frustrations from the audience.
However, the potential for synergies on both sides goes beyond the initial exchange of grievances:
The 'corporates' see in start-ups a very efficient way to offer their customers relevant innovative solutions, which they would sometimes struggle to design internally. Intel, Microsoft – via their Microsoft4Afrika initiative – and Orange were all core sponsors of the event.

The start-ups understand how the corporates' assets – mobile operators' in particular: their million-strong customer bases, country-wide distribution networks, credibility with investors etc. – could help them accelerate their development and unlock scale.

If both parties continue to make the necessary efforts to understand their respective challenges and potential contributions to a partnership, we should see more and more synergies being built in the near future that eventually deliver great benefits for both, and positive impact to the people and the economy.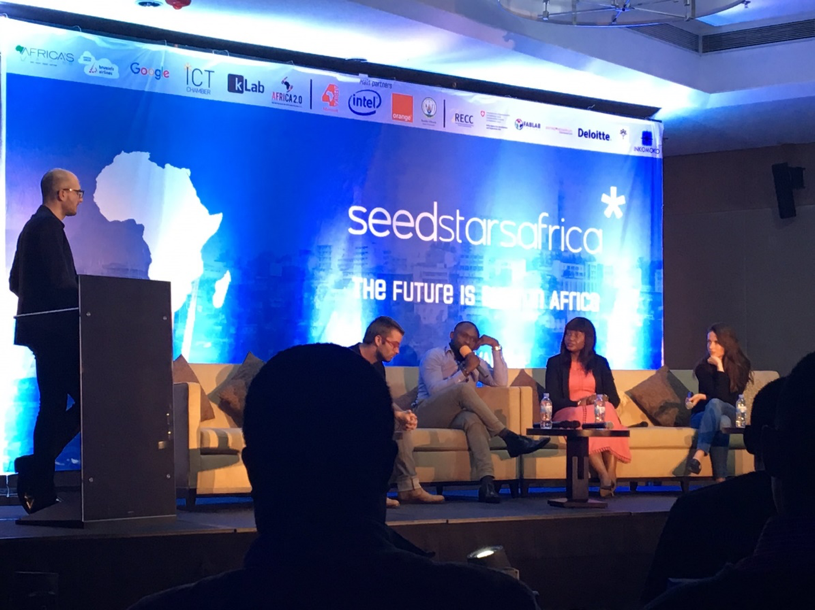 We would like to thank and congratulate the Seedstars team for putting together this great event and allowing us to contribute.