The recently published 2021 Global Findex Database by the World Bank revealed that 1 billion people worldwide gained access to basic financial tools over the past decade. It also reveals that another 1.4 billion people are not being reached by traditional financial services such as banks. In Asia-Pacific (APAC) alone, a shocking 29 per cent of the population remains unbanked, which accounts for over 50 per cent of the world's unbanked adults.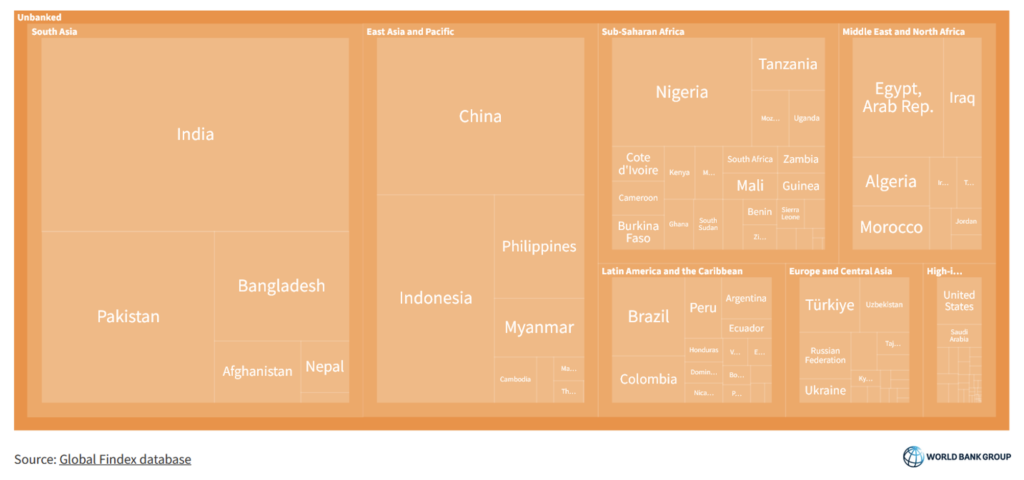 The complete absence of credit history makes it impossible for the unbanked populations to access basic financial products like loans, insurance, fixed deposits etc. Therefore, it's not surprising that only 55 per cent of the adults (50 per cent among women) in these economies feel confident about finding access to extra funds within 30 days when faced with a financial emergency. They primarily rely on informal sources for emergency funds, often at exorbitant interest rates.
Embedded finance, a $108 billion industry in APAC, is proposing an alternative way of bringing finance products to unbanked populations without requiring them to have a traditional bank account, pay-as-you-go (PAYG) being one of them. The integration of banking and financial services into services, products, and digital solutions of non-banking businesses to deliver a seamless banking experience has disrupted how payments are made globally.
APAC PAYG: The opportunity
The APAC region is emerging as an economic powerhouse with vast human resources and a rapidly growing industrial base. Yet, a large section of the population lives without access to basic utility services like energy, clean cooking, or safely-managed water. Unlike a subscription model with fixed pricing, the PAYG model allows low-income populations to pay for products and services incrementally while having greater control over their cash flow.
Research Indicates that in countries like India, where 13% of households do not have access to grid-based electricity, the pay-as-you-go model could be a game-changer. PAYG can help utility service providers reach the final 1.4 billion unbanked adult population in the region. With 44% of households in APAC lacking access to clean cooking services due to challenges such as affordability, the clean cooking sector is in even greater need of innovative approaches and well placed to benefit from PAYG services.
While PAYG approaches can help overcome challenges for utility service providers, there are significant risks and challenges associated with managing the consumer finance risk for low-income consumers at scale. To mitigate the risk of managing customers, PAYG companies in low- and middle-income countries can partner with credit scoring companies like Jeff and Jumo to develop and use data-driven products to determine the credit worthiness of their customers by utilising the following tools: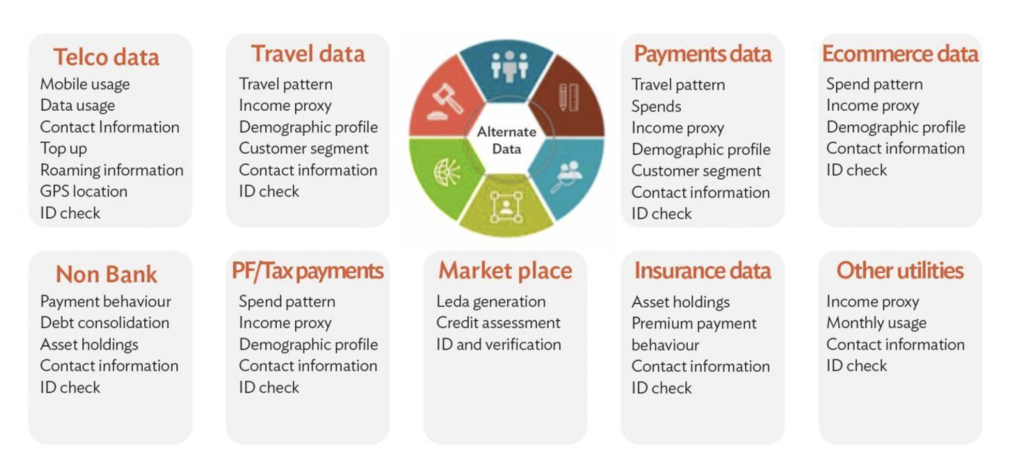 Source: World Economic Forum
Using these tools will not only help PAYG providers to better assess the worthiness of a customer but also allow them to offer additional products to customers like insurance, nano-loans or other assets.
Beyond theory: A tested model of PAYG
In some sectors, such as solar-home-systems (SHSs), the ripple effect of the PAYG model has been well documented. Some of those benefits are increased mobile payments, higher earnings, and increased utilisation of basic financial products.
The opportunity to reach low-income populations through PAYG approaches is now also being applied to other products such as water purifiers, clean cook stoves, smartphones, solar water pumps, motorbikes, and other assets that small businesses and households otherwise could not access. The economic foundation for this was laid down by management scholar C. K. Prahalad in 1998 who considers that contrary to conventional wisdom, extending services to low-income populations in LMICS is actually a strategic opportunity for businesses. As we highlighted more recently drawing on the work of Clayton Christiansen, Efosa Ojomo, and Karen Dillion, market-creating innovations like PAYG are uniquely positioned to address the challenge of non-consumption and make previously unaffordable products and services accessible to low-income populations.
PAYG utilities: Innovations in the spotlight
Despite the success of the PAYG model in the solar sector, its adoption for use cases such as refrigeration, solar water pumps, clean cook stoves is still very limited. Below is a spotlight on some start-ups who working to make a difference in the PAYG utilities sector to increase adoption:
| | | | | |
| --- | --- | --- | --- | --- |
| Company | Utility | Solution | Region | Core focus |
| K-Pay | Multiple use cases | PAYG CRM provider | India | Enabling a plug and play PAYG approach to utility innovations enabling integration with all types of products |
| BePure | Water | PAYG Water Purifiers | India | Using PAYG to bring accessibility to water purifiers in urban centers of India |
| Simpa | Energy | PAYG Solar Home Systems | India | Providing access to solar energy through affordable payment terms |
| Janajal | Water | PAYG Water on Wheels | India | To make safe water available to every household in India through water on wheels |
| ATEC | Clean cooking | PAYG-enabled Induction stoves | Asia | Offering affordable clean cooking products in Bangladesh with a carbon credit tracking functionality |
| Futurepump | Green energy | PAYG-enabled solar-powered irrigation systems | Asia | Offering solar-powered irrigation systems to increase productivity and income without the pollution of fields and associated health risks. |
| Utiliflex | Power supply | Real-time consumption tracking and prepaid energy payments | Australia and the Philippines* | Offering prepaid payment options for energy consumption without any extra fees |
| Gham Power | Green energy | PAYG-enabled home solar solutions, solar-powered pumping systems for irrigation, microgrids, and industrial solutions. | Nepal | Offering PAYG electricity microgrids and alternative energy methods |
| Angaza | Green energy | PAYG clean renewable energy | Asia and Africa | Offering PAYG green solutions to beneficiaries in LMICs |
| Claro Energy | Green energy | The company has built e-rickshaws with solar panels, which can be used in farms in remote villages to power water pumps on a PAYG basis | India | Providing an on-demand irrigation system which helps farmers save over 50% in energy costs by replacing diesel |
Recommendations for PAYG implementation
The growing uptake of the PAYG model in the APAC region will be further accentuated by the growing demand for other PAYG-enabled goods and services, as more and more users are able to access PAYG services in the context of growing uptake of digital payments, phones, and IoT solutions in the region.
Tapping into this opportunity will give utility service providers access to the "fortune at the bottom of the pyramid," as described by C.K. Prahalad.
The following is a proven PAYG framework for utility companies to replicate it in their unique context. The framework is made up of three steps: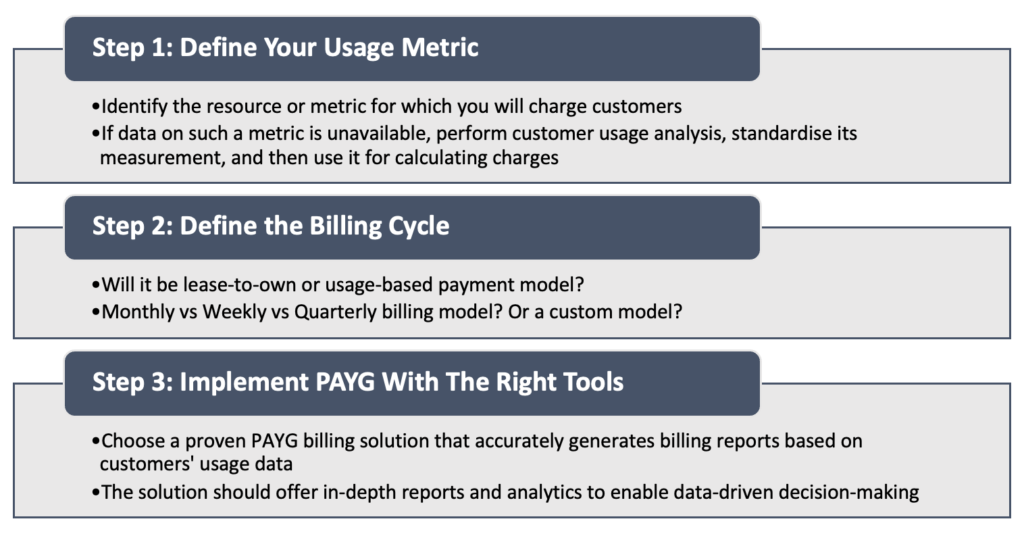 Final thoughts
In recent times, the APAC region has seen a rapid growth in urbanisation. With more than 2.3 billion people living in cities, providing access to clean and affordable urban utility services in becoming increasingly challenging to municipalities and state-owned utilities. However, innovations like PAYG enable utility service providers to create, scalable, replicable, and sustainable business models that have the capacity to reach low-income populations. With greater uptake of the PAYG model, APAC can make significant progress towards extending access to more affordable, reliable, safe, and sustainable utility services.
The Digital Utilities programme is funded by the UK Foreign, Commonwealth & Development Office (FCDO), and supported by the GSMA and its members.