Africa is the youngest continent in the world and this demographic dividend is growing at an unprecedented pace. This increasingly educated but inadequately skilled workforce poses a challenge for economies that must not only generate more jobs, but also support youth in their employment journeys.
The mobile industry is a significant job creator in Sub‑Saharan Africa
With the proliferation of mobile technology in the last decade, the mobile industry which consists of network operators, distributors and retailers, infrastructure and network providers, device manufacturers, content providers and others, has significantly contributed to job creation in the continent.
Specifically, in Sub-Saharan Africa, the industry directly employed 1.9 million people in 2018, 65% of which were youth aged between 15-34 years. By 2025, the mobile industry is expected to directly employ 1.5 million youth across Sub-Saharan Africa.
The indirect contribution or the value created by other sectors that purchase materials and services from providers in the mobile industry's supply chain has an indirect multiplier effect on the jobs too. In 2018, indirect employment in the mobile industry represented approximately 2.4 million jobs.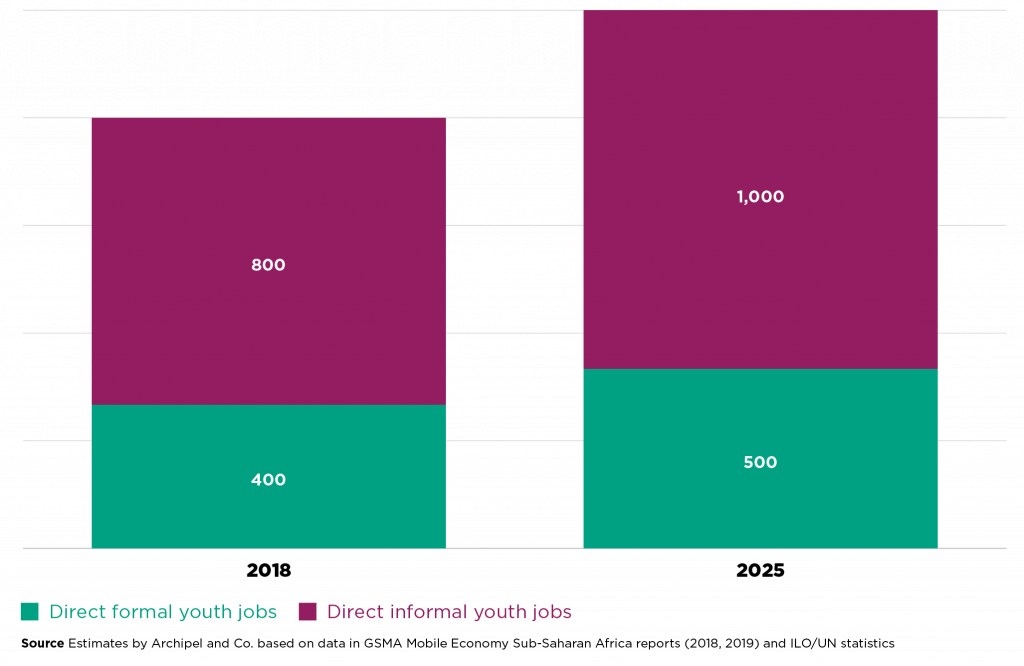 Figure: Youth employment in the mobile industry in SSA (thousands)
Understanding drivers and barriers to youth employment: the mobile industry's perspective
As part of this research, we set out to understand the direct employment potential of the mobile industry in Sub-Saharan Africa with particular focus on – Ghana, Senegal and Nigeria. We also looked to understand the barriers that youth encounter in their employment journey and the role of the mobile industry in fostering quality and decent work opportunities for youth.
We spoke to 45 representatives from the mobile industry, youth upskilling organisations catering to the mobile industry and other employment experts in Sub-Saharan Africa and conducted a two-day workshop in Accra, bringing together a selection of these experts to validate our early findings and create a roadmap for mobile sector to support youth employment.
Photos from the youth employment workshop held in Accra, Ghana, November 2019
Gaps in supply and demand of skills is the biggest roadblock for youth employment
In employing youth the mobile industry faces several challenges which can differ depending on the nature (formal/informal) and level (entry, mid, senior) of jobs, the country and cultural contexts, vulnerability of certain groups (women, persons with disabilities, etc.) and many other factors.
Our research found that the 'skills gap' is the greatest challenge for youth seeking employment in the mobile industry in Sub-Saharan Africa. This gap is the widest for behavioural and digital skills that are most in demand but also least available. We found that it is not just the ineffectiveness of education systems in the region, but also a disconnect between the mobile industry and educational institutions that causes youth to lack the key skills needed to acquire, retain and progress in their jobs. In this report we explore how the 'skills gap' differs for low, middle and high-skilled jobs and investigate other barriers to employment including financial constraint, lack of social protection and ineffective human resource practices.
The role of mobile industry in supporting youth employment journeys

The mobile industry has a role to play in not only creating jobs, but also in supporting youth through their employment journeys. This includes bridging the skills gap, providing lifelong learning and training opportunities, and ensuring decent working conditions. Based on in-depth interviews and co-creation sessions in our workshop, this report outlines a roadmap of short and long-term strategies for the mobile industry to support youth employment Sub-Saharan Africa.
We would like to thank our expert group and our research partners, Archipel and Co, for their support in this project.
Watch the Webinar