In February and March 2020, the GSMA Mobile for Humanitarian Innovation (M4H) team worked with partners, including UNHCR, Safaricom and Butterfly Works, in Nairobi to better understand how both Kenyans and refugees with visual and hearing impairments use their mobile phones. We worked with research participants using in-depth qualitative methods to understand this relationship to their phones so that we could identify opportunities for mobile-enabled solutions that could address barriers in their lives. For example, participants told us the challenges they faced in using M-Pesa and we worked to identify how features like voice-based services could give them more agency over their own finances.
---
Our process
Centering the needs of the populations we work with and embedding inclusivity and dignity in everything we do is a critical component of what we value as a team in M4H. After the research had concluded, it was important to us to feedback research results to the participants in a way that was meaningful and accessible. To do this we first contacted each individual to understand what they were interested in hearing about and what the best ways to communicate results would be. Participants unanimously wanted to hear research findings across thematic areas but were split as to the best method to access the results. The hearing impaired community in general was more comfortable with smartphones and preferred to see results that way, whereas the visually impaired community preferred an in-person event so they could discuss results with translators.

The group is a mix of visual and hearing impaired people from Somalia, the Democratic Republic of Congo and Kenya. Within the group four languages were used: Somali, Kinyamulenge, French and English. All of the hearing impaired people learned Kenyan sign language while in Kenya, so the signing language used could be universal across the outputs. As developing near-fully accessible communications products was a first for our team, we also consulted internally with our Assistive Tech team, particularly our colleague Sophie Pitcher who is leading accessible communications across the GSMA, to better understand industry standards and best practices.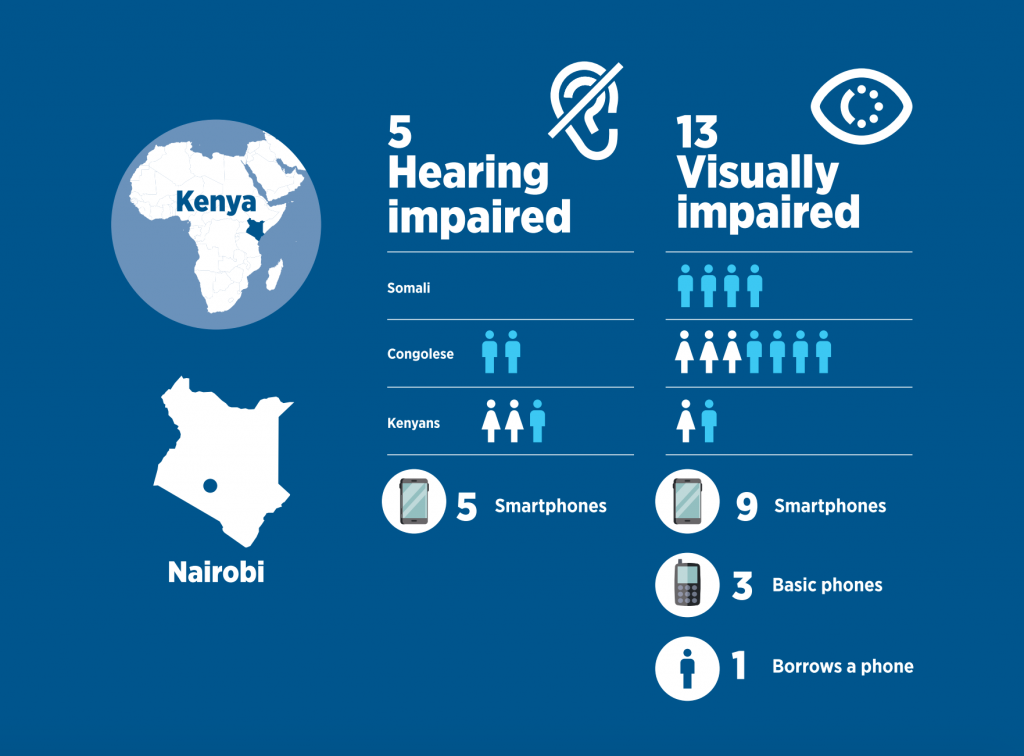 ---
Our outputs
We decided the best way to cover all bases was to include a range of communications methods, and also to produce different types of outputs. We produced language specific videos, each following the same script, but translated. The on-screen signing remained the same for each video, as mentioned earlier. We included on screen text and motion graphics to visualise the findings. All four videos also had voice over narration which was mirrored by subtitles in each language. We exported these as high (1080p HD) and low (240p SD) files, so that the smaller versions could be shared easily over Whatsapp, but the higher resolution videos could be displayed in high quality on larger screens and uploaded to Youtube. We also exported audio-only versions of each file, so that visually impaired individuals could receive the smallest file size to listen to the research results.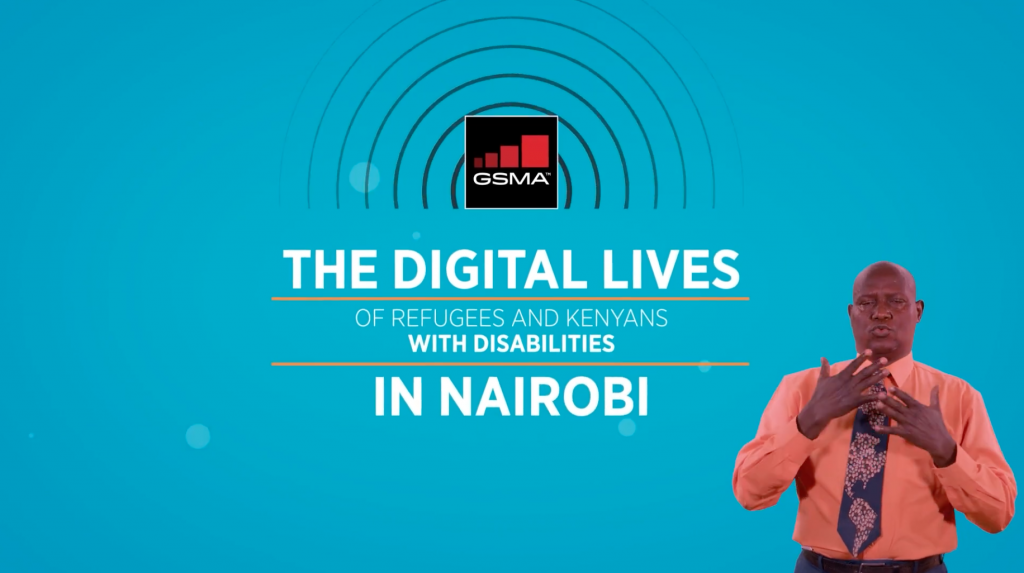 We had also planned for a small in-person screening, however due to COVID-19 restrictions, this event was not possible. Instead the outputs were shared through Whatsapp either to participants themselves or to another member of their household. Facilitators then called participants to hear their thoughts on the video (or audio) and the research more generally. We wanted to know if we had accurately captured their experience and what we could improve for next time.
---
Reflections
Based on research participants' feedback, and our team's reflections on the process, we found the following:
What went well:
Mark Kamau, our lead on the ground design researcher, based in Nairobi was key throughout the process. He kept in touch with participants throughout and after the research, developing personal relationships with them and gaining trust. He also built an understanding of community structure, which helped throughout the process from identifying participants to distributing the results afterwards.
Research participants were happy to hear the results of the research they were involved in and, even more so, they were happy to have these results available in their native languages, including sign language.
The choice to invest resources in an output that can be used beyond communicating with research participants means we can leverage these assets and further spread the research. While research participants were the primary audience, the wider humanitarian and technology communities were kept in mind as secondary audiences as well.
What we could improve for next time:
While we knew at the start of this research that we wanted to make sure we fed back to communities at the end, we could have done more along the way to prepare for this process. For example, in the initial contact with research participants, we should have set up structures for communication throughout the process. Likewise, at the wrap up workshop, we should have used that opportunity to collect contact information and ask who was interested in hearing about the final results. This would have streamlined the process.
COVID-19 made it more complicated to reach people as we were unable to go to their homes directly. We could have involved our MNO partner to help us create a simple call-back service for participants to dial in to hear (or see) results free of charge.
From a communications design perspective, we heard from the hearing impaired community that the sign language should have been slowed down and the subtitles should have been in black font, instead of white.
Because we were working with linguistically diverse groups, we needed to engage various translators for follow up calls and dissemination. This is often the nature of working with multiple refugee communities, and extra budget needs to be allocated upfront for this purpose.
Finally, and perhaps most importantly, research participants wanted more information on what was being done with the research findings. Concretely, what changes to services will be made? While this is a completely fair and logical question, it is too early to report back concrete changes. The GMSA is continuing to work with Safaricom and UNHCR to create new projects based on this research and we hope to be able to communicate new programming to the research participants in the near future. Specifically, UNHCR is exploring opportunities to enhance the accessibility of the UNHCR call centre in Kenya for refugees with communication disabilities by providing refugees with alternatives to voice communication. Additionally, based on the research findings, UNHCR's Digital Inclusion Programme has launched a Call for Proposals that provides targeted financial support to UNHCR teams interested in tackling specific challenges relating to digital inclusion of people with disabilities.We hope to be able to communicate new programming to the research participants in the near future.
Moving forward, we hope to push the limits of what it means to be inclusive, and more intentionally embed questions on how participants would prefer to receive feedback earlier in our research process. The lessons we learned during this project will inform our future research and communications work, and we look forward to sharing these future outputs with you. If you are interested in learning more about this project, or have feedback of your own, please reach out to us at m4h@gsma.com.
---
This initiative is currently funded by the UK Foreign, Commonwealth & Development Office (FCDO), and supported by the GSMA and its members.