This is one of a series of blogs that deep dives into our framework to help mobile operators close the gender gap in their customer base. This blog focuses on one of the five themes that we believe mobile operators should focus on to address the most common barriers preventing women from owning and using mobile phones across markets: "Relevance", including relevant products, content and services that meet women's needs as well as men's. The other blogs in the series focus on the other four themes: "Accessibility", "Affordability", "Usability and skills" and "Safety and security".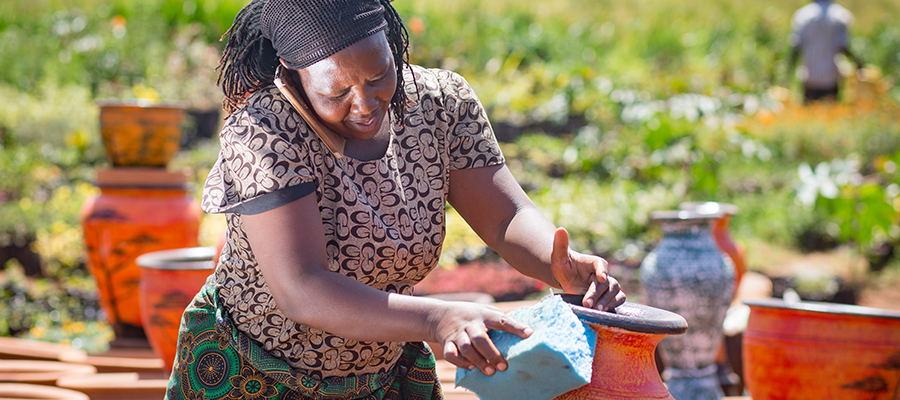 Why is relevance an issue for women?
Our experience and research across multiple markets in Africa, Asia and Latin America has revealed that women are usually less likely than men to see how a mobile phone and mobile services can be useful for them and benefit their lives through, for instance, connection to friends and family, educational and employment opportunities, and access to information to support their well-being.
Operators that do not purposefully consider how their products and services can be relevant for women as well as men are likely to inadvertently exclude many potential female customers.
What can operators do to ensure services are relevant for women?
To close the gender gap in their customer base, operators need to ensure that their product and service design and marketing and distribution approaches consider the barriers women face related to relevance (see the visual in our framework blog).
Figure 1 shares some examples of what operators can do to ensure mobile services are relevant for women during both product and service design and marketing and distribution activities.
Figure 1: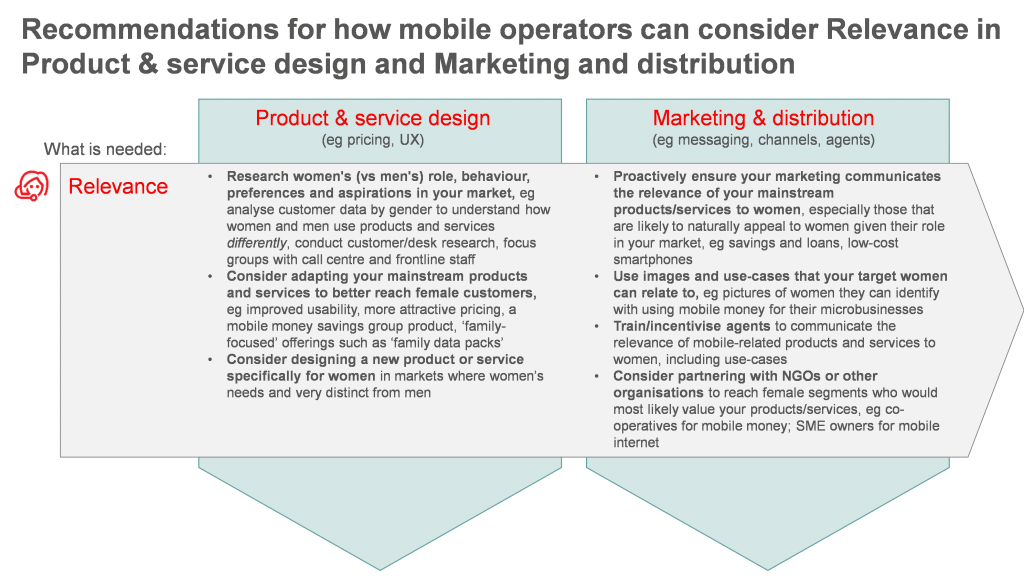 For example, product and service design teams can adapt mainstream (non gender-specific) products and services to be more relevant for their female customers, through improved usability, more attractive pricing, and other ways to better appeal to women in their markets. Grameenphone, for instance, successfully revamped its GPAY mobile wallet app to be more intuitive for Bangladeshi women who make bill payments, but have lower literacy levels than men. Operators such as Vodacom Tanzania (Box 1), Tigo Chad and Econet Zimbabwe have designed mobile money savings products tailored to the needs of traditional savings groups, who are predominantly female.
Box 1: Vodacom Tanzania: M-koba
Many women in Tanzania are part of informal savings groups with family or friends, as well as formal savings and loan groups. Launched in February 2019, M-Koba is a Vodacom Tanzania and TPB Bank initiative that aims to digitise operations of savings groups. It was designed to mirror how savings groups traditionally operate whilst resolving some of the challenges related to current cash-based mechanisms. M-Koba eliminates the need to carry cash relating to group activities, and provides a safe and transparent way to collect contributions from group members, give out loans and share earnings.
The goal is for M-Koba to increase the number of formally banked individuals by at least one third and more importantly reach rural women who make up the largest percentage of the unbanked.
M-Koba is available through the M-Pesa USSD menu (customers dial *150*00# and select Financial Service, then M-KOBA). No fees are incurred by the customer when sending money from an M-Pesa wallet to M-Koba group savings account. There are two types of account:
One designed for small groups of family or friends to save money over a period of time and share earnings;
One designed for Village Community Banks (VICOBAS), enabling them to operate in real-time and ensuring cost effectiveness, security and transparency among members (customers are able to do operations in real-time including saving money, buying shares, getting loans and enjoying returns on their savings through interest)
By March 2020, over 34,901 groups of predominantly female members had signed up to M-Koba, collectively holding TZS 3.8 billion as savings. An additional TZS 1.5 billion had already been disbursed as loans. Beyond driving financial inclusion for women in Tanzania, M-Koba has increased customer loyalty and usage of M-Pesa and Vodacom services overall.
Marketing and distribution teams can proactively ensure that female customers understand the relevance of mainstream products and services to their lives to the same extent as male customers. Across many settings in low- and middle-income countries, women run microbusinesses, are active household financial managers, have prime responsibility for childcare and household management, and value saving for personal and family reasons, making certain products such as savings, loans and low-cost internet-enabled handsets particularly relevant for them. Marketing teams can proactively tweak marketing approaches and messaging to reach and speak to women in these contexts.
Operators can also partner with NGOs or other organisations to reach female segments who are likely to value their products and services and find them relevant to their lives. Operators are targeting women's agricultural groups with mobile money, for example, as a means of more conveniently paying suppliers, accepting money from customers and managing their finances. Zantel, for instance, partnered with the Zanzibar Association of Seaweed Farmers to reach seaweed farmers in Zanzibar, who are predominantly female.
It's important to emphasise that ensuring relevant services for women does not necessarily involve launching an entirely new product, service, marketing campaign or distribution approach. Often it is just about operators tweaking what already exists to ensure that they reach women as well as men. For instance, updating marketing material so that women can relate to it, such as including pictures of women actively using the product as well as men. Jazz Pakistan found that simply using words such as 'sister' and 'mother' in their mobile money 'refer a friend' SMS marketing had a hugely positive impact on the uptake among female customers, with no detrimental impact on the uptake among male customers.
Ensuring services are relevant to women will help them reap the full benefits of owning and using mobile phones to enhance the well-being of themselves and their families, as well as provide commercial benefits for operators.