How the Foreign, Commonwealth and Development Office is promoting the use of mobile technology to increase access to affordable remittances
This blog was first published by the Foreign, Commonwealth and Development Office (FCDO) on 21 July 2021. By Jean-Paul Penrose, Pacific Development Director, British High Commission Suva; and Chris Edwards, Strategic Partnerships and Innovation Manager, Research and Evidence Directorate.
Remittances have proved a lifeline for developing countries during the COVID-19 pandemic. The World Bank predicts remittance flows to low- and middle-income countries (LMICs) will reach a record high of US$553 billion in 2022.
Remittances form a significant part of the economies within the Pacific. They help increase resilience at household and national levels in a region that suffers from extreme isolation, a lack of economic diversification, and vulnerability to natural disasters exacerbated by climate change. ​​​​​​​
In Tonga, for instance, remittances make up 40 per cent of GDP. However, the cost of sending money home to the Pacific is much higher than in other regions. As part of FCDO's commitment to the Indo-Pacific Tilt to strengthen resilience in the region, the GSMA undertook research to understand these issues better and explore how the UK might take the agenda forward.
The research analysed how mobile technology could help to promote more accessible and affordable remittances in the Pacific. The GSMA worked closely with mobile network operators and money transfer operators, policymakers and regulators, including Reserve Banks and development partners, and FCDO colleagues in Fiji, Papua New Guinea, Samoa, Solomon Islands, Tonga and Vanuatu to map out the mobile money remittances landscape.
The research found that remittances to the Pacific are particularly expensive. The average cost of sending US$200 to the region was 10.4 per cent, compared to the global average of 6.5 per cent. This falls way short of the UN SDG 10.c target to bring remittances costs down to three per cent. ​​​​​​​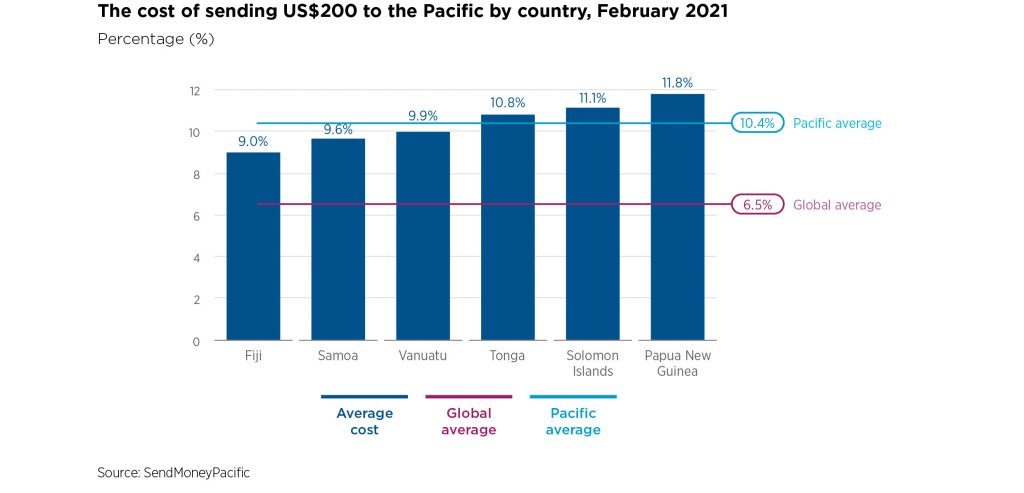 One result of the COVID-19 pandemic in the Pacific is that stakeholders have adopted digital remittance channels to an unprecedented extent. In a virtual workshop, which FCDO and the GSMA convened in May 2021, Deputy Governor of the Reserve Bank of Fiji, Esala Masitabua, noted that "in 2020 remittances rose to occupy first place as Fiji's largest foreign exchange earner and the value of personal remittances through mobile money recorded an unprecedented annual increase of 338 per cent".
Remittances sent using mobile money can help deliver vital funds rapidly to vulnerable households at times when they are most needed, including to those in isolated locations. They are also considerably cheaper than conventional routes, such as banks and money transfer operators. According to the GSMA's latest study, the global average cost of sending $200 in international remittances using mobile money is 3.53 per cent. If mobile money can bring the cost of remittances in the Pacific to the same level, this would be a game changer but key challenges to overcome include:
Limited consumer-level financial literacy;
Under-developed infrastructure in rural areas, particularly outer islands;
Weak regulatory environment for digital remittances;
High costs of managing and expanding an agent network; and
The impact of Banks de-risking their portfolios and reducing services to the Pacific.
During a virtual workshop, FCDO explored recommendations, including:
developing policy roadmaps for each country;
establishing an industry platform for traditional and digital remittance service providers;
reform and strengthening of regulatory frameworks;
incentives to increase the expansion of agent networks to rural areas;
building trust in mobile remittances; and
increasing digital financial literacy.
Stakeholders agreed that growing the mobile remittances market requires that recipients of funds can use them for other digital services such as making bill payments or for savings. ​​​​​​​
Shifts in behaviour forced on us by COVID-19 might just be the trigger we need to strengthen the mobile remittances sector in the Pacific and, in so doing, increase accessibility and bring down the costs of transfers. FCDO is now exploring with the GSMA and other partners how to take this work forward in the Pacific.