This is one of a series of blogs that deep dives into our framework to help mobile operators close the gender gap in their customer base. This blog focuses on one of the five themes that we believe mobile operators should focus on to address the most common barriers preventing women from owning and using mobile phones across markets: "Safety and security" when using a mobile phone, including from theft, harassment and fraud. The other blogs in the series focus on the remaining four themes: "Accessibility", "Affordability", "Usability and skills" and "Relevance".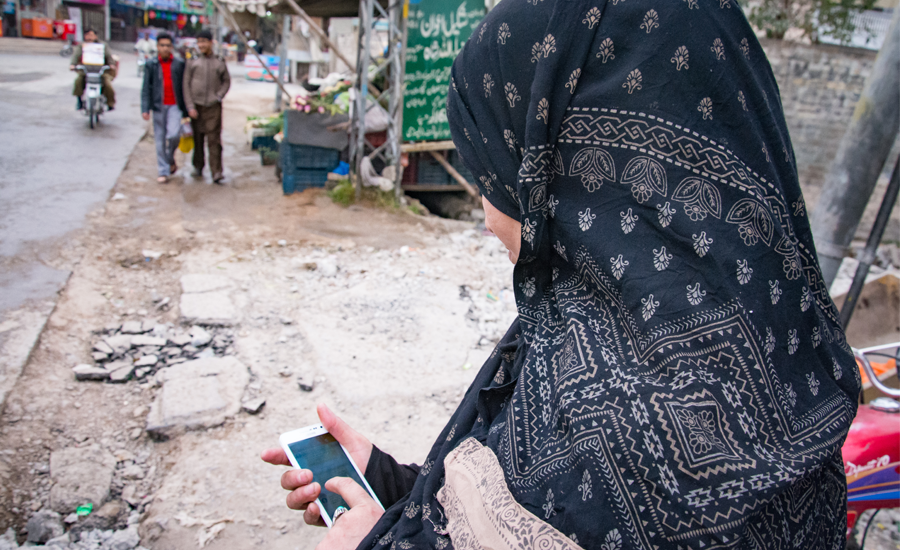 Why is safety and security an issue for women?
Our experience and research across multiple markets in Africa, Asia and Latin America has revealed that although a mobile phone can make women feel safer, they are also more likely than men to report safety and security concerns related to mobile technology. Issues include fear of theft, harassment from strangers or salespersons (via voice, SMS or the internet) and fraud concerns.
In some settings, men may also limit their wives' and daughters' mobile access due to safety concerns.
What can operators do to ensure services are safe for women?
To close the gender gap in their customer base, operators need to ensure that their product and service design and marketing and distribution approaches consider the barriers women face related to safety and security (see the visual in our framework blog).
Figure 1 shares some examples of what operators can do to ensure mobile services are safe for women during both product and service design and marketing and distribution activities.
Figure 1: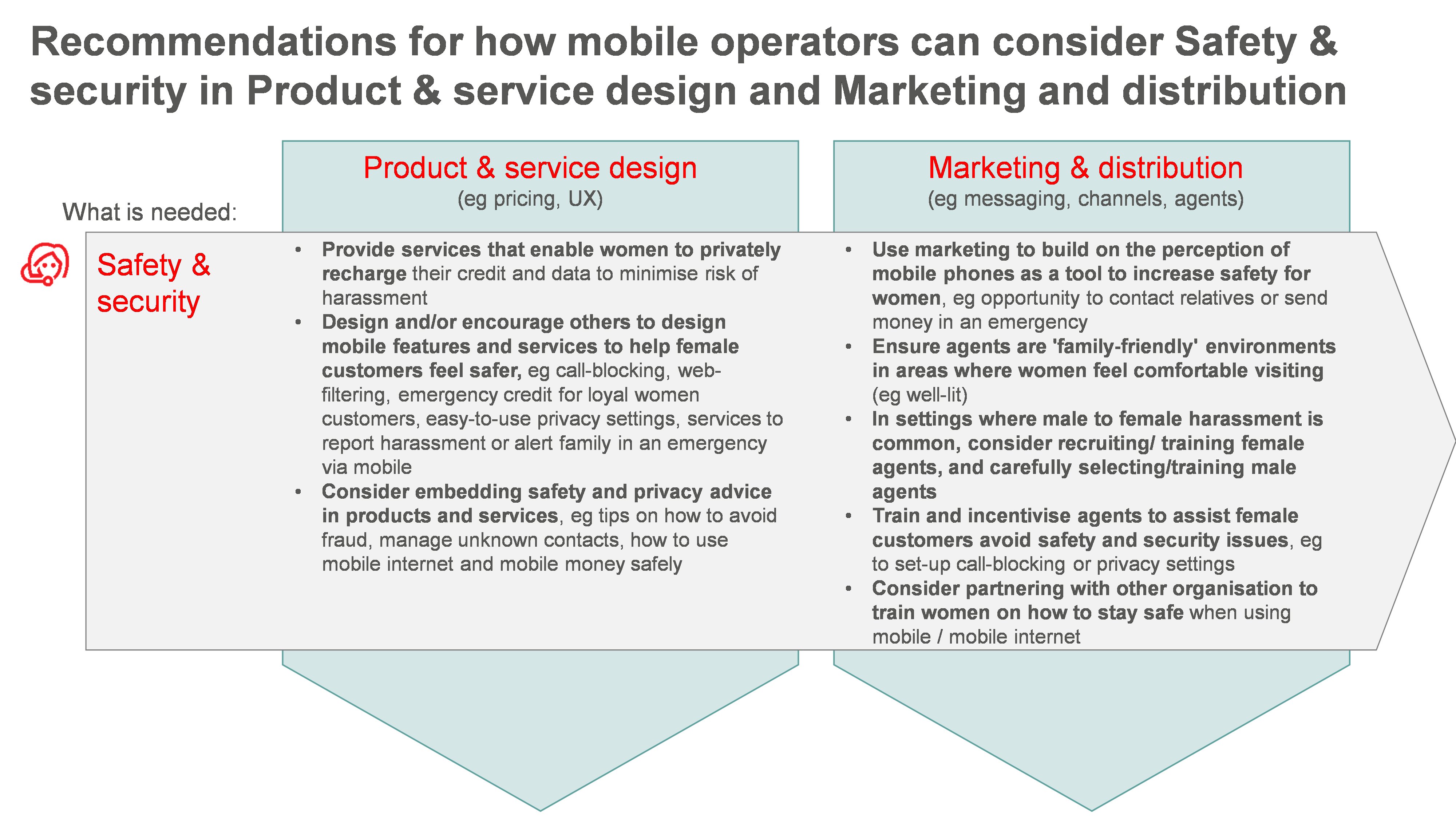 For example, product and service design teams could consider anonymous top-up services in settings where women are reluctant to share their personal mobile phone number with male agents for fear of subsequent harassment. In Egypt, Orange's service to enable customers to top-up privately in-store through a free, personal, re-usable code has attracted almost 600,000 subscribers and generated nearly 100 new female users per day since its launch in 2016. Other operators have designed and launched broader safety-related services targeted at women, including Vodafone Idea India's Sakhi service (Box 1) and Robi Axiata's Robi Ichchedana in Bangladesh, which includes private recharge, emergency balance and emergency location alert.
Box 1: Vodafone Idea India's Sakhi service
Vodafone Idea launched its Sakhi service nationally in India in October 2018. The service was introduced to address some of the key barriers preventing Indian women from accessing and using mobile, as well as women's concerns about personal safety – both the safety issues and threats that may arise from owning a mobile phone and the more general safety concerns that women experience that mobile could help address.
Sakhi is a mobile-based safety service for women which has three features:
Emergency alerts – in case of an emergency, a location alert can be sent to up to 10 pre-registered contacts, even without access to internet on a mobile phone
Emergency balance – offers 10 minutes of free calling from anywhere in case of an emergency
Private recharge – a dummy 10-digit code unique to each subscriber is provided to ensure the privacy of the mobile number when topping up at retail outlets
The service was developed to work on smartphones, feature phones and basic phones. Customers must be registered as a woman to access this free opt-in service. The three features of the service aim to address women's concerns about physical safety (anonymous top-up) as well as general safety (emergency alert and emergency balance).
Since its launch in October 2018, millions of women across India have subscribed to Sakhi, making a significant contribution to their well-being and delivering commercial value to the operator.
"The lady who enrols Sakhi will feel at peace; with Sakhi I feel I have a chaperone with me. Just like my husband's protection and care" – female user, Lucknow.
The Sakhi service has also delivered value to Vodafone Idea. Analysis of customer data shows that compared to non-subscribers, Sakhi customers have greater loyalty to Vodafone (less churn). Compared to their activity pre-Sakhi, adopters of the service have increased their call activity, both outgoing and incoming. Also, Sakhi increases the functional usefulness of a phone, with the mobile phone now being perceived as a necessity (and associated with self-defence) rather than a convenience.
Marketing and distribution teams can also consider how to include women's needs for safety and security in their activities. For example, initiatives to educate female customers on how to stay safe whilst using a mobile phone, directly or through partnerships.
It's important to emphasise that ensuring safety and security for women does not necessarily involve launching an entirely new product, service, marketing campaign or distribution approach. Often it is just about operators tweaking what already exists to ensure that they reach women as well as men. For instance, ensuring that routine agent training also includes advice on how to help customers stay safe whilst using their mobile and mobile internet, through privacy settings, call-blocking and other relatively simple actions. For more detail and examples of initiatives to address women's safety, please see our report.
Ensuring services are safe and secure for women will help them reap the full benefits of owning and using mobile phones to enhance their lives, as well as provide commercial benefits for operators, through, for instance, reduced churn – as women feel less need to change their number/provider as the result of harassment – and increased revenues, as women feel more comfortable using their mobiles.
Read Part 1, Part 2, Part 3, Part 4 and Part 5 of this 6-part blog series.