On Tuesday 16 May, we hosted an event discussing the GSMA Innovation Fund's latest report, "Scaling Digital Innovation in Emerging Economies". The report analyses the scaling journeys of 21 start-ups supported by GSMA Mobile for Development and considers pathways to scale for innovative and impactful start-ups.
---
---
David Woolnough, Deputy Director for Research, Technology & Innovation at the Foreign, Commonwealth and Development Office (FCDO), spoke on the Partnership between FCDO and GSMA. He reiterated that not only are fundraising journeys important, but so is the impact behind the funding. While £23m has been dispersed to over 100 impactful organisations who have gone on to raise a further £650m of additional investment, the combined reach of those innovations benefits 37 million people who now access life-enhancing solutions.
An expert panel discussion followed, hosted by Max Cuvellier, Head of GSMA Mobile for Development. The panel included:
The panel explored the fundamentals of scaling, and three founders shared the stories behind their scaling journeys. Three themes emerged from the discussion: putting funds to good use, asking the right questions, and partnering to scale.
Putting funds to good use
As highlighted in the report and reiterated by Bian Li, deployment is just as important as the raising of funds. The start-ups applied their funding in a range of ways that included product development and user acquisition, which is especially crucial in the early stages. The image below summarises how the 21 start-ups used their funding.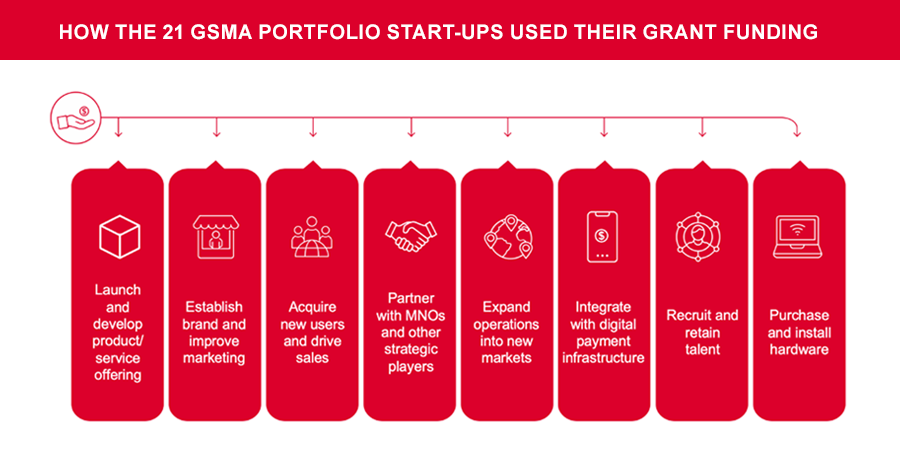 Dr. Iffat Zafar said that Sehat Kahani's mobile application was built thanks to the funding received from GSMA in 2018, and the grant helped them access additional funding by networking with several partners. The grant was an endorsement of their work, giving them credibility with other investors and organisations.
Gibran Huzaifah said that early in eFishery's journey, it was important to focus on product development, creating an MVP (minimum viable product), and convincing early adopters to use their products. This early traction proved their offering was truly solving a problem for users and ensured product-market fit.
Once eFishery secured their early users, they established a distribution channel through a strong sales team, which was crucial to get their product to the right audience. They didn't only depend on the quality of their products to scale; they grew their audience, and they replicated this model in several other locations. eFishery have recently raised a further $108m dollars, demonstrating their scalable business model.
Asking the right questions
According to experienced investor Zachariah George, start-ups must consider the right business model for reaching their users and that they should aim to reduce the cost of customer acquisition. He recommends that it is important for early-stage start-ups to answer:
What business models are you considering?
Have you considered B2B partnerships?
How many proof-of-concepts (POCs) do you have?
Who do you have a pilot with?
How can an investor help you build that pilot into a commercial contract?
Finally, he stated that it is difficult to scale a B2C business model, so he recommended starting off with a B2B model, and once they get enough revenue, pivoting to a B2B2C model.
Partnering to scale
Start-ups with a mobile-based solution cannot ignore the distribution channels, networks, and resources that mobile network operators (MNOs) provide. Leveraging these resources is more successful than copying the business models of Silicon Valley start-ups, who have more capital and can access customers directly. Zachariah George said that early-stage start-ups will need to sacrifice margin for volume, and partnering with an MNO or other corporate can help them to scale.
Bian Li reiterated that leveraging a larger partner who has coverage and scale in the market you want to reach is critical. Dr. Iffat shared that meeting the right partners at the right time was very important, whether it was donors, investors, or corporations.
Mohamed Keita said that the right architecture and MNO partnerships were the most sustainable way for Eneza Education to scale to several African countries. The ability to work with MNOs was one of the key elements of their business model, especially targeting people in rural areas that might have low literacy and no access to smartphones.
Successful scaling is the result of a start-up's ability to pivot their business model and establish strategic partnerships. These partnerships can provide value to both partners, as MNOs have reached the level of scale that start-ups require, while start-ups have the local innovation that MNOs need.
Read the report to learn more about the fundamentals of scaling.
We would like to thank the FCDO for introducing this discussion and the panel experts and founders for their insightful contributions to the panel.
---
This initiative is funded by the UK Foreign, Commonwealth & Development Office (FCDO), and supported by the GSMA and its members.