The COVID-19 pandemic represents one of the most profound challenges to economic development and human wellbeing in a century. The pandemic will exacerbate the inequalities and hardships faced by already vulnerable groups and threatens to undermine the Indo-Pacific's astounding achievements in economic growth, poverty reduction and political stability over the past two decades.
In that very unpredictable context, it is all the more important that entrepreneurs and innovators are supported. The GSMA Ecosystem Accelerator programme, in partnership with the Australian Government, has launched a series of activities in the Indo-Pacific region to further strengthen the entrepreneurship ecosystem that is at the heart of post COVID-19 recovery.
As a first step, the Start-up Challenge 2020 programme supported the early-stage founders in Papua New Guinea, Fiji and Samoa to crystallise their ideas into businesses, thus identifying nine promising start-ups from the three countries. These nine start-ups alongside 45 more mature start-ups – selected from a pool of 490 applicants – were then enrolled into the 'LaunchPad' programme.  The LaunchPad programme put start-ups through six weeks of intensive 'learning-by-doing' training, where they explored how to build a start-up. Using different methodologies such as 'use of lean canvas', 'customer force canvas' and 'different types of MVP' throughout their journey up to the final Showcase day, the start-ups have received live training, one-on-one coaching sessions, mentor talks and group check-ins, all done virtually.
"The feeling was surreal and overwhelming to be selected to join this life-changing program", mentioned Vanua Tamari of Edulaif from Papua New Guinea, who was going through the LaunchPad.
It may be easy to forget that the founders who are going through six weeks of intensive training are still running their companies in parallel and applying their knowledge in real life. Despite this big commitment, Mereseini Tuivuniwai of Teivaki, a start-up from Fiji, summed up the experience as, "Teivaki team are thrilled and excited. It's been a steep learning curve for our team as we continue to develop and adapt our start-up concept. We are very grateful for this opportunity."
On the Showcase day, 11 passionate entrepreneurs, committed to delivering life-enhancing solutions to their communities, presented their start-ups. A range of ideas including e-education, health solutions for women and an agricultural investments marketplace, were pitched to a panel of investors, mobile network operators, other international organisations and fellow founders.
As a result, some of the featured start-ups were selected as finalists for the Seedstars World Competition in Papua New Guinea, Fiji and Samoa, taking place between 25 and 27 November, which is also supported by the Australian Government and the GSMA.
For those that are interested in listening to the pitches, they can register to attend the live broadcast event happening between 25 and 27 November via this link.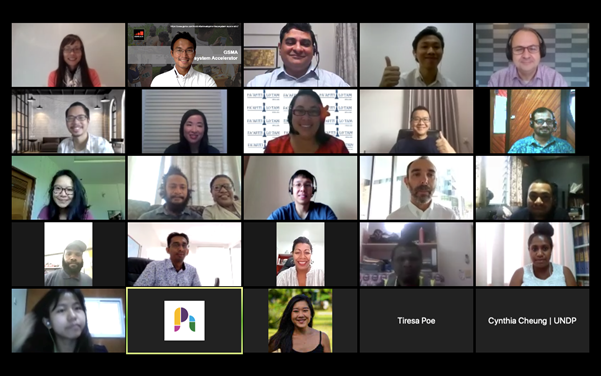 The Ecosystem Accelerator programme is supported by the Australian Government, the GSMA and its members.