The Philippines consistently ranks as one of the most disaster-prone countries in the world. The country commonly faces natural hazards – including typhoons, storms, floods and landslides. In December 2021, Typhoon Rai affected more than 3 million people, leaving 2.4 million people in need of assistance. This disaster, and the many others that have occurred over the years, have led the Philippines to build capacity in disaster preparedness, in particular Early Warning Systems (EWS).
Our latest report, "Early Warning Systems in the Philippines: Building resilience through mobile and digital technologies", looks at how digital innovation can strengthen EWS and provides recommendations for stakeholders involved in the development, management and financing of these systems.
On 14 June 2022, we hosted an online convening to discuss the findings and implications of the research with key actors involved in EWS, including Mobile Network Operators (MNOs), NGOs and civil society organisations, and government representatives.
The discussion focused on the role of MNOs in building resilient EWS, both through technology innovations and through partnerships with institutions (e.g. national agencies) involved in the different stages of EWS. We then opened the discussion to a group of international practitioners, who are experimenting with innovative tech-based solutions in EWS in South and Southeast Asia.
Source: The GSMA Early Warning Systems in the Philippines report (Data source: World Meteorological Organisation)
What is the role of MNOs in building resilient EWS?
In the Philippines, Mobile Network Operators (MNOs) Smart and Globe, both signatories of GSMA's Humanitarian Connectivity Charter, played a key role in the Typhoon Rai response, supporting government, first responders and the population at large.
Some of Smart and Globe's early preparedness actions included running coordinated simulation drills nationwide and pre-positioning aid and supplies in key areas, especially in coastal cities. When the typhoon was impending, the MNOs activated quick response teams to ensure the continuity of operations and delivered emergency alerts and warnings.
"What we relearn from Typhoon Rai is that communication is just as important as food, water and shelter" – Catherine Yap-Yang, First Vice President and Group Head of Corporate Communications at PLDT and Smart.
In the immediate aftermath of the disaster, Smart and Globe re-established major network infrastructure and provided broadband connectivity tools and free charging stations, or generator sets, to ensure people remained connected. Smart and Globe also partnered with other institutions involved in response operations to avoid duplication of efforts and ensure resources are well-allocated. For example, through coordinated efforts with the Emergency Telecommunications Cluster (ETC) and the Department of Information and Communication Technology (DICT), it was possible to deploy Mobile Operations Vehicles for Emergencies (MOVE) units in disaster hotspots.
Scaling up existing well-functioning systems is key to continue building resilience across the country. For example, Smart is currently looking at ways to strengthen and integrate community-based EWS into Infocast, its web-based SMS broadcast solution that enables local government units to distribute important public information within their communities. At the same time, leveraging rapidly evolving frontier technologies has the potential to improve the accuracy of EWS. Globe is currently working on enhancing granular weather forecasting through AI-based predictive analysis and see Big Bata as a powerful tool to get access to richer and more granular data.
"There are large opportunities to take advantage of the power of Big Data to enable a much more holistic impact-based forecasting" – Apple Evangelista, Head of Sustainability and Social Responsibility, Globe Group
Although MNOs are generally more involved in the dissemination and response capability stages, they have a role to play in supporting government enhancing risk knowledge and monitoring. Insights from passively generated mobile big data, such as call detail records (CDR) and mobile positioning data, have the potential to address data gaps on critical information, including population movement, population vulnerability and infrastructure exposure.
International collaboration for digital innovation in EWS
While EWS is typically the domain of national actors, knowledge sharing and partnerships at an international level are important to ensure national EWS benefit from the latest innovations. Our research also looks at various use cases in the Asia-Pacific region across EWS.
In Cambodia, the NGO People in Need, supported by international donor organisations, implemented EWS 1294, a system that relies on IoT devices to improve flood monitoring. EWS 1294 uses solar-powered and mobile data-enabled water gauges with cloud hosting and interactive voice response (IVR) to provide fast, relevant and context-specific early warnings. Initially implemented in four villages in North Cambodia, the system has been scaled up and currently operates across many provinces.
In Sri Lanka, the National Disaster Management Center, MNO Dialog, and MicroImage, a private sector ICT specialist, developed the Disaster and Early Warning Network (DEWN), a last mile disaster EWS. It is based on a suite of mobile technologies and remote-alarm devices to reach areas where the network coverage is inadequate or damaged and make sure no one is left behind and integrates an API to allow third parties to build an ecosystem around it.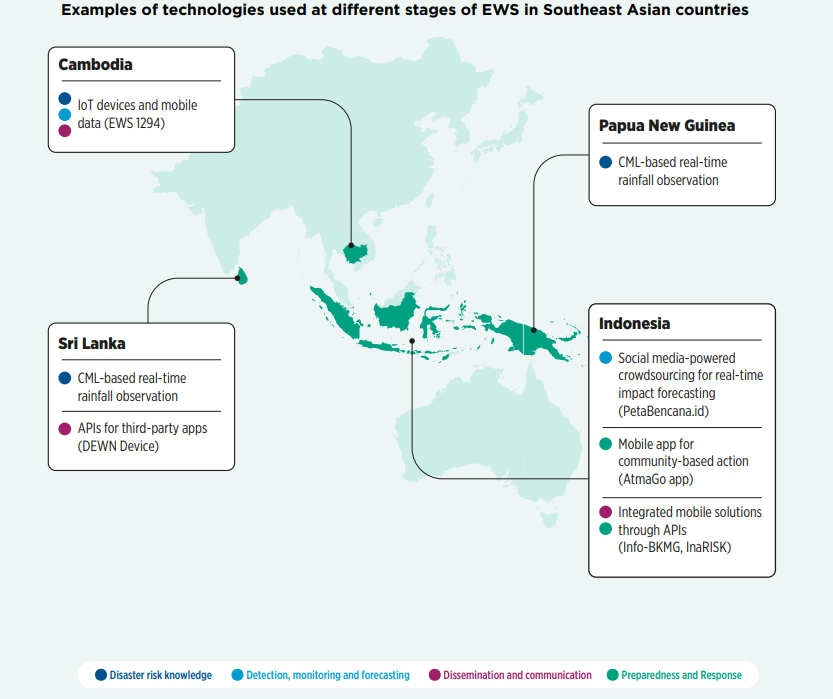 Source: The GSMA Early Warning Systems in the Philippines report
The scaling journey of these initiatives offers an interesting perspective on the key elements required for successful EWS implementation, in the Philippines and elsewhere. A prerequisite is to have digital solutions that actually work on the ground and are able to provide critical support when needed.
"The most important thing is that your system has to work. If it doesn't work, it will be very challenging to build trust with end-users and drive uptake" – Lukas Laube, Country Director, People in Need Cambodia.
Adopting human centered approaches to EWS design can make all the difference in developing resilient systems. A further step involves adopting an inclusive design approach, which prioritises the voices of those most likely to be left behind, including those living in remote areas or marginalised groups. Reaching out to the most vulnerable communities is a key challenge, even for well-established EWS.
Crucially, digital solutions used in EWS must be cost-effective to generate government buy-in, especially when resources are limited. In Low- and Middle-Income Countries (LMICs), direct support from international donors is still very important, as designing, developing, implementing and maintaining innovative EWS is demanding, in terms of both financial and human resources.
While the Philippines has a sound EWS, in the future its preparedness will be tested by more frequent and greater disasters. As the country seeks to strengthen EWS with digital innovation, it will have to overcome barriers to technology adoption. Our research identifies six key enablers of digital inclusion that need to be enhanced to reap out the benefits of digital innovation for EWS: mobile connectivity, affordability of digital solutions, relevance and inclusion, awareness and trust, and data governance and regulatory framework.
What next?
Low-resource environments, such as LMICs, have some of the most innovative and people-centred EWS. They can offer valuable lessons to countries, including developed markets, seeking to improve their EWS and make them more inclusive and responsive to the heterogeneous needs of marginalised groups.
The GSMA Mobile for Development Central Insights Unit is currently working on a research project to identify gaps in EWS for climate hazards in the US. The study builds on examples of mobile and digital technologies deployed in LMICs that use community-based approaches.
Please do reach out to CIUteam@gsma.com, to find out more about the project, or to share insights with us from similar work conducted.
---
Read the CIU report titled 'Early Warning Systems in the Philippines: Building resilience through mobile and digital technologies' here.
THIS INITIATIVE IS CURRENTLY FUNDED BY THE UK FOREIGN, COMMONWEALTH & DEVELOPMENT OFFICE (FCDO), AND SUPPORTED BY THE GSMA AND ITS MEMBERS.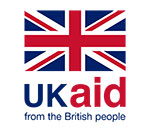 ---
[