Mobile services and applications are sometimes criticised for focusing on men's priorities and paying too little attention to women's needs; for example, safe access to public internet facilities, private access to information on reproductive health, and protection from online abuse.
As a result of women not being sufficiently considered in the development and marketing of products and services, women can be unaware of the range of potentially useful content and applications that are available to them through mobile internet.[1]
Women with little disposable income and time, literacy challenges, and lack of familiarity with the internet, have little incentive to spend time and money to gain access if they think there is no benefit for them.[2]
This perceived lack of relevance and useful content is an important barrier to mobile ownership and mobile internet use for women in low-and middle-income countries.[3]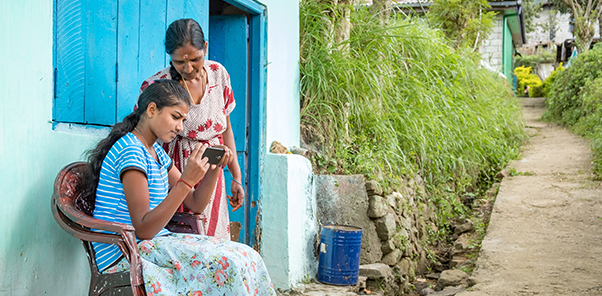 Dilaog's Yeheli
Mobile operators and their partners are making significant strides towards reducing the mobile gender gap and tackling the complex socio-economic challenges that prevent women from being a part of the digital future. An example is Dialog's interactive app Yeheli, which was launched in March 2018.
Yeheli, meaning female friend, is Sri Lanka's first-ever personalised and interactive web-based service dedicated to women's health and wellbeing. This app allows users to ask questions anonymously in three different languages, Sinhala, Tamil and English, and to receive bespoke answers from experts.
To bring the service to life Dialog has partnered with a variety of organisations who provide qualified and experienced doctors, lawyers and counsellors to respond to users' requests for information and support.
Yeheli's Operating System: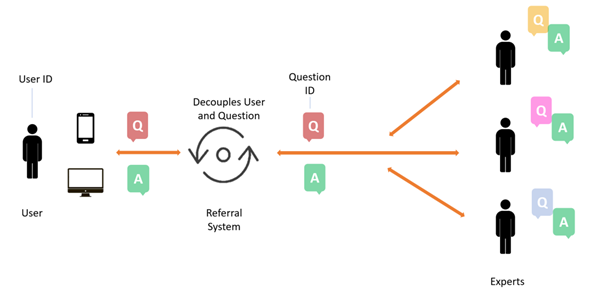 How does Yeheli address women's perception that the internet is not relevant for them?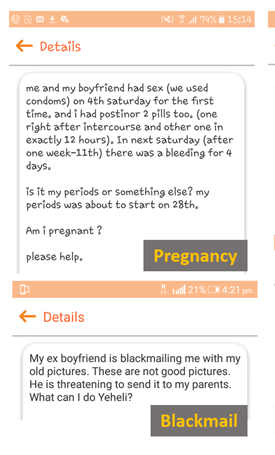 Social norms and disparities between men and women in terms of education and income often contribute to women having less reliable sources of information.
Yeheli allows any user (male or female) to ask questions, but data indicates that the majority of users are women. To date, 70% of users are young adults and 80% are estimated to be women. The questions received range from pregnancy, menstruation, virginity, medical procedures to cybercrime, emotional abuse and mental health.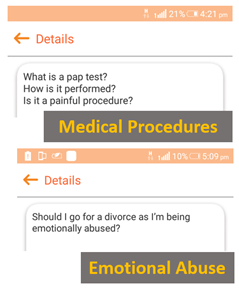 By creating a platform for users to ask questions in an anonymous, safe and efficient way, Dialog is empowering women to communicate their concerns and to get relevant guidance on the issues they face.
These questions are strong evidence of the demand for more content that is relevant to women and available in local languages.
Yeheli has grown popular largely via word-of-mouth. The platform was advertised on social media at its launch, but that has stopped due to the overwhelming volume of requests, giving further evidence of its success.
Dialog is currently working on strengthening the platform to be able to handle a greater volume of users. They are also engaging with new potential partner organisations to widen the network of available experts. Dialog's target is to reach out 30,000 users of Yeheli by end of 2019, while ensuring the quality and reliability of the service.
Balancing social impact and commercial sustainability
Dialog is a GSMA Connected Women commitment partner, and has committed to increase the proportion of women using mobile internet and mobile money services in its subscriber base by 2020.
Yeheli is an app that is available to anyone in Sri Lanka (i.e. not only Dialog customers), and Dialog is confident that offering this service is encouraging women to broaden their use of mobile internet and to raise awareness of the value of the internet for women's lives. Dialog is also planning to integrate Yeheli into their existing 'portal for women' to offer female customers a wider package of mobile internet services.
Users feedback is proving that Dialog's Yeheli has a tangible social impact and the next step is to ensure that the platform is commercially sustainable in the long term. For a new product and service to be both sustainable and impactful, providers need to understand the direct and indirect revenue streams associated with it, the cost of providing them, and whether or not these make a difference to women's lives.
The era of pink phones is over
Dialog Yeheli shows us that relevant mobile applications can provide women with access to valuable services and life-enhancing opportunities, including health and wellbeing information. It also highlights that these services can be provided over mobile in a way that meets the needs of women – in this case in an anonymous, safe and efficient way.
However, this potential is only realised when there are relevant content and services available, that women are aware of these content and services and that they are provided in a way that meet their needs.
The time when pink phones were considered enough to reach female customers is over. Policies, products, content and services should meet women's needs as well as men's, and be shaped by a clear understanding of their circumstances, capabilities and preferences.
[1] GSMA & LIRNEasia, 2015; GSMA, 2015
[2] e.g. GSMA, 2017; Web Foundation, 2016; GSMA & LIRNEasia, 2015
[3] GSMA, 2018; GSMA, 2017