This is a guest blog about an upcoming event, written by Zunaira Ali, from the National Incubation Centre of Pakistan. You can attend this online event by registering below. If you have any additional questions on the workshop please reach out to mshoukat@gsma.com.
As a middle-income country with a growing population, Pakistan has the highest rate of urbanization in South Asia, with 36.4 per cent of the population living in urban areas. The UN estimates that by 2025, half of the country's inhabitants will be living in cities. While urbanisation is promising, it also poses unique challenges for Pakistan. On the one hand, it could boost the country's economy by increasing economic growth, boosting productivity, and allowing innovative new ideas to emerge. On the other hand, urbanisation will continue to put an immense burden on already stressed municipal financial resources and severely test the country's ability to provide basic services. Climate change is accentuating these challenges. Pakistan is the fifth most climate vulnerable nation in the world. Between 1998 and 2018, according to the Global Climate Risk Index, the country is estimated to have lost nearly 10,000 lives to climate-related disasters and suffered losses amounting to about $4 billion from 152 extreme weather events in that period.
The good news is, Pakistan is committed to leverage digital solutions and innovative partnerships to drive more affordable utility services such as energy, water, and sanitation. These efforts will help the country meet the overlapping challenges of rapid urbanization, climate change, and urban inequality.
To further enable progress being made towards digital innovation, the National Incubation Center, Pakistan's largest technology incubation center, is collaborating with the GSMA Digital Utilities programme to host a virtual workshop titled, 'The Future of Digital Utilities in Pakistan: The role of digital innovation and partnerships'. The aim of the workshop is to of find new ways for public and private entitles to partner and contribute to access to more affordable, reliable, safe and sustainable urban utility services. Together, we will identify key challenges and opportunities for solutions and partnerships that can drive impact at scale. Here is the agenda and the thematic areas we will focus on, along with the panelists that will be participating:
Water and Sanitation: Using Mobile to Promote Sanitation and Clean Water Management Practices
Shayan Sohail Sarwar – CTO – Everywater
Munawar Hussain – Program Manager – WaterAid
Aisha Sarwari – Head of Sustainability – Coca Cola
Rana Shakeel – Member Planning – Capital Development Authority
Moderated by: Hira Wajahat – Climate Launchpad Lead
Clean Cooking: The Clean and Digitized Way of Cooking
Ibrahim Syed – EcoFire
Ayesha Malik – Jaan Pakistan supported by AKDN
Opportunities and Barriers of Investing in Sustainable Tech
Ali Mukhtar – Partner – Fatima-Gobi Ventures
Amim Shafiq – Consultant – Asian Development Bank
Eisha Zeb – Program Manager – Nations Incubation Center
Omar Yahya – Additional Joint Director – Securities and Exchange Commission Pakistan
Moderated by: Yamna Hasni – Development Consultant
Will innovation in sanitation management help solve the water crisis in Pakistan?
Pakistan has made considerable progress in improving access to water and sanitation across the country, but as of 2020, 60 per cent of urban residents lack access to safely managed drinking water, and 18 per cent of urban residents lack access to at least basic sanitation services. Low-income urban residents also often have to pay extra to access essential drinking water from expensive informal water vendors, while many living in informal settlements lack formalised solutions to the challenge of non-sewered sanitation. Lack of access to safely-managed water and at least basic sanitation negatively impacts the health of millions of people each year, poses significant public health risks to the wider city, and perpetuates urban inequality.
Waterborne and sanitation-related diseases like typhoid, polio, diarrhea, jaundice, and cholera are some of the leading causes of death in Pakistan, while lacking access to essential utility services is exacerbating challenges in Pakistan's growing informal settlements.
To focus the conversation on this issue, the virtual workshop will host a panel discussion on the topic "Water and Sanitation: Using Mobile to Promote Sanitation and Clean Water Management Practices". During this session, experts from the startup space, the public sector, enabling organizations and industry experts will come together to discuss:
How can the government use its existing Pakistan citizen portal to increase awareness about sanitation and clean water?
What are some of the challenges and roadblocks that startups face while approaching the government about data?
What are some of the ways in which digital solutions and innovative partnerships can be used to overcome the challenges of clean water and sanitation in Pakistan?
Does Pakistan need to explore clean cooking practices?
Traditional cookstoves, which use unhealth means of cooking, add to the household air pollution (HAP) and are extremely unhealthy. Data reflects that women and children account for 61% of the global burden of disease that is attributable to HAP. In Pakistan, nearly half the population – 114 million people – lack access to clean cooking technologies. This results in 115,000 premature deaths every year (Jaan-Pakistan-Health-Impact-Assessment-Report 2018).
To deliberate on how the government can help support awareness of clean cooking practices using technology, we will all about the important subject of 'The Clean and Digitized Way of Cooking' with an industry regulator and a startup in this space.
Are there investors who are interested in investing in sustainable tech?
Pakistani start-ups received a record total of $300 million in investment in 2021. However, no Venture Capital (VC) firm or startup fund has till date invested in sustainable tech startups since 2018. PakVitae (clean water filter) startup is the only one to get funding in 2018.
In hopes of changing this dynamic and bringing about a policy-level change, we are organizing a conversation on the topic of 'Opportunities and Barriers of Investing in Sustainable Tech'. Joining us for this dialogue, we have Fatima Gobi Ventures, Asian Development Bank, Securities and Exchange Commission Pakistan and the National Incubation Center.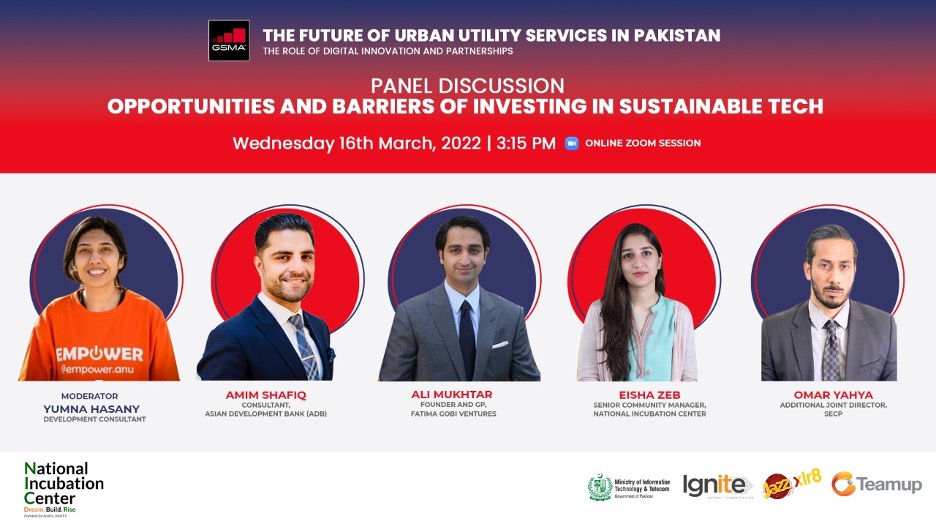 Through this workshop, we aim to provide a platform and start a conversation between public and private stakeholders to discuss and identify policy and innovative options to research, develop and implement technology driven solutions This registration-only event will be held on 16 March 2022 at 14:00 PKT (GMT+5). To attend the workshop, register by filling out this form and if you have any additional questions on the workshop please reach out to mshoukat@gsma.com.
The Digital Utilities programme is funded by the UK Foreign, Commonwealth & Development Office (FCDO), and supported by the GSMA and its members.