This post is part of a blog series on funding provided by the UK Foreign, Commonwealth & Development Office (FCDO) that the GSMA awarded to nine previous grantees in the water, sanitation, education, health and food security sectors which enabled them to continue delivering essential services to customers following the outbreak of the COVID-19 pandemic. Here we look at the impact of the fund on start-ups from the Digital Utilities programme – Drinkwell, Loowatt, Safe Water Network (SWN) and Uduma.
Governments around the world have taken steps to contain the spread of COVID-19, affecting the operation of essential services, such as water and sanitation. While there have been many challenges for water and sanitation providers, two stand out:
How to ensure the business sustainability of water and sanitation providers, given the financial impact of the pandemic; and
How to continue to provide essential services while minimising the risk of transmission on-site.
The focus of the GSMA funding was in supporting the start-ups on these two critical issues.
Mitigating the financial impact of the pandemic on water and sanitation providers
In a review of policy response in water across 86 countries, Unicef found that 53 per cent of countries introduced measures to prevent water supply being cut off to households unable to pay, and 65 per cent of countries introduced measures to ensure a minimum daily volume of drinking water for all vulnerable households. These actions have provided support to some of the most vulnerable individuals during the pandemic. However, the measures have also posed cash flow issues for providers, with government reimbursements often paid retrospectively. Water and sanitation providers have also had to deal with the financial impact of government-enforced closures of key facilities, inconsistent levels of demand and increased maintenance levels.
Safe Water Network (SWN), Ghana – SWN builds and owns water treatment and distribution stations that integrate mobile payments, prepaid metering and machine-to-machine connectivity. The government directive to provide free water to domestic users increased the strain on SWN's operations, as a result of greater demand. The fund allowed SWN to hire additional water station operators, while enabling the organisation to undertake additional maintenance activities to maintain rapid repair times and frequent water quality testing. This ensured SWN was well-positioned to deal with the incremental volume without any adverse impact on water quality. The fund eased SWN's cash flow problems, which were the result of only being reimbursed by the government months after providing free water.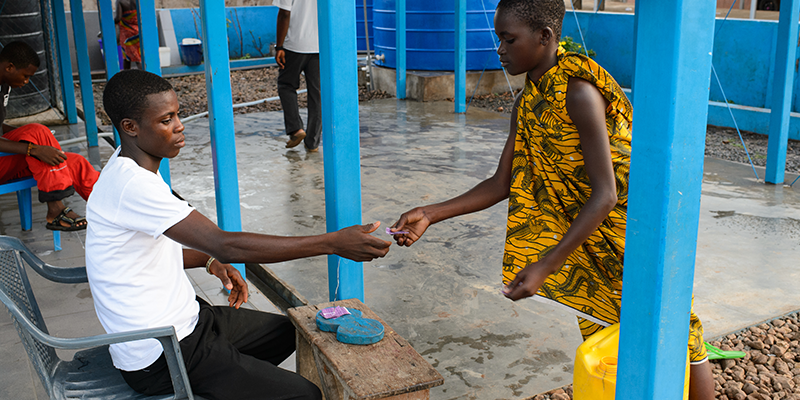 Drinkwell, Bangladesh – To reduce the risk of COVID-19 transmission, the Dhaka Water Supply and Sewerage Authority (Dhaka WASA) asked Drinkwell to temporarily close its mobile-enabled water ATMs, which provide safe drinking water to low-income households. The fund helped Drinkwell soften cash flow issues, resulting from delayed payments from one of its partners, which enabled Drinkwell to reopen its water ATMs in Dhaka after the enforced closures. This included the re-hiring of caretakers it had previously furloughed to operate and manage the water ATMs.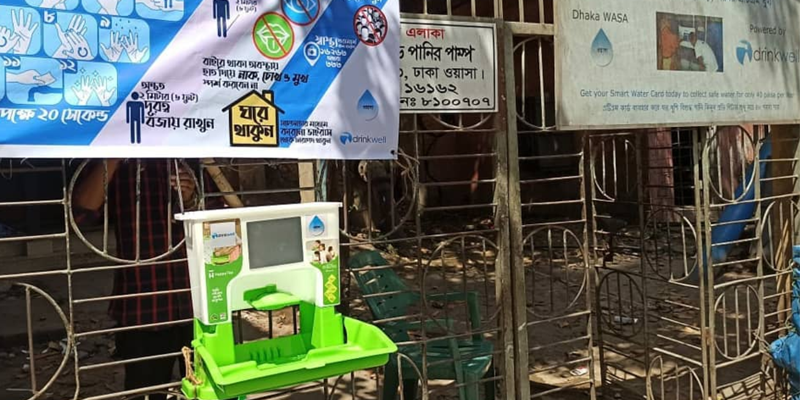 Loowatt, Madagascar – The fund also helped Loowatt, which uses mobile technology to support the servicing and maintenance of waterless, container-based household toilets. Loowatt faced increased financial pressure as the impact of the pandemic on employment and household income meant 50 of Loowatt's customers had to temporarily suspend their services. The grant helped Loowatt to ease its cash flow problem while carrying on with its expansion plans. Furthermore, the grant enabled Loowatt to set up a separate waste management site to reduce its reliance on the state-managed facility, which was frequently not operational in 2020. The new site will help Loowatt to increase its revenue from waste-to-value conversion.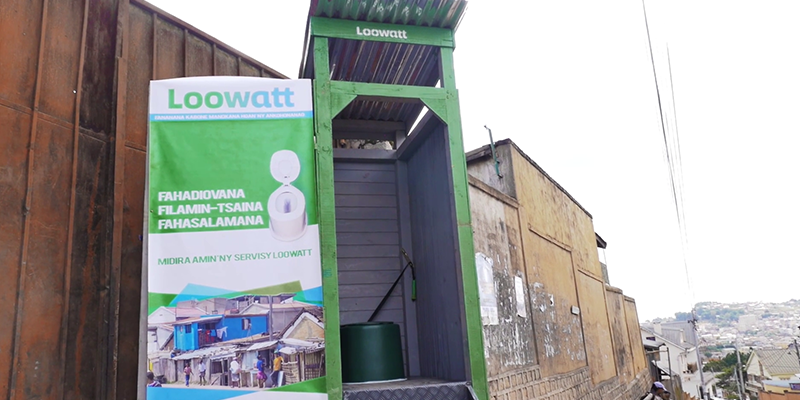 The providers all promoted handwashing and other safety measures
The financial pressures on water and sanitation providers were exacerbated by the cost of implementing additional safety measures to reduce the transmission of the virus. In responding to COVID-19, all of the start-ups integrated hygiene promotion into their operations alongside actions to ensure people accessing services could do so as safely as possible. This was essential to build trust and reassure customers on safe service delivery.
In Burkina Faso, Uduma sells water from hand pumps and standpipes using a digital prepayment and sales monitoring system, and verifies that the water quality is safe, and that pumps are serviced regularly. The fund enabled Uduma to install 333 foot-operated handwashing facilities near its water points and to supply over 18,000 bars of soap to communities. The fund also enabled Uduma to launch its 'clean hands' campaign, which aimed to increase handwashing in Burkina Faso, where 51% of the rural population did not have access to handwashing facilities in 2017, according to the WHO/Unicef Joint Monitoring Programme report. As part of the campaign, Uduma broadcast public safety information relating to COVID-19 via community radio stations. This included instructions for social distancing, handwashing, and other basic safety measures. The public safety information also helped to alleviate fears among Uduma's customer base that water points were high risk points for spreading the virus.
SWN also used the fund to raise awareness of ways to reduce the potential for COVID-19 to spread. SWN found that visually stimulating materials such as posters and leaflets were more successful than text-based messaging in engaging low-income populations. SWN's awareness campaign included public demonstrations of handwashing and basic hygiene protocols. SWN's water station operators also shared awareness information with customers. This proved particularly effective as it allowed SWN staff to engage with customers in local languages.
SWN hired additional water station operators to ensure customers maintained social distancing rules in queues. This was particularly important as the increased water demand due to the government's free water mandate increased queue times from 2–3 minutes to 5-10 minutes. Similarly, Drinkwell took steps to maintain order at its facilities. It drew circles on the pavement next to its water ATMs to ensure customers adhered to social distancing rules and introduced a "no mask, no service" policy at its water ATMs to reduce the spread of the virus. Meanwhile, Loowatt increased its rate of phone call and SMS-based communication with customers to keep them informed about the impact of the pandemic on its service.
The providers focused on protecting staff during the pandemic
All four start-ups used the fund to introduce additional safety measures to protect staff against the virus. A key part of this was buying personal protective equipment (PPE) for staff that regularly interacted with the public as part of their work. For instance, SWN and Uduma each purchased over 2,500 masks for their front-line staff. This helped give workers the confidence to continue their duties in the pandemic, while also helping customers feel safer at the water facilities. PPE was given to office-based staff too, while start-ups installed additional handwashing facilities in offices where necessary. Where possible, start-ups allowed employees to work from home. For example, Loowatt's customer service team worked from home to keep office-based staff to a minimum.
The grant enabled water and sanitation providers to provide additional health and safety training to front-line staff, which helped to tackle misinformation about the pandemic. SWN gave educational materials to staff on ways to help reduce the spread of COVID-19. This enabled front-line staff to educate customers on the importance of social distancing and basic hygiene protocols at SWN water stations, helping to reduce the transmission of the virus. Providers also introduced new policies to help protect front-line staff. For example, Loowatt changed waste collection from every week to every two weeks to reduce the risk of spreading COVID-19.
Results from the grant
The funding provided by the UK Foreign, Commonwealth & Development Office (FCDO) that the GSMA awarded helped water and sanitation providers to withstand the financial impact of the pandemic, in order to continue delivering essential services in underserved communities. Between July and December 2020:
Uduma provided free water for handwashing to an average of 182,605 people per month;
An average of 77,761 people used SWN's services each month. This marked a 17 per cent increase in consumption of water compared to the same period in 2019;
Drinkwell provided access to clean drinking water for 27,285 individuals as it reopened its water ATMs; and
Loowatt increased the number of households subscribing to its container-based solution from 223 to 443, providing sanitation services to 2,130 individuals. This was driven by its marketing campaign, which helped people appreciate the value of private toilets.
The fund enabled water and sanitation providers to provide these essential services in a way that minimised the risk of COVID-19 transmission. From providing staff with PPE and additional training to educating the public about good hygiene practices, the work of providers had a wide-ranging impact. For example, Uduma provided pieces of 2,618 PPE equipment to staff and partners, and SWN estimates that its COVID-19 awareness campaign reached over 80,000 individuals. Moreover, the steps taken by water and sanitation providers to educate the public and staff on good hygiene practices have the potential to positively impact public health for years to come.
---
The Digital Utilities programme is funded by the UK Foreign, Commonwealth & Development Office (FCDO), and supported by the GSMA and its members.