In Sub-Saharan Africa (SSA), the supply of labour significantly outweighs demand, leading to high rates of informal employment for youth. It is estimated that between 80 and 95 per cent of youth take up informal jobs, which are critical in providing an income and building their livelihoods.
In early 2020, the GSMA Mobile for Development team conducted research on youth employment in the mobile industry in SSA. Employment estimates indicated that almost 800,000 youth found informal income-generating opportunities in the industry in 2018, and these opportunities are expected to increase. To understand these youths' employment experiences, further research was conducted and between December 2020 and February 2021 we surveyed over 2,400 youth and interviewed 90 youth working directly and informally in the mobile industry in six SSA countries, including Côte d'Ivoire, Ghana, Kenya, Nigeria, South Africa and Uganda. Below are key findings from the research:
81 per cent of employment in the countries that are part of our research is informal, and almost half of informally employed workers are youth.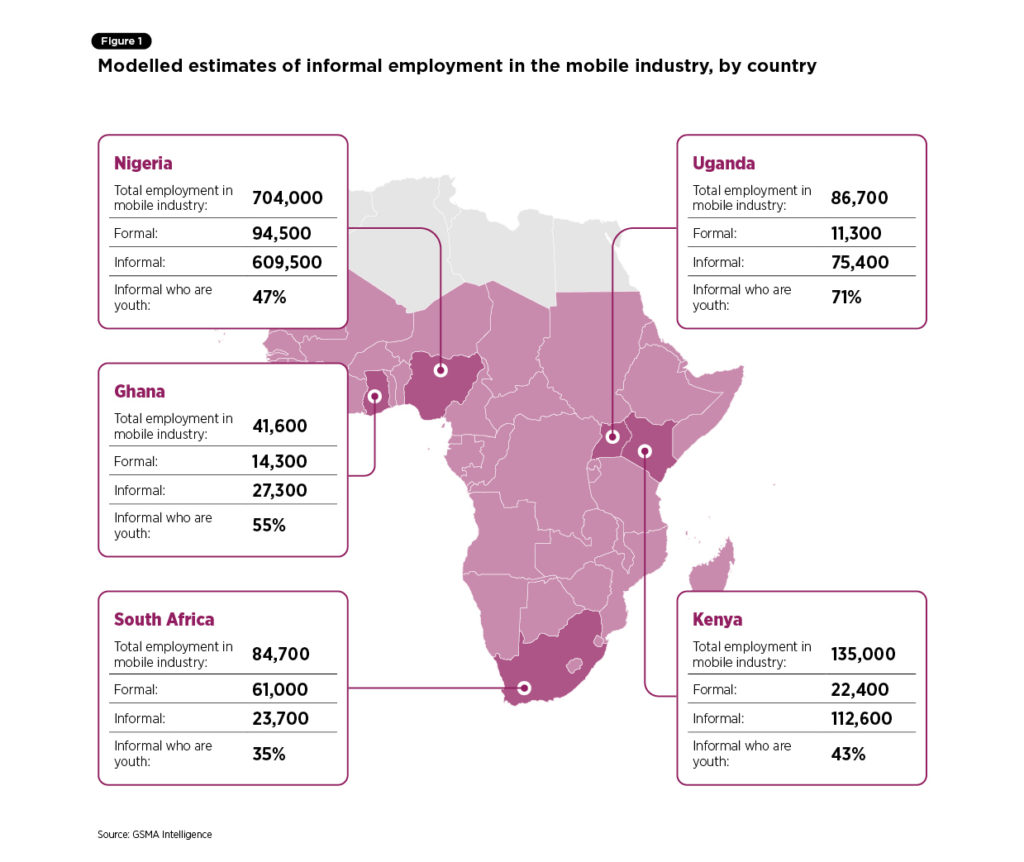 Most youth in SSA engage in informal income-generating activities in the mobile industry as part of a mixed livelihoods strategy.
Youth in SSA take up numerous economic activities to build their livelihoods rather than a single job or economic activity; this strategy is referred to by the MasterCard Foundation as a mixed livelihoods strategy. Informal jobs in the mobile industry tend to be an additional rather than the only economic activity. A quarter of our survey respondents were students working in the mobile industry to generate a "side income" while 45 per cent had income-generating activities outside the mobile industry, including formal jobs and agricultural activities.
Retail and distribution and mobile money services are the biggest sources of informal youth employment.
Over 70 per cent of youth surveyed reported working in mobile money services and retail and distribution roles, retailing either handsets or connectivity products such as airtime, SIM cards and data/voice and entertainment bundles (Figure 3). Youth working informally in non-retail segments of the industry primarily repair mobile phones and a smaller proportion work as content and application developers or casual construction workers on network infrastructure.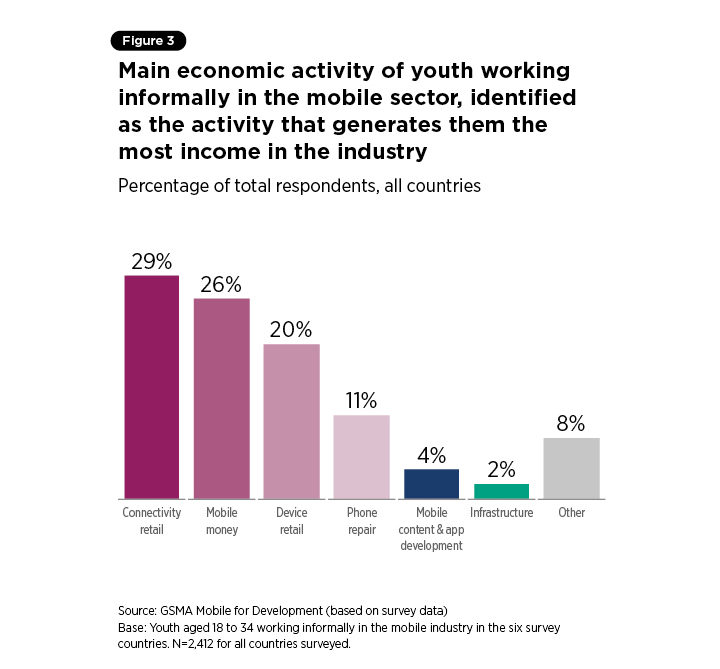 Survey data suggests that a third of informal retailers and distributors and mobile money agents have built stable, long-term careers in the industry in sustainable enterprises, while two-thirds are more transient, working in the industry for short-term income generation.
---
I have been working for 2 years as a SIM card re-seller. I enjoy it because it allows me to work part-time, two to three days a week. For me, it is an easy way to earn money in parallel to my studies." – Male, 21, transient retail worker, rural, Côte d'Ivoire
---
Women are underrepresented higher up the value chain where income-generating opportunities are more lucrative.
While women are well represented in retail and distribution and mobile money services (Figure 11), they are less well represented higher up the value chain as established businesses owners and device retailers, where economic gains are also higher. The number of women working informally in content and app development and phone repair, which are relatively well-remunerated, is notably low. There is also an absence of women employed in infrastructure provision.
In a situation where formal jobs are lacking, informal income-generating opportunities in the mobile industry provide youth with a vital source of income.
Youth identify a lack of formal jobs in the region as the main driver of informal employment in the industry. They reported that irregular incomes and lack of financing to grow their businesses are the biggest challenges of working informally in the industry, and that financial independence, upskilling and flexibility are key benefits.
Fifty-five per cent of youth indicated that, given the choice, they would like to have a formal job while continuing to work informally in the mobile industry and obtain financing to grow their business (Figure 26). This finding underscores that youth in SSA are taking a mixed livelihoods approach to building their future.
75 per cent of survey respondents reported negative income impacts from COVID-19
The COVID-19 pandemic had several negative impacts on youth working informally in the industry. Forty-one per cent of survey respondents reported having fewer customers, 35 per cent worked less hours and 75 per cent generated less income. While 18 per cent of respondents paused their informal activity in the industry, an equal number reported taking up an informal income generating activity in the industry to generate an income. In addition, registration for mobile money agent roles increased sharply in the latter half of 2020, with a 40 per cent increase in Western Africa and almost 27 per cent in Southern Africa compared to 2019, creating employment opportunities at scale.
Given the rapid pace of digitalisation in SSA, informal employment in the mobile industry is expected to grow and continue to generate income and support livelihoods for youth for the foreseeable future. Collaboration between key stakeholders, including MNOs, policymakers, development organisations and educational institutions, can provide targeted solutions to the challenges youth face in informal employment and help more youth build sustainable enterprises in the mobile industry value chain, but must be designed keeping in mind the context of a mixed livelihoods approach to income-generation.
Find out more about the landscape of informal youth employment in the mobile industry in SSA in our latest research report.
---
The research of the Mobile for Development Central Insights Unit is currently funded by the UK Foreign, Commonwealth & Development Office (FCDO), and supported by the GSMA and its members. The views expressed do not necessarily reflect the UK government's official policies.