Globally, nearly 500 million households depend on smallholder farming for their livelihoods. However, farmers are often financially excluded with limited access to financial products. Recognising this gap, the GSMA undertook research to investigate the rise of digital solutions in the financial and agricultural sectors. The findings of this research will be published next week in a report titled "Agri DFS: Emerging business models to support the financial inclusion of smallholder farmers"".
The lives of farmers revolve around crop cycles, which determine their cash flows, income and financial needs. Agricultural production is highly dependent on weather patterns and prone to environmental risks. Climate change further exacerbates farmers' vulnerability. Tailored savings and credit products would enable smallholders to manage irregular cash flows, increase productivity and mitigate the effects of climate change and external shocks, such as COVID-19. However, farmers largely operate in the informal economy with no or limited access to formal financial services that suit their needs. The estimated annual demand for credit from smallholder farmers in low- and middle-income countries (LMICs) is $238 billion. Less than a third of this demand is being met.
Financing gap by Region and type of financing need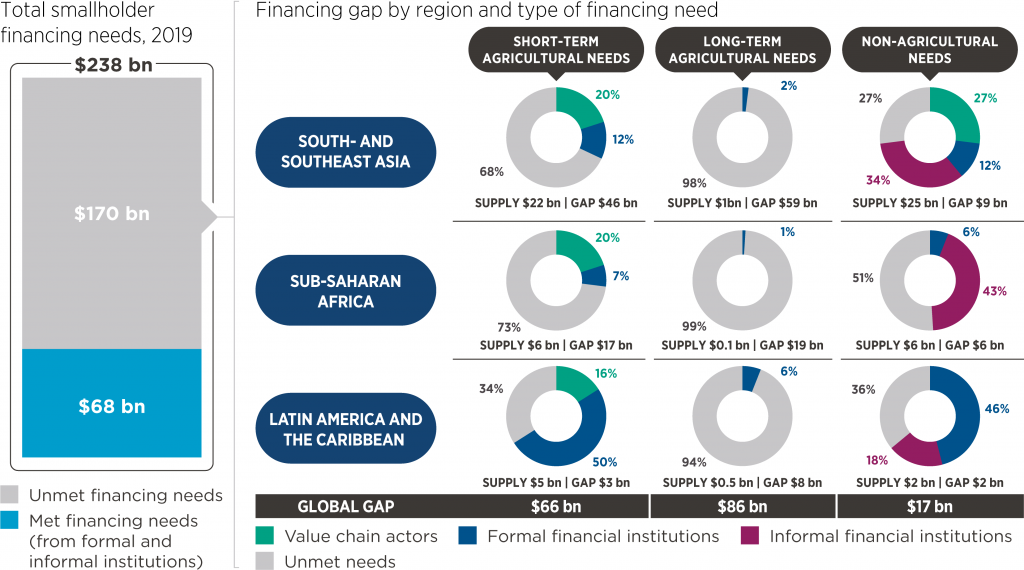 Our research indicated that digital solutions are enabling new business models for agri DFS that can help address the financing gap. In our upcoming report, we explore how four key digital enablers – mobile money, alternative data, application programming interfaces (APIs) and remote locking technologies – bring about five innovative agri DFS business models:
Digitisation of savings groups, which builds on both the established financial habits of farmers and community-based relationships to bring informal financial flows into the formal sector and generate financial histories for farmers;
Digitisation of credit processes, which uses digital solutions to reduce costs and risks for financial service providers (FSPs) to serve farmers;
Digitisation of value chains, which leverages established farmer-buyer relationships and farmers' data footprints collected through digital procurement solutions to estimate production and credit risks;
Embedded finance, which usesAPIs to integrate financial services with other digital agriculture use cases within the same solution or platform; and
Pay-as-you go (PAYG), which uses mobile money to open access to assets, such as irrigation pumps or solar panels, through frequent micro-instalments, as well as remote-locking technologies that allow service providers to interrupt the service remotely in case of arrears.
---
Each agri DFS business model has its own path to scale, but they all rely on partnerships to grow. For more information on the topic, join us on Thursday, 4th November at 11am UTC in our live session at Financial Inclusion Week 2021 to explore how digital enablers are opening up to new models and partnerships for agri DFS.
---