This blog was written by Charu Chadha, former Senior Market Engagement Manager, Mobile for Development Utilities
Country(s) of implementation: Tanzania, Kenya and Bangladesh
Mobile channels: Machine to machine (M2M) connectivity and Mobile services
In 2013, we launched the Mobile for Development (M4D) Utilities Innovation Fund to trial and scale the use of mobile to improve or increase access to energy, water and sanitation services. To date, we have awarded Seed and Market Validation grants to 34 organisations in 21 countries. We are now publishing a series of blogs and case studies containing the final learnings from the 21 grants in the second phase of our Innovation Fund. Our objective is to develop an evidence-base across mobile-enabled utility solutions that can inform ecosystem players and accelerate the growth of the sector.
This blog explores what makes partnerships work, using Product Health's experiences.
Background
Product Health received a seed grant from the M4D Utilities Innovation Fund in May 2015 to trial remote battery monitoring using GSM technology for Solar Home Systems (SHS).  Product Health already had an analytics platform to measure battery health by analysing temperature, current and voltage. However, in the absence of monitoring hardware their service could only be utilised by SHS providers that had the monitoring hardware and only needed the analytics platform. To expand their potential market, to include distributors and manufacturers of non-smart solar products,  they wanted to offer a service that combined their analytics capabilities with monitoring hardware.
During the grant Product Health proposed to integrate the remote monitoring hardware with SHS from three manufacturers and distributors – NIWA, Barefoot Power and Bright Green Energy Foundation (BGEF). This would help them demonstrate the value of remote battery monitoring for producers and distributors of SHS.
In the first eight months of the grant, Product Health worked closely with the three SHS companies to understand their market dynamics. At the same time, it worked on the design and development of the hardware and its integration with their existing battery analytics platform. During this process, Product Health realised that both the cost and functionality of the hardware was not in line with its SHS partners' expectations.
The cost of the monitoring hardware was almost five-times the maximum cost acceptable to SHS partners;
SHS partners were more interested in the ability of the hardware to control the SHS battery remotely, rather than simply monitoring it; and
Product Health had not anticipated the time and money it would take to produce a market ready product, that needed rigorous field testing to ensure that it was reporting reliably.
Due to these considerations, Product Health decided not to build the hardware in-house and instead find a supplier for affordable hardware with the desired functionality. BBOXX, a long-standing business associate, with tested technology, was an obvious choice.
In the three-way partnership between BBOXX, Product Health and SHS manufacturers and distributors, Product Health would initially play the role of a mediator between the other two. Product Health planned to eventually develop their own software back-end to deliver an independent service using BBOXX's hardware.
The consortium would deliver immediate value to Product Health by reducing the time to market. But the immediate or long-term value for other partners needed to be established.
Product Health and the BBOXX partnership
Product Health and BBOXX started their entrepreneurial journey together in 2010. Both the organisations received initial funding from Synergy Growth Ltd to develop complimentary products. BBOXX focused on hardware development for SHS while Product Health started developing an analytics platform for battery management. Though closely connected initially, both businesses developed independently over time and BBOXX eventually developed a customer and asset-management software back-end that integrated with Product Health's battery monitoring service.
Product Health approached BBOXX to form a strategic partnership for procuring hardware.  At that time, BBOXX had extensively tested its hardware for remotely monitoring and controlling their SHS with over 20,000 deployed in Africa. Moreover, having previously worked together helped expedite the negotiation process.
In the proposed partnership:
BBOXX would white label its telemetry hardware (sensors and connectivity components), including both remote monitoring and control functionality, for Product Health; and
Product Health would develop its own battery performance monitoring platform into a comprehensive software back-end for managing SHS.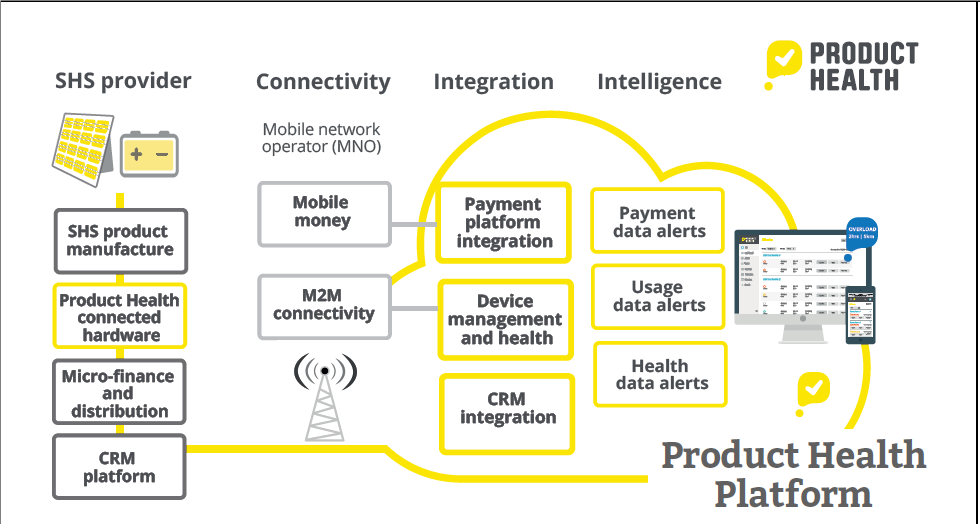 Figure 1 – Proposed functionality of the Product Health Platform (Product Health connected hardware in the diagram refers to BBOXX white labelled telemetry hardware)
Successful partnerships are built on equitable benefits for all involved. For Product Health, the primary benefit was accessing the high quality hardware necessary to remain relevant in the market. For BBOXX the partnership presented another route to market and profit from its investment in the remote monitoring and control hardware, in addition to its own operations and franchising business.
Weighing the benefits of the partnership
Product Health
BBOXX
Faster route to market: Immediate access to field-tested hardware, bypassing years of customer testing.

75% savings in the cost of hardware: Product Health would be able to focus on their core strength of analytics and enjoy cost efficiencies due to economies of scale.

Annual cost of connectivity reduced to 1/3: BBOXX hardware would consume less data than the hardware Product Health had been testing due to design competency and BBOXX's partnership with Vodafone brought cost efficiencies.

Access to new markets through partnership with other solar distribution companies: BBOXX felt that most SHS distributors might consider it a direct competitor making it difficult to collaborate directly. With Product Health as an intermediary, there was an opportunity to work with their partners i.e. NIWA, BGEF and Barefoot Solar, as well as other SHS distributors.
Product Health's relevance to the triparty consortium
Companies like Lumeter and Angaza were testing the market with similar services, to integrate pay-as-you-go (PAYG) technology including both hardware and software components to lock/unlock devices through keypad technology. Product Health felt that it would be able to provide a more comprehensive service given its combined use of BBOXX's GSM technology for real-time remote monitoring and control, as well as the strength of Product Health's analytics platform for battery health.
During the planning stage SHS partners who had not tried PAYG models previously, felt they could trial a new way of doing business, with limited additional associated costs. As they (SHS partners NIWA, Barefoot Power and BGEF) would be able to trial the addition of this technology to their existing SHS to understand its impact on operations and customer experience before integrating at the point of manufacture for scale.
However, the cost and complexity of trialling these additional technologies with their existing systems and operations turned out to be prohibitive.
The effective costs of retrofitting hardware for trial
Physical: There was development or adjustment required from the SHS partners to add an external hardware into their existing technology. This made their SHS vulnerable to tampering. Labour intensive manual interventions such as training and coordination of staff to install or maintain the technology was also required.
Non-physical: This was a new way of doing business that could potentially disrupt and change the current state of play. Substantial resources and time from management was required to administer this change.
Due to these costs, when given an option, SHS partners preferred to trial a complete BBOXX unit. That included the remote monitoring and control hardware, instead of undertaking an integration with their existing systems. Even though Product Health agreed to provide demo BBOXX SHS units for testing, this request undermined the value of Product Health as a negotiator and indicated that distributors and indicators were open to working with BBOXX directly.

Reflections on BBOXX's partnership Product Health
Christopher Baker Brian, Co-founder & Chief Technology Officer, BBOXX
"In 2015, the market was probably not ready for a B2B player that would help SHS manufacturers and distributors integrate PAYG technology. This has since changed with the growth of Angaza and Mobisol's acquisition of Lumeter.
A key learning from our experience of partnering with Product Health was – Technology integration takes time! We are a long way from standardisation in this sector. Unless your business solely focusses on providing PAYG technology, making the commercials work will be a challenge.
Product Health had a limited exposure to the SHS market. At the time, we underestimated the value of understanding the sector and the context as key determinates for the success of our partnership."
Key lesson: While partnering it is important to identify complimentary competencies
Even though the partnership with Product Health did not succeed, BBOXX continued to explore partnerships as a route to scale. They recently launched their SHS product in Senegal, Côte d'Ivoire and Cameroon in partnership with Engie and Orange. Though still in its early stages, the partnership builds on the complementary competencies of the different partners.
"For BBOXX this (partnership with Engie and Orange) is a new model. Engie and Orange are providing the capital investment as well as the boots on the ground. BBOXX is focussing on its strength in technology and software systems, training material and processes developed through our experience from the East African market." – Christopher Baker Brian, Co-founder & Chief Technology Officer, BBOXX
Entrepreneurs and start-ups everywhere are trying to find the right partners to help them scale their business. Partnerships can take various forms from simple commercial agreements to finding strategic alignment and can be built on product and service design, distribution or marketing and branding.
There is no clear formula on when or with whom it is right to partner. It is however, critical to choose the right partners that compliment an organisations abilities, understand their role and share the same commitment to deliver strategic objectives for partnerships to deliver value
Share your thoughts with us at M4Dutilities@gsma.com on how you are using partnerships to expand and grow your business.
*The Product Health grant was cancelled in early 2016. In mid-2016 Product Health shut operations due to a lack of traction from the market, and limited support from investors.
This initiative is currently funded by the UK Department for International Development (DFID), and supported by the GSMA and its members.