After spending a year scouting and selecting 64 start-ups from 55 emerging markets out of the initial 6,000 applicants, Seedstars was hosting its global summit in the first week of March in Lausanne, Switzerland. All 64 finalists participated in a two-day boot camp, followed by an investor forum and the finals of Seedstars World. The GSMA Ecosystem Accelerator team had the chance to participate in the main event which gathered a crowd of around 800 start-ups, investors, and stakeholders from the emerging markets technology innovation ecosystem. In the morning our team also moderated one of the workshops: 'Opportunity calling: How start-ups can work with Mobile operators'.
Here are three takeaways from these two days that we wanted to share with you.
In emerging markets, mobile is at the heart of most start-ups
Out of the 64 start-ups that were selected to present a one-minute pitch during the semi-finals of the competition, no fewer than 35 are almost entirely mobile-centric. The way mobile technology is being used by these entrepreneurs from Eastern and Central Europe, Africa, Middle East, Asia and Latin America is simply mind-blowing. Following the pitch sessions, we had the chance to hold more advanced discussions with some of them and wanted to focus on the following three that are aiming to generate significant social impact through their ventures.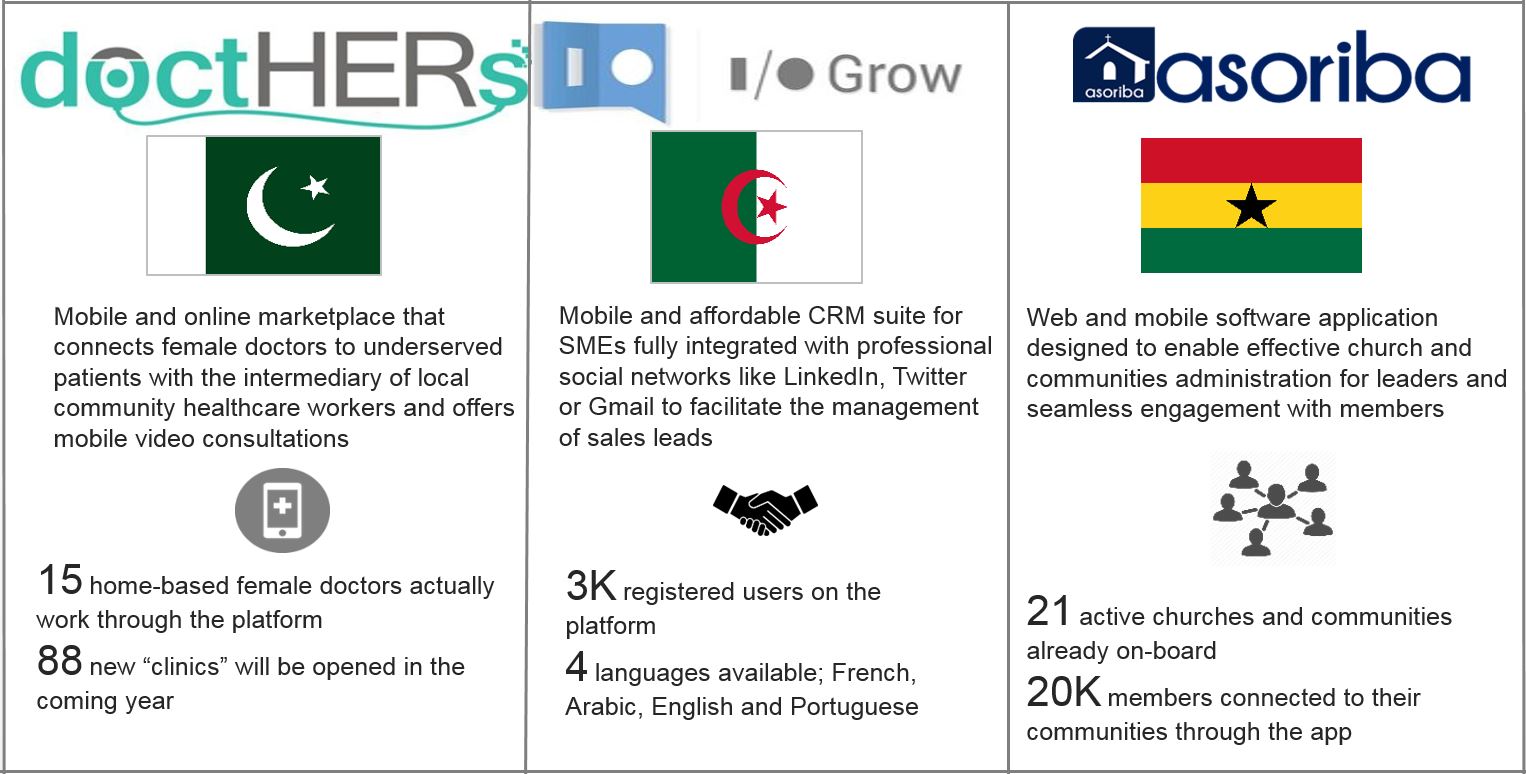 More information can be found on their websites: doctHERs (Pakistan), ioGrow (Algeria), Asoriba (Ghana)
Another common point across most start-ups we engaged with during the event is that they are already collaborating or willing to collaborate with mobile operators in their respective markets. This was actually the central topic of the workshop that the GSMA Ecosystem Accelerator team moderated on the main day of the event.
"Mobile operators need us as much as we need them"
Our 'Opportunity calling: How start-ups can work with Mobile operators' panel sessions featured Chris Burgess from VimpelCom, Nigerian serial entrepreneur Simeon Ononobi (founder of SimplePay), Shafin Anwarsha – founder & Head of Product at South African low-cost mobile recruitment start–up Giraffe and Max Cuvellier, Head of the GSMA's Ecosystem Accelerator programme.
The discussion was centered around 3 simple though critical questions:

After acknowledging the strong rationales for mobile operators and start-ups to work with each other (e.g. the need for innovation on the operator side, the need for increased reach on the start-up side, and the complementary needs in terms of skills and expertise) the discussion focused around the best ways for the numerous start-ups attending the workshop to reach out and engage with mobile operators. 3 salient points emerged:
• 'Put a foot in the door' – Identifying the right person to talk to within the operator is crucial. Reaching an initial agreement – even if this isn't the most comprehensive deal at first – usually proves to be a good starting point.
• 'Get your pitch right' – Not only does the team at the mobile operator need to clearly understand what the start-up does, but it's also essential that they see the upside for them. Ideally, the first pitch should also show how the start-up will help them solve one of their problems.
• 'Tell operators what you need'– For the collaboration to start on the right note, it is critical that start-ups are clear on what they specifically want and expect from this engagement. While for a start-up like Giraffe a key asset could be the operator's sales and distribution network, for a payment platform like SimplePay there is probably more value in getting some technology support.
This brings us back to the competition that actually saw one of our panelists, Shafin Anwarsha and his start-up, Giraffe, from South Africa, win the global prize ahead of the 8 other short-listed ventures.
Discussions among the panelists and with the audience have shown that some barriers clearly remain when it comes to start-ups working with mobile operators (especially around time expectations and revenue sharing). However, it was truly encouraging to see that stakeholders on both sides understand the respective constraints and challenges. And as all participants highlighted, this kind of event and session is a great way to improve communication between mobile operators and start-ups.
Meet Giraffe, a mobile recruitment platform tackling the unemployment issue among low- and medium-skilled job-seekers in South Africa
"We're enabling businesses to hire medium-skilled staff faster and cheaper than any other way and connecting medium-skilled job-seekers with opportunities for free"; these are the two problems Johannesburg-based Giraffe is solving, according to its co-founder and CEO, Anish Shivdasani.
For jobseekers and SME employers on each side of the value chain, there is a simple 3-step process.
• Jobseekers:
1- Build their CV and references using the web-based intelligent questionnaire (desktop or mobile);
2- Receive SMS with matching work positions and interview requests; and
3- Go to interviews with the corresponding companies.
• Employers:
1- Submit their staffing request online (desktop or mobile);
2- Let Giraffe automatically identify, contact and schedule interviews; and
3- Interview and hire the best candidates.
Leveraging their mobile and automated process, Giraffe is able to guarantee SMEs that they will be able to interview seven relevant candidates in less than 48 hours after submitting a request.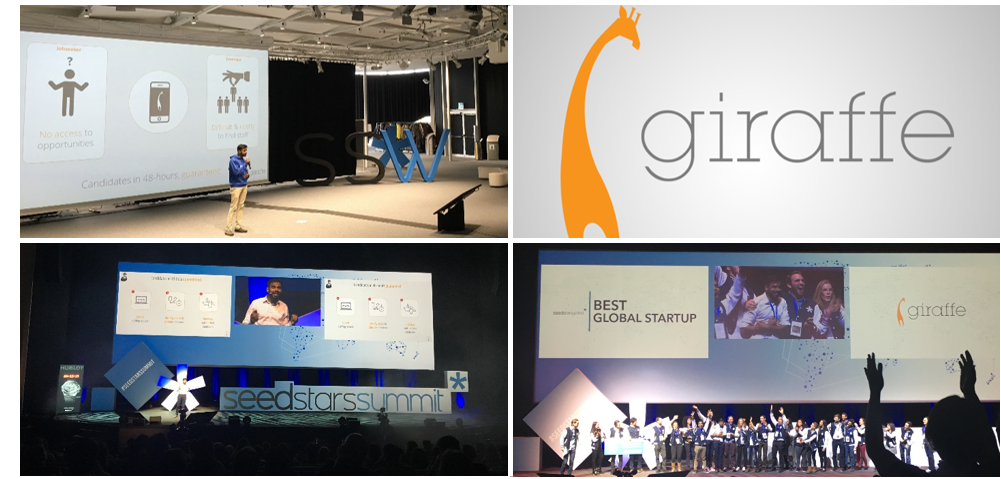 With this win, Giraffe – which only launched commercially a few months back – receives a $500,000 equity investment from Seedstars. This will enable them to expand their reach in South Africa over the next 9 months before working on their international expansion next year.