This is a guest blog by Jenny Rafanomezana, CEO, TruTrade Africa, and Ronald Rwakigumba, Agri-Fin Mobile Uganda Country Coordinator, Mercy Corps
If you are an agricultural produce trader and are seeking to maximise value, it's tempting to dismiss digital technology as an added cost. For most off-takers, sourcing produce means sending a buying agent with cash for immediate exchange and loading of produce. Alternatively, traders might speculatively source produce, buying low and selling high in the hope that they will make a profit in the end.
This is the context in which TruTrade, a social enterprise, engages, brokering on behalf of farmers to get the best prices possible. TruTrade is operational in Kenya and Uganda. In 2015, TruTrade's network facilitated the movement of 645 metric tonnes of produce – worth just over $225,000 – from smallholder farmers, enabling TruTrade to supply a wide range of buyers from breweries and exporters to urban vendors. During 2016, TruTrade more than doubled this trading value, sourcing produce worth just under $430,000. So far TruTrade has provided a market for over 6,000 farmer transactions; farmers together received over $480,000, earning on average 19 per cent more than they would have earned through traditional farm-gate traders. TruTrade has facilitated the trading of 21 different commodities over this period (2015 and 2016). The business is now focusing on strategic value chains where they can have the greatest impact on farmers and which provide a path to commercial viability for TruTrade itself. This includes staple crops – cassava, soyabean, maize and high value crops – avocados, honey, cashew nut.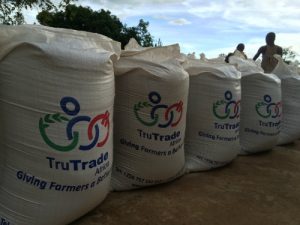 TruTrade uses ICT to formalise and bring fair trade to the predominantly informal local and regional markets in staple crops as well as expanding opportunities in agricultural exports. Their business is driven by cloud technology – which they use to provide visibility on trading transactions, to inform decisions and optimise logistics. TruTrade's Trade Transparency Platform (TTS) has been developed based on their practical experience in managing aggregation across the business. The platform is available on the web (browser based) and mobile (Android) with both online and offline capabilities. It provides a management information system for sustainable sourcing which is at the core of the franchise offer. A directory allows for tracking of traders, farmers and buyers and facilitates the creation of a dashboard for analytics by value chain, season or suppliers. The platform integrates digital payments promoting the use of mobile money payments to farmers or directly to their bank accounts. TruTrade has always encouraged digital payments, but following recent challenges, it is testing a 100 per cent cashless payment policy. To achieve this, TruTrade is seeing how it can use its sourcing agent network to increase acceptance of mobile money. There is some resistance in the rural areas of Northern Uganda in particular, however mobile payments reduce the risks of diversion of resources at the same time as enabling real-time traceability. TruTrade has been working to improve access to cash-out services by getting sourcing agents to also provide mobile money services through a sub-agency agreement for both MTN and Airtel.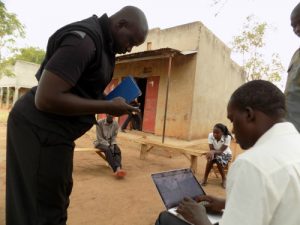 TruTrade's TTS makes markets work better for all players:
Farmers have a direct link to markets, enabling them to get better prices, more reliable access to markets and benefit from value addition opportunities. TruTrade's value proposition is based on enabling farmers to retain ownership of produce to the final buyer. This means that farmers receive any additional revenue remaining after all costs are deducted. Using mobile money makes it easy to send out these 'bonus' payments.
Buyers can access a sustainable sourcing service, thus purchasing produce that satisfies their requirements for quality and volume, reliability and traceability.
Produce sourcing aggregators are able to grow their businesses, earning commission, toll processing fees and building relationships as trusted service providers. Sourcing agents are exposed to less risk as they are not carrying cash, but utilising mobile money services. The same agents also have the opportunity to become mobile money agents themselves which is a complementary business opportunity and expands the reach of mobile money into rural areas. Empowering produce sourcing agents to also become mobile money agents has increased confidence in mobile wallets and fills a rural mobile money service gap.
TruTrade is using its business model to incentivise the uptake of mobile money in rural areas. First, by increasing the numbers of farmers registering for mobile money; second by injecting capital into the mobile money ecosystem in rural areas opening opportunities for other services to be taken up e.g. mobile savings or remote payments for farm inputs.
Mobile Network Operators (MNOs) experience mobile money revenue growth through produce buying operations, in addition to other mobile money subscribers making use of agents. In 2016, 31 produce sourcing agents with TruTrade franchise AgriNet became sub-agents after MNO training for both MTN and Airtel who saw an opportunity to support their mobile money business.
Looking ahead TruTrade has plans to further develop the current integration of the app with its online management information system in collaboration with Digital Natives and Mercy Corps Uganda's Agri-Fin Mobile Program. This will improve farmer registration through the mobile application and tracking of unique users will bring new features to push messages to farmers and for inventory management.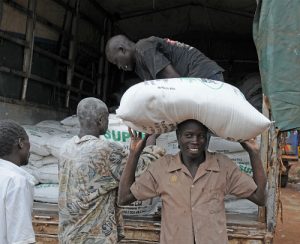 TruTrade will also be licensing the TTS software to larger off-takers to use in their own operations. The interoperability and potential for customisation is attracting interest from sourcing companies and financial service providers.  Revenue from licensing will drive further investment in the technology, to be able to shine a light on what was a very opaque business and make it work better for everyone.
TruTrade is a Kenyan company that provides market linkage and commodity sourcing services to help businesses build sustainable supply chains. They have strategic investment from Self Help Africa, who are the majority shareholder.
TruTrade partnered with Mercy Corps' Agri-Fin Mobile Program to develop the mobile app and integrate it into the online web portal. Agri-Fin Mobile is funded by the Swiss Agency for Development and Cooperation (SDC). Mobile app development has taken place in collaboration with Ugandan IT company Digital Natives.  Having a fully integrated platform means that TruTrade can improve efficiency and enables scale up of the service. TruTrade has lots more ideas for developing its systems to meet user demand and make the most of emerging opportunities in a rapidly evolving space.