In 2013, we launched the Mobile for Development (M4D) Utilities Innovation Fund to trial and scale the use of mobile to improve or increase access to energy, water and sanitation services. To date, we have awarded Seed and Market Validation grants to 34 organisations in 21 countries. We are now publishing a series of blogs and case studies containing the final learnings from the 21 grants in the second phase of our Innovation Fund. Our objective is to develop an evidence-base across mobile-enabled utility solutions that can inform ecosystem players and accelerate the growth of the sector.
This blog contains the key lessons from CityTaps' grant awarded in 2015, and the outlines their plans for the follow-on funding they were awarded in 2017.
In many emerging markets, water utility companies continue to face a number of challenges including serving the poor with running water, reducing non-revenue water and remaining financially sustainable. One company that aims to solve these problems is CityTaps – a startup whose vision is to bring running water to every urban home in developing countries. CityTaps has developed CTSuite, which aims to both improve access to water for consumers, and bring financial sustainability to water utility companies. The CTSuite solution comprises the CTMeter, a mobile money pre-paid, smart (LoRaWAN) water meter that gives customers a 'pay-as-you-go'/PAYG experience, and, for utilities, software to manage micro-prepayments through a subscriber management dashboard.
GSMA awarded CityTaps a seed grant in 2015 to launch at least 250 smart prepaid water meters in Niamey, Niger in partnership with the local water utility, Société d'Exploitation des Eaux du Niger (SEEN) and Orange Niger. In July 2016, the grant was closed because CityTaps encountered unexpected organisational delays. Despite this setback, CityTaps carried out a pilot and an impact study to demonstrate sufficient progress and success, allowing them to receive another GSMA seed grant. In 2018, CityTaps plans to begin two new pilots and is currently raising capital to support these projects and its growth into 2019.
Key results of the initial CityTaps pilot
In October 2016, CityTaps deployed 20 CTMeters[1] to serve 261 individuals. Of those 261 individuals, 167 were on newly connected plots who previously relied on other sources of water, 37 were on reconnected plots that had been cut off from the water service due to arrears, and 57 were on previously connected plots that transitioned from post-payment to the CTSuite enabled prepayment.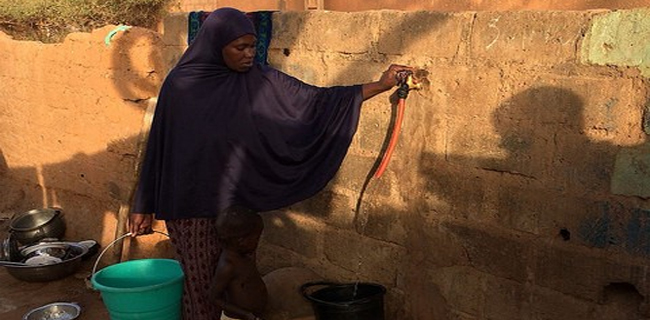 The key findings from the pilot are summarised below:
Increased usage of mobile money and new mobile money accounts: The project saw 72 per cent of users (16 plots) open mobile money accounts for the first time while 22 per cent reactivated their accounts for the project. The endline survey also revealed that as a result of increased familiarity with mobile money, direct users who already had existing mobile money accounts used it for other services such as sending money, paying for electricity and television, and to top-up airtime.
A majority of users (89 per cent) preferred using mobile money to pay for water compared to previously used methods, such as going to pay at the SEEN office, or paying a water delivery service or neighbor. Only two plots (six per cent) preferred using cash because they had issues collecting money from tenant households within their plots. Gaining trust from users that the mobile money service actually works was also important especially during temporary network outages. CityTaps solved this by designing the system to buffer the transaction during the outage and automatically process the buffered transactions when the system is live again.
The main reasons why users preferred CityTaps' prepaid service were:
PAYG for water at home was more affordable (see below);
CTSuite permitted flexible payment schedules; and
CTMeter eliminated the need to wait for water delivery service.
Improved affordability and access to water services: Users preferred the CityTaps solution because it allowed for convenient, affordable, PAYG utility-piped water at home via the CTMeter. A price comparison showed that piped water from SEEN was up to 16 times cheaper than purchasing from a water delivery service – the primary water source for 92 per cent of households not previously connected. At the same time, the CityTaps solution allowed for households with existing post-paid connections to avoid large end-of-month bills. In addition, the majority of users (88 per cent) surveyed felt that their water spending had decreased since the project began.
Women spend less time collecting water: At the beginning of the pilot the baseline survey revealed that it took households an average of 6 hours a day to obtain water, and up to a full day in some cases. This included waiting for the water delivery service at home (with no guarantee of delivery), walking to neighbors' houses or walking to a standpipe to collect water. Women and girls bear this burden; the survey revealed that women spent nearly three quarters of the total time spent on collecting water. After the installation of the CTMeters, 90 per cent of women and girls felt that they spent less time obtaining water as prepayment and provides water on demand, immediately available to the household.
Customers perceived improved health and well-being: A majority (61 per cent) of users surveyed felt that their health or that of their family had improved as a result of the CityTaps solution. Users cited several reasons for this perceived improvement ranging from less fatigue from not needing to collect water and fewer gastric symptoms, to an overall improvement in their well-being resulting from using clean water instead of inferior alternative sources.
Increased earnings for MNO – Orange Niger: Prepayment of water service via mobile money offers MNOs an important revenue opportunity through transactions by giving customers the ability to pay more frequently, at their own convenience, and to manage household budgets. 18 prepaid water connections made 223 mobile money transactions in approximately six months of operations (an average of two payments per month for each connection) compared to a possible 108 transactions that would have been made through traditional, monthly post-payments. The mobile payment values for pre-paid water ranged widely, from £1.21 to £16.74, with a median transaction value of £3.34. Increased payment frequency could also motivate customers to keep more mobile money in their wallet and use this for other expenses. Users also expressed high levels of customer satisfaction, showing increased trust in Orange Money, and reported no problems with the service.
Potential earnings for utility provider – SEEN
There is great potential for water utilities to improve collection efficiency via mobile money. For example, if CTSuite were deployed to SEEN's 205,000 subscribers, it would lead to a constant positive cash balance greater than £500,000. With post-payment, SEEN is well within the average of other African water utilities that typically have accounts receivables ranging from 6-15 months of turnover. CTSuite saves 30 per cent of OPEX for billing and collections (i.e. reading meters, establishing and distributing bills, collecting payments, writing off bad debts and disconnecting delinquent direct users, etc.).
Addressing challenges and rapid expansion
On its path to success, the pilot faced several technical and logistical challenges (including poor internet connectivity), and communication challenges between French and Zarma speakers, as well as low literacy levels. MNO buy-in was gradual at first because the initial project was small, and Orange is now fully supporting the deployment of CTMeters. CityTaps has addressed each of these challenges and is grateful to have the full support of SEEN, Orange Niger, Veolia, and Orange for the expansion of the project.
The pilot revealed that CityTaps' technology works: Both 100 per cent service reliability and the findings above demonstrate the positive impact of the service for customers, the local utility and Orange.
Within the recently issued seed grant to expand the CTSuite service, CityTaps will deploy 700 CTMeters in partnership with SEEN and Orange Niger. To date, CityTaps has made tremendous progress: 100 CTMeters are actively reporting data from the field (well ahead of schedule), and CityTaps has integrated SEEN Prépayé into Orange Niger's USSD menu. Households using CTMeters now have a seamless experience when prepaying for water using Orange Money and can check their balance at any time.
CityTaps recently won several awards including the Orange Prize for Social Entrepreneurship in Africa, became an 'MIT Solver' and is an IoT Innovation World Cup finalist at the GSMA Mobile World Congress to be held at the end of February. The company has also been selected to participate in the OrangeFab France program, where it will receive formal acceleration from Orange to help integrate and deploy its solution in other Orange-footprint countries, such as Senegal and Côte d'Ivoire.
[1] 20 plots were surveyed in the baseline survey and 18 plots in the endline survey. Two plots did not participate in the endline because one opted out, and the other had a SEEN employee and was not surveyed.
This initiative is currently funded by the UK Department for International Development (DFID), and supported by the GSMA and its members.