This case study is one of three released by MMU this week featuring mobile money "sprinters."
Econet Wireless' mobile money service, EcoCash, has jumped off the starting blocks registering 31% of Zimbabwe's adult population in just 18 months. EcoCash accounts already outnumber all of Zimbabwe's bank accounts combined.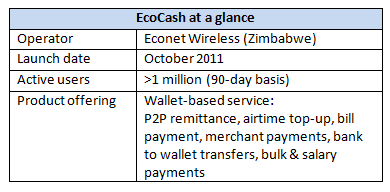 How has EcoCash achieved such early success? They have combined effective operational execution with an unusually high degree of investment and organisational focus. An entirely new company, Econet Services, was created to house EcoCash with dedicated staff, governance and budget. EcoCash has become the largest component of Econet's marketing spend in Zimbabwe including the launch of the largest cash promotion in Zimbabwe's history (pictured).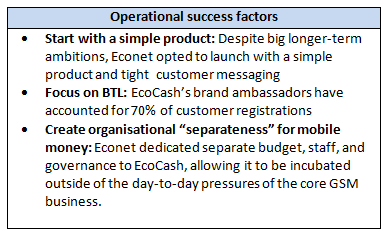 Econet Wireless Group Executive Chairman and Founder, Strive Masiyiwa, justifies Econet's aggressive push into financial services as replacing an anticipated slow-down in core GSM growth: "Voice revenue is falling: It is a race to the bottom. We can butcher each other on tariffs, but where does the industry go from here? Today, [mobile] is a mediation platform, of which voice is just one piece."
What excites MMU about this story
Along with the impressive achievements in their first 18 months of launch, MMU believes EcoCash represents an evolution in strategic thinking around mobile money's potential and place within a telecom environment. Econet sees mobile money as an entirely new venture rather than a prop to the core GSM business, more akin to building a 3G data network than launching a VAS. They view it as a long-term investment and are willing to sacrifice initial profits in order to acquire customers and build a sturdy foundation for the future.
Econet Services CEO, Darlington Mandivenga, explains why Econet chose organisational separateness for mobile money.
Furthermore, Econet sees EcoCash as a multi-functional payment platform, of which P2P remittance is just one component. Although P2P remittance has been the core use case at launch, Econet is now encouraging customers to "live life the EcoCash way" by incorporating EcoCash into their daily payment routines. Econet's next push is to create full interoperability with the banking sector and convince Zimbabweans to embrace electronic payments in the retail environment. For those interested in how mobile money operators can move beyond P2P and bill payments, this will be a story to watch.
Please click here to read the full case study.
The full MMU interview with Econet Services CEO, Darlington Mandivenga, can be found here.