The problem
According to sources, Pakistan ranks 8th out of 191 countries in vulnerability to climate change. Pakistan lacks weather data stations thus depriving the concerned stakeholders of hyper-local weather information. Without this information, the vulnerable communities, particularly the farming community (i.e., low income and smallholding), are prone to annual asset losses as "climate change has been causing an average economic loss of about half a percentage point, or $3.8 billion, a year to Pakistan for the past two decades." They cannot anticipate any changes in weather or disasters and cannot make well-informed decisions accordingly. Common climate change impacts include heatwaves, high mm rainfall, windstorms, hailstorms, etc. There are 8.2 million smallholder farmers in Pakistan that are responsible to meet the basic food and nutrition requirements of the total population of Pakistan.
The company
BaKhabar Kissan (BKK), a project developed by Switch Solutions, cuts through the agriculture value chain and tackles the problems that farmers face. The platform gives the agriculture community access to a variety of services ranging from weather information, agriculture experts, the latest pesticides, and better methods of farming. BKK also has an elaborate channel of feedback and is accessible through text, SMS, call, and WhatsApp.
Project description
With the deployment of 200 weather stations and the development of additional digital channels (mobile app), development and integration of automate speech recognition (ASR), we plan to enhance our digital weather platform and provide users (farmers) with real-time hyper-local weather information. This solution can help farmers in achieving better crop and livestock production. We will also disseminate content related to agriculture and livestock practices to enhance the resilience of the farmers against climate change-induced weather impacts. The platform will also provide access for the farmers to agriculture and weather experts who can help the farmers to learn and adapt new farming techniques which are more resilient towards the impact of climate change.
Founders
Khizer Alam Khan – Co founder and CEO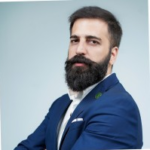 Haji Dildar Khan – Executive Director
Quote from founder
"BKK is a passion filled entity, made up of a team who is dedicated to empowering the farming community. We believe in the power of effective collaboration which is why we are delighted to partner with GSMA. Through our aligned vision, we are seeking to mutually integrate farmers in the Agri eco-system, enabling digital literacy, smart farming advisory, aiding financial inclusion, and ultimately digitizing the Agri value chain – making it the perfect partnership."
Organisation size
60+ staff