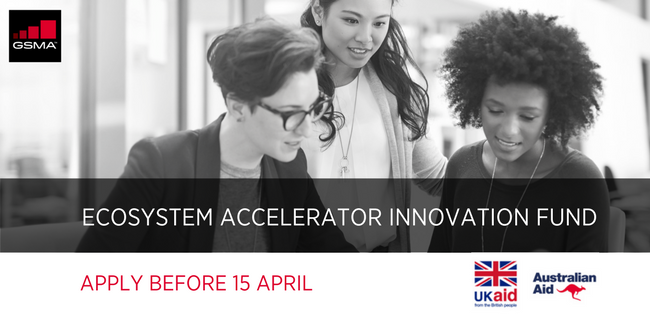 The GSMA Ecosystem Accelerator Innovation Fund provides selected start-ups in Africa and Asia Pacific with equity-free funding, technical assistance, and the opportunity to partner with mobile operators in their markets to help scale their products and services into sustainable businesses with positive socio-economic impact.




Round 3 of the Ecosystem Accelerator Innovation Fund opened 12 March 2018 and all pitches are due by 15 April 2018 at 11.59pm GMT.
For the third round, the Fund will be supporting start-ups willing to work with mobile operators. The fund is sector-agnostic and open to post-revenue start-ups using mobile to solve local challenges in Asia-Pacific and Africa. Download the infographic for more.
For additional details please watch our video below, review the pitch questions before applying, and refer to our Terms & Conditions. For any further questions, please contact fundmanager@gsma.com.
Curious about the start-ups that have been successful in the past? In February 2018 we announced our full portfolio of Round 1 and Round 2 start-ups. Read our blog post to find out more.

The Ecosystem Accelerator programme is supported by the UK Department for International Development (DFID), the Australian Government, the GSMA and its members.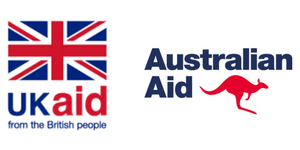 From 25 February to 2 March 2018, the GSMA Ecosystem Accelerator team took part in Mobile World Congress and ...

Read more

An invitation to participate in the first edition of the Futur.E.S. in Africa event held in Casablanca from ...

Read more

Back in April 2017, we announced the first nine start-ups selected for our Innovation Fund. Spanning eight ...

Read more

The GSMA Ecosystem Accelerator programme ran its third expertise clinic on the 31 of January. The session, ...

Read more

While Indonesia has the fourth-largest education system in the world with over 50 million students and four ...

Read more
We have designed this new publication format to best capture the evolution of a fast-moving space, and with a ...

Read more

This guide is aimed at start-ups interested in collaborating with mobile operators in emerging markets. The ...

Read more

Today in emerging markets, more than anywhere else, there are opportunities for mobile operators and ...

Read more

Ecosystem Accelerator Innovation Fund Round 1: Some Findings from the Top 100 Pitches Download here Download ...

Read more

As activity around mobile operator corporate venture capital (CVC) is ramping up in emerging markets, the ...

Read more