On 28 and 29 June 2017 we attended the Echelon Asia event in Singapore. The event combines a conference including different tracks tailored to specific audiences – e.g. investors, corporate innovation – as well as the 'TOP100' pitching competition and an exhibition floor where hundreds of start-ups from the region can pitch their products. Here are our three highlights from the event.
Asia needs start-ups to contribute to solving its challenges
When Mistletoe Chief Growth Officer Atsushi Taira highlighted that 'the social structures in Asia are changing', there wasn't an attendee in the room to contradict him. As a region, Asia – and Southeast Asia in particular – is facing two challenges:
The developing economies are having to provide education to millions of young students. Brick-and-mortar traditional educational systems are too often struggling to adapt to the fast pace of digitisation. Take Indonesia for instance: it has the world's fourth largest educational system with over 50 million students and 4 million teachers. However, it is also one of the lowest performing and it has been claimed that over 50 per cent of Indonesia's teachers are unqualified. Local start-up Ruangguru – part of out innovation fund portfolio – is therefore developing solutions for students to complement the lessons they are getting at school with online exercises. Round 2 of our Innovation Fund is closing on 16 July 2017 and we encourage Asia-Pacific start-ups to apply here.
In more mature markets, an ageing population and more generally an increased demand for quality healthcare are growing opportunities. The ways start-ups can innovate in this field are multiple and include the development of new treatment and procedures but also innovations around the handling of data records or the management of the patient-doctor relationship.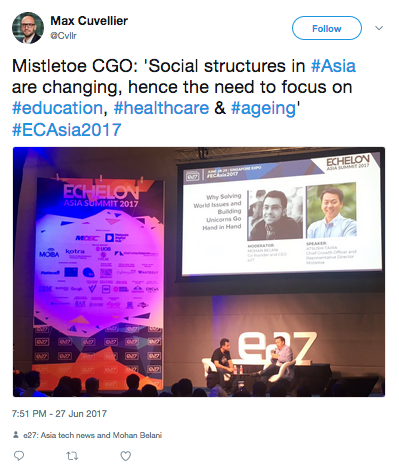 These are only two examples of some of the transformations the continent is undergoing. Many other areas – from transportation and last-mile delivery to international money transfers – are seeing significant improvements, sometimes disruption, from local start-ups combining their understanding of local ecosystems with new technologies (blockchain, AI etc.) and business models, like the sharing economy for instance.
Everybody wants to be Asia's Silicon Valley
Steve Leonard, CEO of SGInnovate, was the first speaker of the main track of the conference, and it was no coincidence. His company – strongly backed by the local government but operated as a company, not an agency – promotes innovation and business in the state, and aims to position it the go-to country to set up a start-up in the region. And it is true that Singapore has a lot to show for itself, from talent, with one of the best educational systems in the world, to state-of-the-art infrastructure and resolutely pro-business authorities. The number of start-ups on the exhibition floor operating from Singapore could act as a testimony to the country's success in attracting new ideas. Most of the CEOs and founders we met were not Singaporean themselves, but almost all, as entrepreneurs, were singing the country's praises.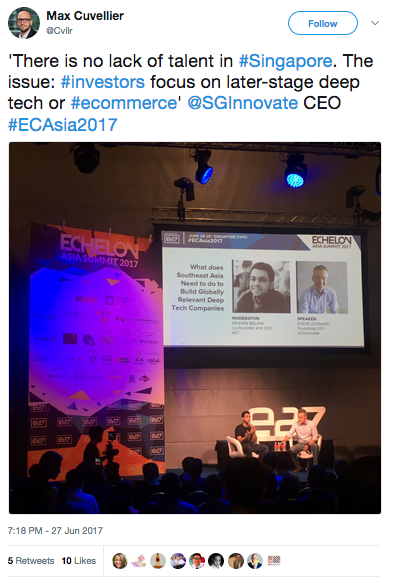 With representatives from Cyberport and MDEC on stage later in the day, it was Hong Kong and Malaysia's turn respectively to display their assets, and confirm their willingness to attract the region's start-ups scene.
In side chats, it became apparent that other countries and cities are also trying to be more attractive, each with its supporters and detractors. In the space of two days, we literally heard a different answer each time we asked where the best place to set up a start-up in the region today was: 'Right here, man. In Singapore of course!' 'Try Bangkok! Cheap and growing fast!' 'Vietnam! It's all happening in Vietnam now!' 'If you can handle the traffic, Jakarta is the next place to be!'
All stakeholders need to get involved to strengthen the ecosystem
Another clear lesson from the event is that creating a supportive environment for entrepreneurs goes beyond local government's push, and involves a variety of stakeholders who must – and are committing to – improve the way they operate for the greater good of the regional ecosystem. Three key sets of stakeholders particularly stood out as great contributors, but with some room for improvement:
Tech hubs (incubators, accelerators, co-working spaces…). They are already very active, and support a lot of start-ups, but could tailor their programmes better to the needs of these start-ups. It sometimes could involve focusing more on developing a specific value proposition, for instance through expertise in a niche topic or vertical, rather than simply competing against each other without clear differentiating factors
Investors. There is a plethora of investors in the region, and more and more capital available for start-ups. But they also come in different size and shape, which makes it hard for entrepreneurs to manage them. A VC, an impact VC, angel investors or a family office do not operate in the same manner. A lot of the speakers seemed to recognise that the responsibility for improving start-up-investor relationships must be shared: the start-ups must educate themselves, but in return, investors should clarify their terms and have realistic expectations.  Some structures like Telstra-backed to bridge this gap by running training for debuting angel investors.
Corporates. The 'big guys' as they're often referred to also have a role to play in enabling the ecosystem. They have expertise and experience that can be extremely valuable. Overall there seems to be a push for them to be involved more directly, not through funds operating on the margins of their activities, but rather with programmes integrated with their core business to help identify synergies. This is particularly true of mobile operators who not only are enablers of start-ups but also potentially clients or distributors of their solutions as highlighted in one of our recent reports.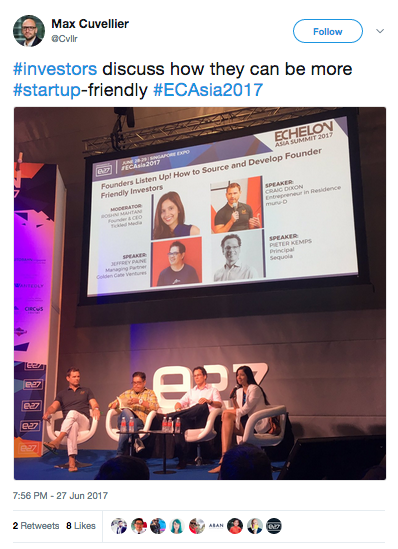 The Ecosystem Accelerator programme is supported by the UK Department for International Development (DFID), the Australian Government, and the GSMA and its members.