Realising the opportunity for digitising agricultural value chains
The digitisation of agricultural value chains is emerging as a new opportunity for MNOs to drive rural growth through holistic agribusiness enterprise solutions. Moving beyond the provision of agricultural value-added services, holistic services include a combination of digital payments, digital profiles and track and trace services. They will eventually encompass IoT applications among many other use cases.
As an example, the inclusion of mobile money services (moving from cash-based transactions to digital payments into the mobile wallets of smallholder farmers) opens up a range of agriculture and non-agriculture related uses cases, from person-to-person (P2P), to bill and utility payments to credit and savings products.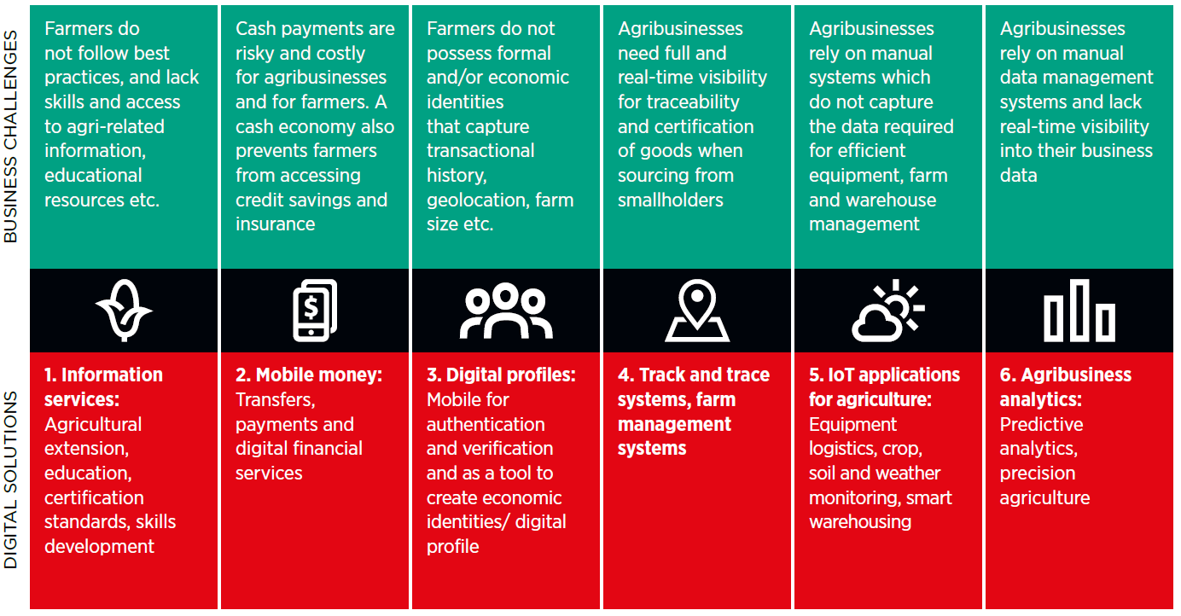 An overview of the digitising agricultural value chains initiative
The GSMA mAgri programme is working with MNOs that are committed to driving the digitisation of agricultural value chains through holistic solutions. The initiative supports MNOs to identify country-specific opportunities for launching or scaling business-to-business (B2B) digital services targeted specifically at agribusinesses. We provide a range of support, from knowledge sharing, in-market research, partnership brokering and iterative service design.
We are interested in hearing from MNOs who meet the following criteria:
Have prioritised the realisation of the agriculture digitisation market opportunity; and
Seek support with scaling existing or launching new agricultural value chain digitisation services which are:

Targeted at smallholder farmers via enterprise solutions for agribusinesses; and
Designed for commercially viability and scalability.
Depending on the maturity of MNOs, agricultural enterprise engagements, the type of support available could include:
Market and value chain opportunity sizing and value chain selection;
Business case assessment;
Pipeline of agribusiness clients;
Pipeline of tech vendors for partnership;
Support on customer adoption;
Regular service performance review against success criteria;
Clear roadmap for further service evolution;
Benchmarking services against peers;
Identifying gaps between client and end-user needs and your current offering; and
Sharing lessons learnt from key markets through publications, case studies and webinars
We are accepting applications for engagement partnerships on a rolling basis. Please complete the survey below to be considered and we will be in touch.
If you are an agribusiness or tech provider and looking for an MNO partner, or have any questions, please email us at magri@gsma.com.
This initiative aligns with the industry's commitment to creating solutions that will support the delivery of the UN's Sustainable Development Goals (SDGs) 1, 2, 5 and 9.

Healthy Pregnancy, Healthy Baby (HPHB) is a mobile health text-messaging service available across four major ...

Read more

Stay tuned for the GSMA Mobile Money Certification – a global industry initiative launching 12 April ...

Read more

In September 2017, with support from the UK Department for International Development (DFID), the GSMA ...

Read more

We have produced this Roadmap for Digital Birth Registration as a guide for MNOs and their partners who are ...

Read more

2017 saw a number of new trends in mobile money – from the accelerated growth of bank-to-mobile ...

Read more
It is estimated that globally one in three children under the age of five – roughly 230 million children in ...

Read more

From 25 February to 2 March 2018, the GSMA Ecosystem Accelerator team took part in Mobile World Congress and ...

Read more

This year's Mobile World Congress (MWC) heavily featured the United Nation's Sustainable Development ...

Read more

Returning from Mobile World Congress in Barcelona last week, one thing was clear; the topic of humanitarian ...

Read more

In 2015, the GSMA published a report on the evolution of digital societies in Asia, providing a deeper ...

Read more