The GSMA Mobile for Humanitarian Innovation Fund
The Fund aims to promote innovation in the use of mobile technology to address humanitarian challenges.
Round 1 portfolio: Disaster response
The first round of the Fund focuses on providing support to help to test or scale innovative ideas which support responses to natural disasters and humanitarian emergencies.
Round 1 grantees:
Round 2 portfolio: Complex emergencies and forced displacement
The second round of the Fund focuses on providing support to: test new technical solutions; catalyse ideas to improve or transform institutional systems; and/or to enable solutions to empower, assist or protect individuals and communities affected by complex emergencies and forced displacement.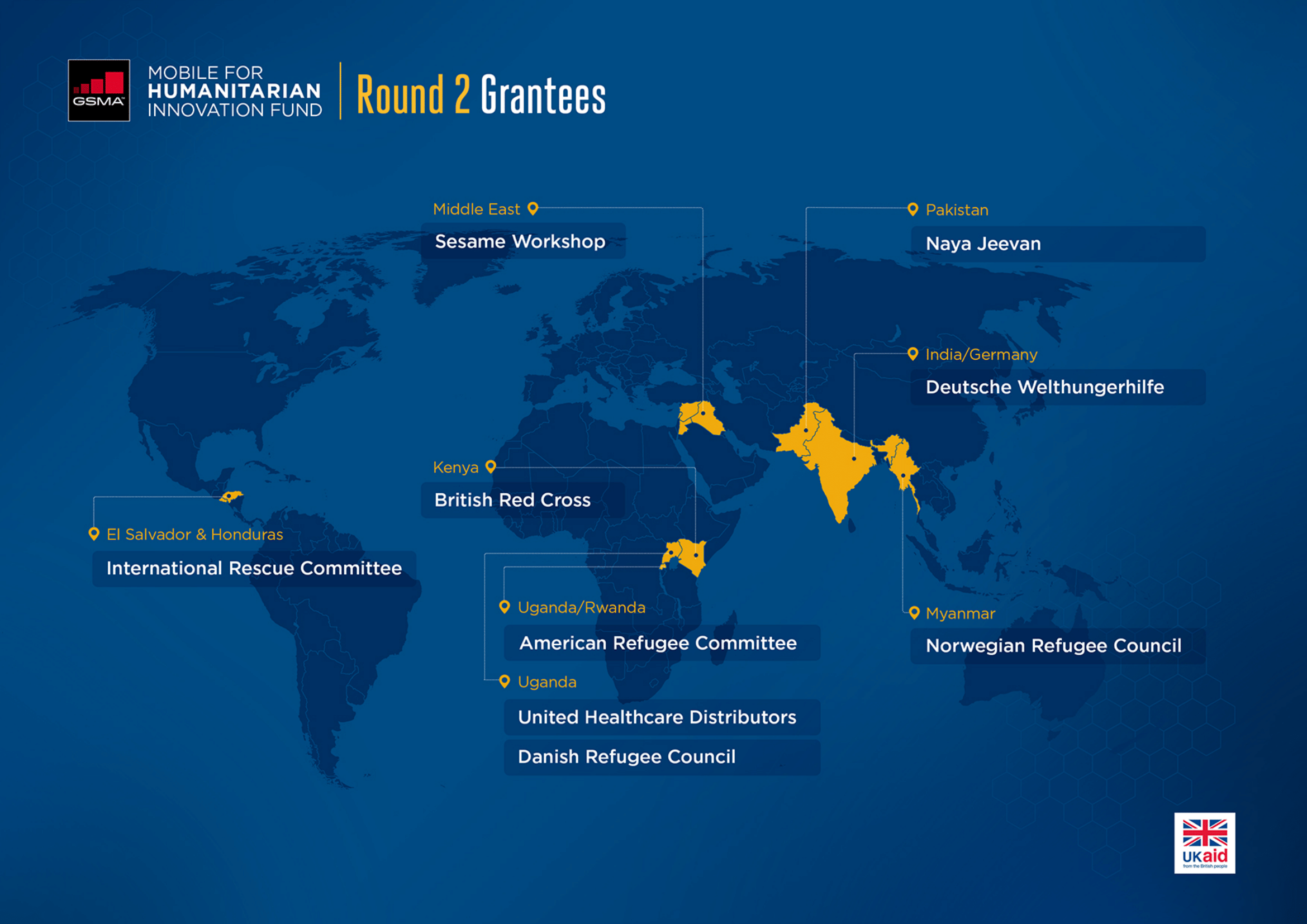 Round 2 grantees:
Danish Refugee Council (DRC) in partnership with Grundfos Holding A/S: Mobile Payments for Safe and Sustainable Water in Refugee Settlements, Uganda.
American Refugee Committee (ARC) in partnership with BioLite, Mwangaza ("Light"): Improving Refugee Access to Clean Energy, Rwanda and Uganda.
United Healthcare Distributors (UHD) in partnership with Medical Teams International, VAC Solar UK Limited, Quality Medicines for all, Aptech PV and Airtel Uganda: Empowering Women in Camps and Off-Grid Communities in West Nile, Uganda.
Norwegian Refugee Council (NRC) in partnership with Koe Koe Tech and Statelessness Network Asia Pacific (SNAP): Strengthening Digital Access to Needs-Based Protection Information for IDP Women, Myanmar.
International Rescue Committee (IRC) in partnership with Mercy Corps and Glasswing International: Protecting Vulnerable Populations, El Salvador and Honduras.
Sesame Workshop in partnership with IRC: Optimizing the use of mobile phones in Ahlan Simsim – A Sesame Workshop humanitarian and early childhood development program in the Middle East, Jordan, Lebanon and Iraq.
Naya Javeen in partnership with Sukaar Foundation, doctHERS and Telenor: My beautiful Thar: How Mobile Technology Can Reduce Forced Displacement, Pakistan.
British Red Cross in collaboration with Netherlands Red Cross and Kenya Red Cross and in partnership with Safaricom: 121 Personal Cash Aid, Kenya.
Deutsche Welthungerhilfe e. V. in partnership with Action Contre la Faim (ACF) Canada, Fight Hunger Foundation (FHF) India, Bundesministerium für wirtschaftliche Zusammenarbeit (BMZ) and Deutsche Telekom: Child Growth Monitor, India.
A full portfolio including more detailed descriptions of grantee projects across rounds 1 and 2 will be released soon.
Subsequent rounds
Round 3 closed on 7 June, 2019. Successful grantees will be announced in early 2020.
The Mobile for Humanitarian Innovation programme is supported by the UK Department for International Development (DFID), the GSMA and its members.