In parallel to delivering the FCDO funded GSMA Innovation Fund for Digitisation of Agricultural Value Chains (IF), the AgriTech programme has been supporting the "crowding-in" of other stakeholders in the agritech ecosystem who we were unable to directly support through grant funding. By crowding-in, we mean providing in-kind support to ecosystem players looking to launch or improve agritech services in low- and middle-income countries.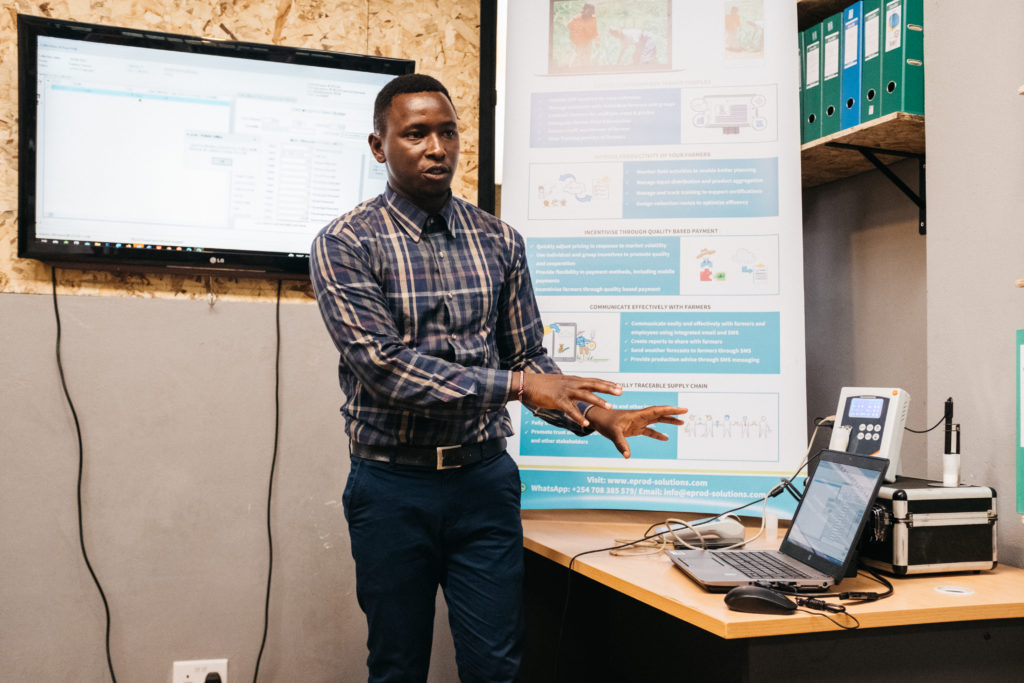 To achieve this objective, the GSMA AgriTech programme launched the Priority Learning Partners initiative (PLP) which provides a knowledge-sharing platform that takes learnings from the IF and support other organisations to "crowd-in" to the last mile digitisation space.
This blog highlights the work we have conducted with one of our PLP member organisations. eProd Solutions requested support with refining their strategy for managing and sharing data from across a variety of deployments with third party donors and stakeholders. eProd wanted to make information sharing user-friendly and offer flexible integrations for analytics and outward data sharing.
The crowding-in workstream is important to the GSMA AgriTech programme to help magnify the impact of the lessons and insights being gathered from the IF and show how these can be applied in other markets and deployments. Read on to learn more about how eProd benefitted from the PLP experience.
About eProd
eProd have developed a specialised ERP, addressing the supply chain management needs and challenges of agribusinesses. Most eProd customers are exporters, aggregators across a variety of agricultural products and cooperatives/unions, that use some or all the system's functionalities. These include digitisation of farmer records and payments, monitoring field activities, communicating with farmers and supporting monitoring and evaluation activities. One customer we met had installed the eProd solution to resolve their blind-spot in terms of knowing exactly how many farmers were supplying the company. The company reported that they could now track the supply base of farmers who deliver crop to the company through the digital procurement module. This increased traceability meant that they were better able to direct their extension and veterinary support services, by identifying individual farmers who were providing poor quality or low volumes of produce.
Since 2015, the company has been expanding across East and West Africa, Central America, and Asia, with customers active in over 25 different value chains including grain, pulses, oil crops, nuts, cocoa, coffee, spices, fresh vegetable, dairy, and apiculture.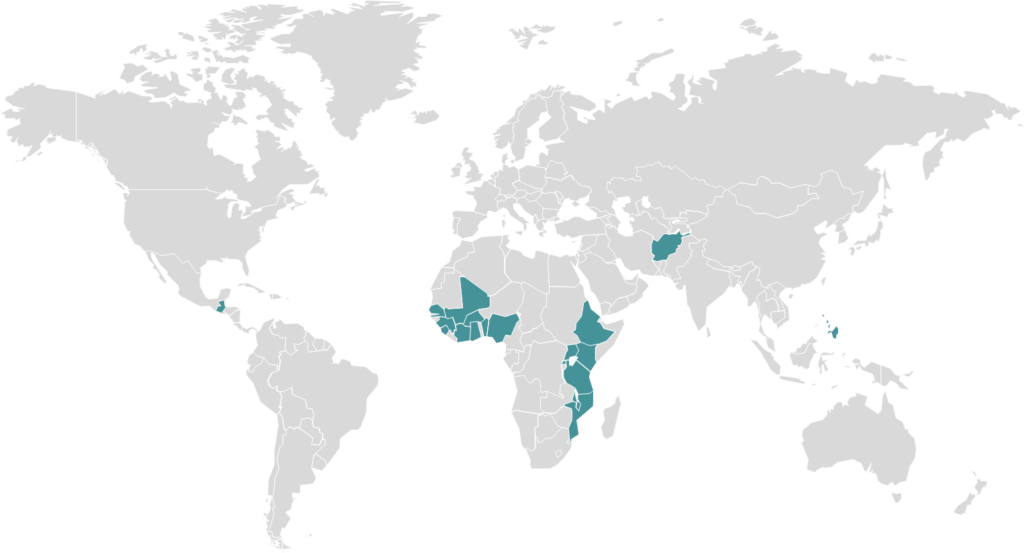 Figure 1: eProd global deployments
Understanding eProd's problem statement:
The existing eProd Agricultural Supply Chain Management platform was designed to serve commodity traders, food processors or farmer co-ops sourcing from large numbers of small-scale producers. However, challenges existed when trying to share data from across different setups with third party donors or stakeholders. eProd wanted to make information sharing among more than one eProd user more user-friendly and offer flexible integrations for analytics and outwards data sharing with custom-built platforms or integrated with common platforms, such as BI tools, ERPs, financial accounting software, banking/loan initiation platforms, etc. By resolving these issues, eProd could see that there were revenue opportunities for leveraging the aggregated data available on their platform with respect to data-driven agriculture services. Some of these opportunities can be summarised as follows:
1: Monitoring, Evaluation, Accountability and Learning (MEAL):
For most eProd clients, external stakeholders (e.g. donors or investors) are involved within the company, hence, they need to be able to view the eProd data for monitoring, evaluation, accountability and learning (MEAL) purposes everywhere and anywhere. The existing eProd architecture meant that was difficult to establish.
2. Credit scoring and loan provision:
The eProd system captures a lot of data from farmers, such as personal profile information, harvest data, payments, and outstanding loans. eProd clients should be able to use this data for other purposes such as credit scoring and loan provisioning. eProd were keen to integrate a credit scoring system, which could be used by eProd clients to score individual or groups of farmers. eProd was looking to collaborate with several financial institutions that provide loans, to accommodate eProd clients with a direct loan provision through the "Big data" platform.
3. Market Platform:
Individual eProd users benefit from yield forecasts generated by the system, for example to manage their forward contracts. Large scale commodity traders sourcing from multiple eProd users could benefit from detailed forecasts at an aggregated level.
4. Bundled services:
The big data platform would enable bundled services to be offered to eProd's clients. By enabling data and communication flows between eProd clients and third-party providers (inputs, loans, etc.) both could benefit from significant process efficiencies and decrease costs for individual farmers, while also providing access to appropriate inputs such as high-quality seeds and fertiliser.
How the GSMA AgriTech PLP supported eProd
Under the PLP, the GSMA AgriTech programme focussed on providing strategy development support to items 2 and 4 above, supporting product iteration of their digital payments integration and helping raise eProd's profile among the wider GSMA AgriTech network. This support can be summarised as follows:
Strategy workshops facilitated by GSMA AgriTech were conducted with the wider eProd team to better understand how the product was delivered and used on the ground by eProd's customers; some of the associated challenges being faced; and how eProd were aiming to develop the functionality of the solution. One of the key outcomes of this strategy workshop was the need to identify the role that eProd wished to play in the credit scoring and loan provision activities. From the learnings under the GSMA AgriTech Innovation Fund, there were a variety of practical and regulatory hurdles that would need to be considered before settling on the specific role that eProd could play in this process. For instance, eProd needed to understand how they (and their customers) would manage the acquisition of farmer consent; how they could meet the Know Your Customer (KYC) requirements of the financial service providers (FSPs) they were connecting to as well as validate third party data collection activities. See the diagram below for typical barriers and needs when considering data sharing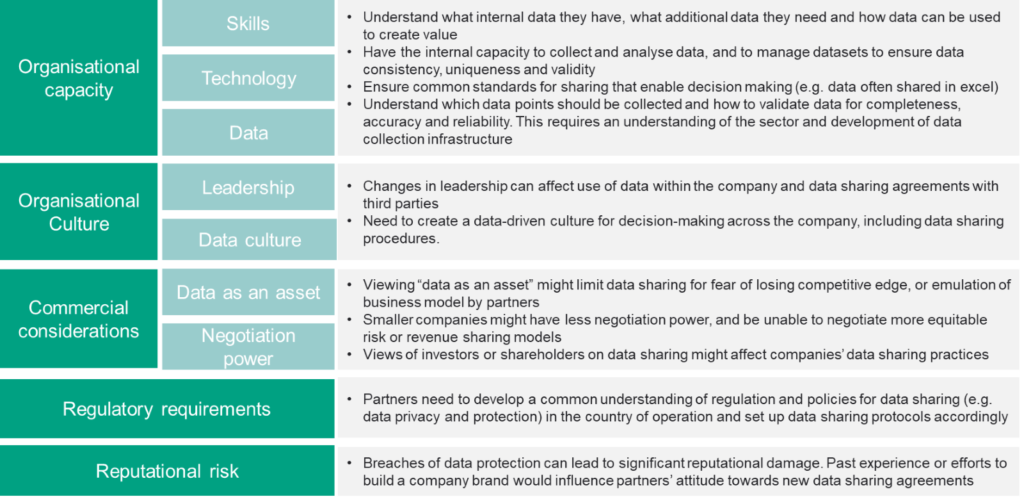 Figure 2: Barriers and needs when considering data sharing
During these workshops eProd gained early access to learnings and insights that would be published in the AgriTech report on Agricultural Digital Financial Services: Emerging business models to support the financial inclusion of smallholder farmers to support their thinking around how they positioned themselves to leverage their strengths and commercialise their offering for FSPs and existing agribusiness customers.
Product development and iteration:
From the initial knowledge sharing and strategy workshops GSMA identified that eProd had already made good progress with digital payments, however the actual process of integrating with FSPs still required lot of manual input from eProd's customers to initiate payments to their farmers. With support of the GSMA's Mobile Money Programme Inclusive Tech Lab some progress has been made to design solutions via APIs with a number of banks.
Integration with the GSMA Mobile Money API which has enabled eProd to improve their readiness to integrate with different operators in markets across sub-Saharan Africa, Latin America and South East Asia. This also helps reduce the administrative burden reducing the actions required to make payments to their suppliers. It is possible to check bank account balances and payment transaction confirmations directly in the eProd system.
Profile raising:
Introductions to agribusinesses in sub-Saharan Africa interested in digitising their smallholder supply chain activities to achieve greater transparency and traceability of their operations. The AgriTech programme is often approached by agribusinesses to recommend agritechs specialising in certain aspects of last mile digitisation and partnership creation is a key element of the PLP engagement activities.
In October 2021, eProd were invited to speak on a (virtual) panel at the GSMA-hosted MWC Africa which further helped to raise their profile and create additional leads for their core services as well as connections with third -party organisations who were looking to connect with agritechs such as eProd who had a strong regional presence.
In May 2022, eProd contributed to GSMA AgriTech programme's Field Focus Week, by hosting a field trip to one of their clients in the dairy sector. Field Focus Week is a knowledge sharing and inspiration week for the AgriTech IF grantees and an opportunity for them to learn first-hand from the experiences of eProd and their client about the realities of implementing digital technologies in last mile agriculture and the challenges that agribusinesses are trying to overcome or remove by implementing digital solutions. As part of this field trip the FFW attendees were able to provide eProd with constructive feedback on what they had seen from the service and opportunities for further developing the service based on experiences and learnings from their own initiatives to digitise last mile agriculture. Directly following the Field Focus week experience, the GSMA AgriTech Programme have been able to connect eProd with the UX design consultants (Yux Design) supporting the IF, for further evolution of their user interface and experience.
The current PLP engagement will conclude with a final strategy development workshop that will look to the next 3-5 year plan for eProd and how they adapt to the growing AgriTech space in SSA and other regions. eProd CEO, Jan Willem van Casteren said "the support provided through the GSMA AgriTech PLP has been extremely useful as we have been able to leverage their expertise and knowledge of the agritech space across sub-Saharan Africa to support our own strategic development activities. As a relatively young Agritech company, we offer solutions with robust offline functionality, we do recognise the need to migrate our platform eventually to a web-based platform and the associated advantages and disadvantages of doing so. GSMA's PLP support has helped guide us and re-evaluate ideas on regular basis and we continue to seek further investment to take the organisation to the next level".
GSMA Head of AgriTech and Financial Inclusion, Ashley Olson Onyango commented "I have been following eProd's activities under the PLP for the past year and was delighted to have the opportunity to finally meet with the team and one of their clients in person during Field Focus Week. The PLP was designed for exactly this purpose – taking learnings from across our engagement and insights activities and supporting additional ecosystem players with their objectives for last mile digitisation."
The GSMA AgriTech PLP continues to support SMEs in the AgriTech space in LMICs. If you would be interested to learn more, please contact plp@gsma.com
THIS INITIATIVE IS CURRENTLY FUNDED BY THE UK FOREIGN, COMMONWEALTH & DEVELOPMENT OFFICE (FCDO), AND SUPPORTED BY THE GSMA AND ITS MEMBERS.