There is no question around why it's important to reach women farmers with agricultural services, as the facts are often quoted:
Half of all farmers in the developing world are women and in some countries such as Rwanda, women account for as much as 70% of the agricultural workforce.
Women farmers are often less productive than men but if they had equal access to resources, including quality and actionable information, it is estimated that women farmers could grow 30% more food than they currently do.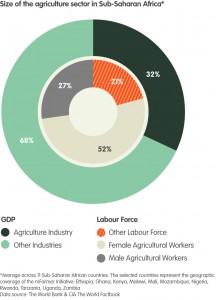 The recent webinar organised by the GSMA mAgri team focused instead on how to design and market information services to maximise their reach and use among women smallholder farmers. You can watch the recordings on our YouTube channel here and here. The webinar slides can also be downloaded here.
A total of 76 people from 23 different countries joined the webinar to hear experts share their practical and actionable lessons around two main themes: service design and marketing.
The panel of speakers included Amol Jadhav from the GSMA mAgri Programme, Haven Ley from the Bill and Melinda Gates Foundation, Per Helmersen from the GSMA mWomen Programme, Sophia Huyer from WISAT -Women in Global Science & Technology, and Jemimah Njuki from CARE's Women in Agriculture Pathways Initiative. A focus note summarizing the webinar will be published in the coming weeks.
It was clear from the level of interest in the webinar, as well as the results of poll we held, that most organisations are aware of the need to develop a strategy to reach women farmers, but there is demand for more ideas on just how to do this.
Out of the 180 people who registered to attend the webinar, 60% said they are implementing, or are about to implement a strategy for reaching women farmers with their agricultural service, product or initiative. Only 14% % said they do not know how to develop one.
Under the mFarmer Initiative, a partnership between the GSMA, the Bill and Melinda Gates Foundation and USAID, we will continue to pull together and share best practice on this topic. We will be putting the lessons highlighted in our recent webinar into practice as we work directly with 4 mobile information and advisory services over the next two years.