This year's GSMA Mobile 360 Africa conference in Dar Es Salaam was themed Inclusion, Progress and Development through Mobile. Gratifyingly, the main messages of the Connected Society programme ran through the entire event. In his opening address, Mats Granryd, Director General GSMA, highlighted the fact that: "local mobile operators have invested US$ 37 billion in their networks over the past five years, mainly to deploy new 3G/4G mobile broadband networks" [1]. However, as was noted throughout the event, internet adoption still lags behind the rest of the world, with only 28% of the population in Sub-Saharan Africa as mobile internet subscribers (compared to 53% in APAC). Network coverage remains a large part of the problem: 48% of the population aren't covered by a 3G or 4G network. Even in areas that are covered, many citizens aren't taking advantage of it and usage among many 'users' is often limited, hampered by affordability, a lack of relevant content and a lack of digital literacy.
During the event, we showcased a couple of exciting tools that put the spotlight on these issues. Our refreshed Mobile Connectivity Index, which shows that there has been a significant network expansion across all technologies as well as network quality (esp. mobile latencies) and better access to electricity. More needs to be done. We believe that collaborative action between MNOs, government and the rest of the industry is the key to creating an enabling policy environment, further investment into coverage expansion and uncovering the new models to address the consumer and connectivity barriers. Examples in these areas can be found in our Digital Inclusion Innovation Portal, which was also launched at the event. The portal is a tool for GSMA members and the wider ecosystem to share and identify new innovations that help to accelerate digital inclusion. Examples include packaged plug-and-play connectivity solutions for rural communities, such as Endaga's CCN1 "Network-in-a-box"; EduApp4Syria – a set of self-learning education apps for refugee children; and Copia – a known catalogue-based retailer with a large agent network, driving the distribution of smartphones into rural communities.
The event also gave us a chance to celebrate the first three-way rural roaming project in Africa, enabling network sharing with three major mobile operators in Tanzania: Airtel, Tigo and Vodacom. This GSMA led initiative has enabled partnering with the support of the Ministry of Works – Transport and Communications and the Universal Communications Service Access Fund, in order to extend mobile broadband internet coverage to over 70,000 rural users in Tanzania.  Celebrated on the second day at a Millicom sponsored networking drinks, Simon Karikari, Acting CEO Tigo Tanzania, Peter Ulanga, CEO Tanzania Universal Service Communications Service Access Fund, and Mats Granryd, all acknowledged the social and commercial impact that this collaborative pilot is already having.  All three operators, with the support of the GSMA, showcased the social benefits that citizens in select villages in a video – the sequel to the first shown at Mobile World Congress in Barcelona earlier this year.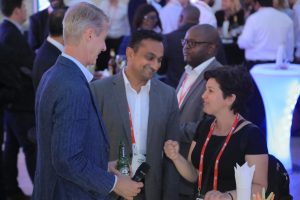 The Rural Connectivity ecosystem roundtable, which I moderated, had a diverse group of industry players, debating how to accelerate connectivity in the region.  Participants this year included Millicom, Vodacom, Airtel, Orange, Fairwaves, MaWingu, Bluetown, Ericsson, Nokia Networks, World Bank and IFC. There was much debate around a best practice policy framework that is currently being drafted by the GSMA programme, as well as the extent and role that detailed coverage maps play in identifying white spots.  It was agreed on that the GSMA should continue building a best practice policy report framework that is currently being drafted by the GSMA programme, as well as the extent and role that detailed coverage maps play in identifying white spots. Furthermore, the session facilitated valuable networking between some of the innovative last mile solution providers and mobile operators, which will be key in bringing down OPEX and CAPEX in broadband expansion.
We also launched our latest taxation report at the event. Taxing Mobile Connectivity in Sub-Saharan Africa: a review of mobile sector taxation and its impact on digital inclusion provides a regional overview of the tax and fee regime applied to mobile services and its impact on affordability and investment. It explores how mobile sector taxation can raise the affordability barrier in the region and how complex taxation regimes affect operators' ability to invest in infrastructure rollout which undermines digital inclusion efforts.  As Mats Granryd observed during the event: "mobile connectivity is a critical enabler of economic and social development but in many countries, particularly developing countries, the mobile sector is over-taxed relative to its economic footprint.  The excessive taxation applied to the mobile sector ignores its positive economic contributions and leads to negative affordability and investment impact. In the current economic climate, it is paramount for governments to foster, not hinder, growth."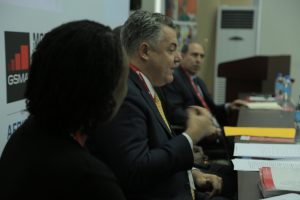 Some of the report findings were discussed in a panel, including Emery Okundji Ndjovu, H.E Minister of ICT for DRC, Doyle Gallegos – World Bank ICT Policy Specialist, Alice Kariuki – Group Regulatory Director Airtel Africa, and moderated by GSMA's Chief Regulatory Officer, John Guisti.  In 2015, the mobile sector paid, on average, 35% of its revenues in the form of taxes, regulatory fees and other charges in the 12 Sub-Saharan African countries for which this data is available. Around 26 per cent of the taxes and fees paid by the mobile industry were sector-specific (rather than broad-based taxation). As a result, Mobile network operators' (MNOs) contribution to government tax revenues outweighs their size in the economy.  H.E Minister of ICT DRC gave an example of the role that government can play in driving a digital society. In DRC, he has recently agreed with his ministerial peers in Finance and Post & Telecoms, for a reduction in import duties on smartphones.  Without knowing the specifics yet, the supposition is that this will greatly benefit the incumbent mobile operators as well as those citizens at bottom of the pyramid.
The final session facilitated by the Connected Society programme was an interactive session looking at methods to address consumer barriers to mobile internet adoption.  This coincided with the launch of our report: Accelerating affordable smartphone ownership in emerging markets.  Starting with a lively panel discussion with Jean Francois Le Bihan – Director Regulatory Affairs Africa, Millicom Group; Jack Rabah – Head of Strategic Partnerships MEA Wikipedia; Martin Njoroge – Africa Android Partnerships, Google, and Christopher Stork – Director, Research ICT solutions, the session flowed through into four break outs: models to scale digital literacy, data & indicators, handsets distribution and locally relevant content. The panel brought out exciting news items – Research ICT had recently completed new household surveys for Tanzania, which highlighted the gender gap in usage, access and the priority that consumers place on affordable smartphones. Millicom discussed the positive learnings from conducting a Digital Literacy campaign in Rwanda (using GSMA's MISTT toolkit) – echoed also on the main stage; Google highlighted the exponential effects of partnering with Orange Group AMEA and distributing low cost Android handsets with digital literacy training on google products, and finally Wikipedia talked about community empowerment and a call to partner with mission aligned stakeholders.  A high calibre and diverse group of participants led to a number of discussions around collaboration, resulting in valuable networking opportunities.
This year's Mobile 360 Africa was an exciting and busy one for the Connected Society programme with a range of showcases, workshops and sessions. Over the next six months we will be diving in and working with MNOs and other players to implement some of the things we have learnt.  We invite our members and others to get in touch and discuss their digital inclusion objectives.
•    Mobile Connectivity Index
•    Digital Inclusion Innovation Tracker
•    Taxing Mobile Connectivity in Sub-Saharan Africa: a review of mobile sector taxation and its impact on digital inclusion
•    Accelerating Affordable Smartphone Ownership in Emerging Markets
[1] GSMA Mobile Economy: Sub-Saharan Africa 2017 report
This initiative is currently funded by the UK Department for International Development (DFID), and supported by the GSMA and its members.