This post was guest-authored by Mohamed Dabbour, EVP Millicom Africa. The views expressed do not necessarily reflect those of the GSMA.
Digital inclusion is good for everybody. It can transform customers' lives and give them access to the kind of services, information, opportunities and connections that, before the advent of this technology, would have been unthinkable. For telecoms operators, a connected and engaged customer base offers the exciting prospect of rapid and sustainable growth.
Yet there are many factors which restrict the spread of digital inclusion, to the detriment of both people's lives and companies' prospects. 47% of the world's population remains offline, with particularly high concentrations of unconnected people in rural, developing countries. Even if people have coverage, they do not necessarily take advantage of it: too many are simply unaware of the opportunities that are out there. It was in recognition of the desirability of ending the problem of digital exclusion that Tigo, in cooperation with the GSMA, launched the Mobile Internet Skills Training Toolkit (MISTT) in Rwanda in June 2017.
Lasting for three months, and spread across 11 of Rwanda's 30 districts, the project aimed to improve digital literacy amongst Tigo's customer base. Training in MISTT proceeded in stages, with District Managing Supervisors (DMS) receiving it first, before they, in turn, trained the sales agents and freelancers who, finally, offered it to their customers. The Toolkit included modules in mobile internet, WhatsApp, Google, YouTube, Safety & Cost, Tigo data bundles and "How to check your balance". MISTT is extremely versatile and can be localised to any language in any market.
Rwanda was chosen as the site of the trial because it typifies the challenges that we face in the fight to improve digital inclusion and literacy. Although only 21.6% of Rwandans have a mobile internet services subscription this figure is not low due to a lack of technology: 95% of the population has 3G coverage. If it is not an issue of availability then it is also not an issue of interest, as surveys show that Rwandans are eager to improve their lives through the application of technology. Clearly, in a country in which a smartphone is a status symbol and the internet is synonymous with modernity, the obstacles must lie elsewhere.
The success of our MISTT test showed that the problem has been one of learning and awareness. Many Rwandans simply do not know about the opportunities that the internet offers. Some own smartphones without understanding their internet capabilities, others are unaware of apps, some believe WhatsApp to be all that there is. MISTT, with its innovative integration of essential skills and the means of acquiring data, successfully boosted engagement and taught interested customers what they had been missing out on. Thus encouraged, they purchased the necessary products and began to experience all that the internet can offer.
The scheme has experienced rapid and radical success. Over the three months' pilot 300 Points of Activation (POA) trained 80,000 customers and 77% of them increased their data usage following training. Tigo subscriptions have increased by 15%, and revenue has improved.
Our customers have also benefitted, as shown by the encouraging testimonials we received from those who have been involved with the scheme and had their lives transformed. Shop owners, such as Claudette from Ruhango, have seen their business increase as grateful customers refer friends and buy new products. She is now known as "the modern old lady"! Her customers, like Flora, have similarly benefitted. Flora owned a smartphone but, before she received training from Claudette, did not know how to use it. After several short lessons over the course of a couple of weeks, Flora is now using her smartphone to find employment and is enjoying using YouTube and WhatsApp in her spare time.
Through MISTT we have, together, shown how to increase digital inclusion, help Rwandans and strengthen the business of local Tigo providers. Naturally, there is always room for improvement but, after such a successful pilot, we look forward to developing the programme further. MISTT has a great deal of promise.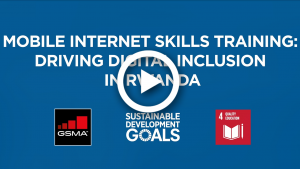 This initiative is currently funded by the UK Department for International Development (DFID), and supported by the GSMA and its members.