As Indian novelist and critic, Arundhati Roy, has reminded us so eloquently in the Financial Times:
"Historically, pandemics have forced humans to break with the past and imagine their world anew. This one is no different. It is a portal, a gateway between one world and the next."
COVID-19 is exposing major vulnerabilities and paradoxes in all our societies – one example is access to basic services such as water and sanitation. Even in a high-income country like the United States, it took COVID-19 for water access to be restored to thousands of poor (predominantly African American) residents disconnected due to unpaid bills in the city of Detroit.
In low-income countries, COVID-19 is undoubtedly having a devastating impact – both directly and indirectly. Beyond the direct casualties, government measures worldwide to "flatten the curve" have led to an unprecedented economic crisis. According to the IMF, 90 per cent of all countries globally will experience negative growth in real gross domestic product per head this year.
Some have cautioned that the high-income country approach of strict lockdowns is unlikely to work in low- or lower-middle income countries, where the pandemic is exposing profound shortcomings in access to basic services such as water, sanitation and hygiene, and where most governments lack the fiscal space or social safety net infrastructure required to enable low-income households to practice social distancing. According to data from the Food and Agriculture Organization of the United Nations, researchers from the Yale Research Initiative on Innovation and Scale found that 16 – 37 per cent of households in lower-income countries face food insecurity – these are populations already facing hunger that are particularly vulnerable to the imposition of social distancing measures. Similarly, according to the WHO/UNICEF Joint Monitoring Programme (JMP), most people in Sub-Saharan Africa spend more than 30 minutes (and in some instances more than an hour) to collect and pay for water services. Staying at home is simply not an option in this context.
Given the welfare implications of strict lockdowns, governments in low-income countries face different trade-offs than governments in high-income countries. In this context, what COVID-19 responses would deliver the greatest return for low-income country governments and their partners?
Beyond selective social distancing, cash-transfers and face masks, there seems to be a growing consensus among researchers, and governments that scaling up water, sanitation and hygiene services are effective in slowing the spread of the virus now, while also delivering long-term development returns for health, prosperity, and future resilience. Both the Centre for Global Development and the Yale Research Initiative on Innovation and Scale's policy recommendations for low-income countries in the context of COVID-19 stress access to water and sanitation. In Rwanda, the government has installed mobile-handwashing stations, while in Ghana, the government has suspended water bill payments to state-owned utilities for three months.
While these initial actions by governments are encouraging, further commitments and partnerships will be required to reach vulnerable populations with these interventions. For instance, since only 36 per cent of Ghanaians have access to safely-managed water services according to JMP, Ghana's decision to suspend water payments will not benefit the poorest who lack water connections. This highlights a broader problem, which has characterised many low-income countries' approach to water and sanitation service provision for decades – it is profoundly skewed against informality with important welfare implications. According to the World Bank, 56 per cent of water and sanitation subsidies benefit the top 20 cent of the population, while only 6 per cent of subsidies benefit the bottom 20 per cent. While shocking when quantified, it is not entirely surprising since subsidies are currently designed to benefit those already connected to piped/sewered water and sanitation services (i.e. the wealthy and middle class).
As policy expert, Ken Opalo from Georgetown University, stressed in a great blog on policy lessons from COVID-19, African governments should strengthen their policy transmission mechanisms so that interventions can reach people directly where they live and work – including in informal settlements. Regressive government support measures have meant that the poor have to rely on costly alternatives such as private water tanker cartels, which can charge 10 – 30 times the price charged by a state-owned utility. Rapid urbanisation is amplifying this challenge with many municipalities struggling to provide services for growing populations in informal settlements.
These profound inequalities in access to water and sanitation were also highlighted in our recent report, Digital Solutions for the Urban Poor.
Over the last decade, access to at least basic water services for the urban poor (i.e. the bottom 20 per cent in the income distribution) has actually decreased in 11 out of 39 Sub-Saharan African countries.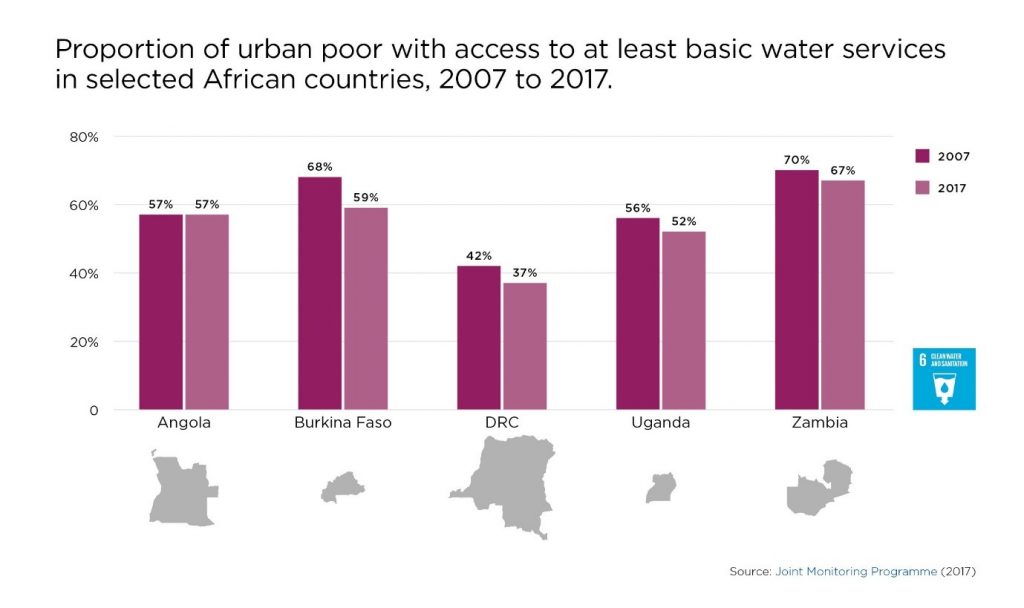 Sanitation is even further behind and characterised by profound inequalities as shown below. Yet, it is well documented that investments in sanitation deliver tremendous social value. According to a WHO study, every US dollar invested in sanitation delivers a nearly six-fold return due to reduced costs to health systems, increased spending power among poor households, reduced constraints to other urban services, increased productivity, and fewer premature deaths.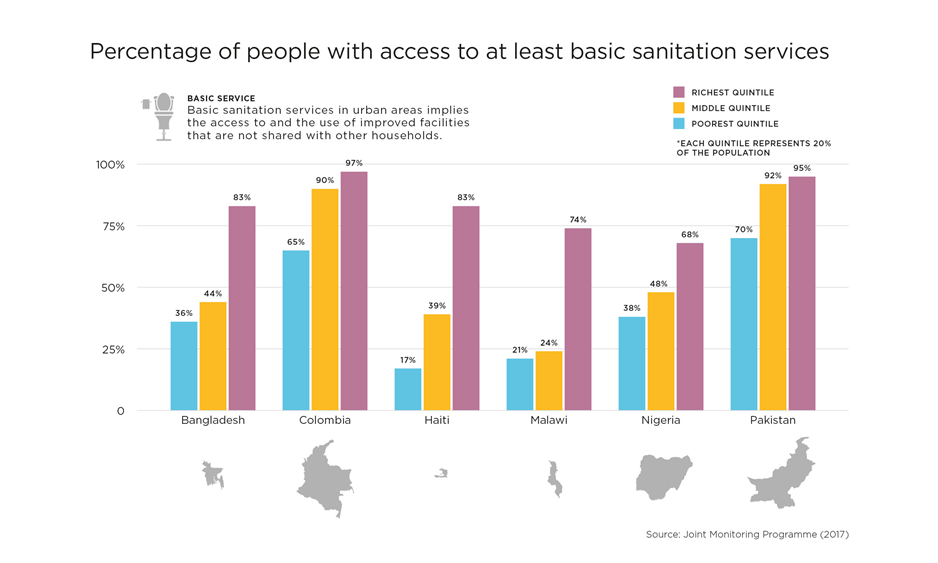 In the face of these challenges, our report also demonstrates how various water and sanitation service providers across Africa and Asia are leveraging digital solutions to extend these services to the urban poor:
These include start-ups such as Wonderkid and Citytaps, which help water utilities across Sub-Saharan Africa reduce non-revenue water, improve customer communication, and extend services to poor communities. In the context of COVID-19, effective water utilities are more important than ever.
In Dhaka, Bangladesh, many urban poor have to rely on 'illegal' connections or buy expensive, low-quality water from informal traders, which often charge 15 to 20 times the rate charged by the utility. Drinkwell, a social enterprise, has partnered with mobile operator, Robi Axiata, and Dhaka's water utility, Dhaka WASA, to provide informal settlements with access to safe, affordable water through a network of water ATMs. In response to the COVID-19 pandemic, Drinkwell is leveraging its vital distribution network in informal settlements, and has partnered with mobile hygiene station provider, Happy Tap, to provide handwashing services to its customers and the wider community. Given that only 51 per cent of urban residents in Bangladesh have access to at least basic hygiene services, this partnership is key to preventing the spread of the pandemic.
In the sanitation sector, Sanergy, a container-based sanitation provider, is delivering sanitation services to 150,000 people in informal settlements in Nairobi through a network of 3600 toilets. Sanergy offers an end-to-end service which entails the safe removal and transportation of all waste generated by the residents to a central processing plant, where it is treated and converted into agricultural inputs – organic fertiliser and insect-based animal feed. The use of digital solutions such as a customer-facing app, which integrates mobile money, as well as mapping and tracking tools, have been critical for Sanergy's business model. In response to COVID-19, Sanergy has donated 18 hand-washing stands that are being set up in partnership with the local government to ensure residents can wash their hands with increased frequency. It has also joined Project Safe Hands, an initiative of the Kenyan tech sector and others, to coordinate the manufacturing and distribution of essential supplies to residents of informal settlements.
For governments, this crisis could be an opportunity to build some of the innovative service models described above, as well as further driving the digitisation of person-to-government payments. Several mobile operators have waived transaction fees or introduced other measures that facilitate mobile money use and adoption, signalling a key opportunity for governments to "invest in or fast-track the infrastructure for digital government-to-person (G2P) and person-to-government (P2G) payments." While this capability is especially valuable in a pandemic when transmission risks are high and government capacity and its delivery systems are under severe pressure, digitising payments for utilities also have important long-term benefits that will produce social value beyond this crisis. In our report with CGAP, in which we surveyed of 25 water and sanitation providers that have adopted digital payments (both water utilities and decentralised service providers), we found that digital payments significantly reduce collection costs, increase revenue and customer reach, while also promoting financial inclusion and digital literacy.
In the sanitation sector, governments should strive to continue to reach un- and under-served urban communities. A recent paper on container-based sanitation (CBS) highlighted the potential for these services to scale, while yielding "multiple economic, health and environmental returns." However, it will be critical for water, sanitation, and public health ministries to recognise that expanded sewer coverage is not likely to be a reality for urban populations in the near future, and it is therefore critical to embrace new forms of service delivery such as CBS. Of course, increased government investment and direct service provision will also be critical. In this context, we have supported municipalities such as the Kampala Capital City Authority to use a GIS tracking system, enabled by a mobile app and a call centre to improve faecal sludge management in the city.
With this in mind, now is a crucial moment for governments, donors, and mobile operators to join forces to drive innovative, pro-poor water and sanitation services. This will not only improve long-term development outcomes, but also make societies more just, and more resilient to face future pandemics.
The GSMA Mobile for Development (M4D) Utilities programme is funded by the UK Department for International Development (DFID), USAID as part of its commitment to Scaling Off-Grid Energy Grand Challenge for Development and supported by the GSMA and its members.