VITALITE received a grant from the GSMA Mobile for Development (M4D) Utilities Innovation Fund in October 2017 to trial smartphone and cookstove add-on products for their pay-as-you-go (PAYG) solar home systems (SHS) in Zambia. The project aims to leverage the PAYG mechanism (i.e. enabling customers to pay in small amounts over time) to deploy 1,500 smartphones and 500 cookstoves across new regions in rural Zambia. VITALITE partners with Zambia's two leading mobile operators MTN and Airtel (with 5.8 and 5.6 million connections respectively according to GSMA Intelligence) who allow the start-up to rely on mobile money for payments.
This blog shares the latest insights from the grant's progress as of October 2018 and the M4D Utilities team's recent field visit.
1. Potential challenges around the adoption of smartphones through PAYG schemes
Good network coverage is important for proper functioning of PAYG technology
According to GSMA Intelligence, only an estimated 34 per cent of the population in Sub-Saharan Africa own a smartphone. In Zambia, this ratio drops to 24 per cent with high cost and digital illiteracy usually being the biggest barriers[1]. VITALITE initially worked with Microsoft`s operating system to trial its offering of PAYG smartphones. Through the scheme, customers were paying small amounts on a daily, weekly or monthly basis and were seeing their network features (voice, SMS, data) switched off in case the payments are not made (similar model as what the company does with its PAYG SHS offering). However, poor network connectivity in rural areas meant that the phones could not properly communicate the customers' payment status to VITALITE's backend. This resulted in a number of phones being frequently and prematurely switched off.
The VITALITE team are now working with a new solutions provider to improve its PAYG model for smartphones. Meanwhile, VITALITE keeps selling smartphones, without this locking functionality, to customers who are currently paying off their SHS systems.
Poor digital literacy continues to be a challenge
The majority of VITALITE's rural customers were first time smartphone users who had previously used a feature phone or never owned a phone before. These rural customers would often turn on all services, for example, data, Bluetooth, GPS, resulting in poor battery life and prompting them to return the phone to VITALITE, referring to it as 'broken'. VITALITE is now working to improve digital literacy through agent training at point of sale, thereby ensuring customers understand basic smartphone usage.
Challenges in finding the right phone at the right price
It took some time for VITALITE's team to select a suitable vendor offering a smartphone with relevant specifications (like bigger screens and longer battery life) at an affordable price point for low-income customers.
2. Improving mobile money usage
Mobile money in rural Zambia – as it's often the case in rural areas across the continent – means: Low mobile money agent coverage, reduced mobile network coverage, insufficient mobile money float to handle client transactions (i.e. to carry out deposits and withdrawals), high mobile money transaction fees and a high proportion of over the counter transactions. This has affected the mobile money uptake for VITALITE throughout the project. For example, our visit to the district of Chongwe (cities of Shamutinta and Lwimba) revealed that customers had to walk as much as 10 kilometres to reach a mobile money agent. This is especially inconvenient if a customer has to make daily or weekly payments as it can be the case in a PAYG scheme. The low number of mobile money agents in rural areas is also directly linked to the minimum cash requirement (typically between $150 to over $400) to become a mobile money agent. To address this low mobile money agent coverage, VITALITE in conjunction with local mobile operators are considering converting some of their high performing sales agents to also become mobile money agents. They have also organised a series of marketing events and campaigns to encourage customers to use mobile money.
As of September 2018, 38 per cent of VITALITE customers are paying through mobile money and VITALITE's team is expecting the previously indicated measures will increase the adoption in the coming months.
3. Restructuring agent commissions can help reduce default rates
In August 2018, VITALITE decided to reduce the upfront commission for its sales agents by over 20 per cent and to restructure into staggered payment of commissions over the repayment period. In the past, agents would focus on acquiring new SHS customers but would not necessarily follow-up with customers on the payment of the instalments over the credit period. Spreading agent commissions over the repayment period of the product gives the sales agents a stronger motivation to push customers to make their repayments. This change has been combined with some additional training to further support agents to focus on ensuring customers make their repayments. One of the areas of focus is to encourage customers to make very small payments to avoid the defaulting risk. Lastly, repayment rates of customers are being factored into the performance assessment of the sales agents. These interventions have led to a significant drop in the payment default rates.
Initial sales of cookstoves were slow at the beginning of the project but have now improved due to aggressive marketing by VITALITE agents. Although not successful, the company also experimented with a group purchase deal. This was setup for women who could buy the cookstove in groups to reduce the individual cost.
As of October 2018, VITALITE have now sold 739 add on products i.e. 438 smartphones and 301 cookstoves impacting nearly 2,000 beneficiaries and aim to bring this figure to over 4,000 beneficiaries by the end of the grant in July 2019.
This initiative is currently funded by the UK Department for International Development (DFID), the Scaling Off-Grid Energy Grand Challenge for Development and
supported by the GSMA and its members.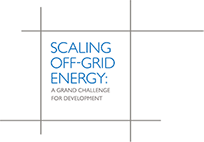 [1] https://www.gsmaintelligence.com/research/?file=809c442550e5487f3b1d025fdc70e23b&download