This is a guest blog by Sanergy, a provider of low-cost sanitation centres for urban settlements in Nairobi, Kenya and a grantee of the M4D Utilities Innovation Fund.
Sanergy teammates, Joseph Lumumba and Lauren Stover, spent the last week of July in Dar es Salaam, Tanzania, at the GSMA Mobile for Development Utilities working group. Joseph and Lauren presented the work that the GSMA has been supporting with Sanergy, using sensors to optimize our waste-collection process.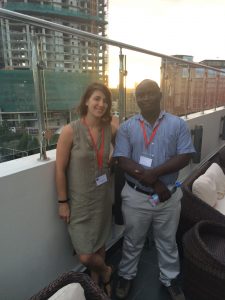 Joseph Lumumba and Lauren Stover of Sanergy at the M4D Utilities Working Group in Dar es Salaam
The GSMA has been supporting our partnership with SweetSense Inc., with whom we've been piloting the use of cellular sensors in our Fresh Life Toilets (FLTs). This is to:
• Determine the fill levels of our toilet cartridges and more accurately predict when waste collection is needed;
• Record when waste collectors visit latrines; and
• When our Fresh Life Operators request service.
Figuring out how best to collect this information would allow us to improve the efficiency of our waste-collection processes, only visiting toilets to collect and remove the waste when the cartridges are at or nearing capacity.
In the first stage of our work with the GSMA and SweetSense, we tested three different types of sensors in nine locations to determine what type of sensor would work best for our larger pilot. Each type of sensor was installed in three locations. We tested using pressure transducer sensors (PT), weight sensors (WS), and passive infrared sensors (PIR), to determine which sensor would best suit our needs. The pressure and weight sensors track the amount of waste while the passive sensor tracks the fill rate and number of uses in a particular FLT.
We looked at the durability of each sensor in situ, as well as its ability to provide accurate information on the fill levels of the cartridges. At the beginning of the pilot, we also evaluated each sensor type based on:
• sensor coverage and its ability to transmit information wirelessly;
• sensor data volume;
• sensor downtime and maintenance needs; and
• sensor accuracy in determining fill rates.
As the pilot advanced, however, we updated the criteria to include toilet access, geometric variation between FLT versions, human concerns, and our existing weighing operations.
We found that while the PT sensors were useful for calibrating weight sensor data, they were too fragile to fit within our operating environment. While the WS sensors provided high-quality data, their design only worked for our newest toilets and couldn't be installed in older FLTs. The PIR sensors were the most practical to use within the network, and they have the potential to fit well into a hybrid model to collect additional information.
At the end of the initial stage, based on the performance criteria collected, we analysed the data to determine if the PIR sensors, which measure usage, would be accurate enough to use in the full pilot. We determined that PIR sensors could be used to accurately estimate both fill rate of the cartridges and total number of uses per day.
We are currently working with SweetSense to modify the PIR sensors to better suit our needs, by installing RFID chips to provide us with additional data streams, including:
1) Occupancy sensing, to provide qualitative data about an FLT's uses between service visits;
2) A record of servicing events and time of service to better understand route operations;
3) A record of the cleanliness of an FLT at the time of service; and
4) A way for Fresh Life Toilet Operators (FLOs) to register a missed collection or if the FLT requires maintenance.
Next month, we'll launch the full pilot, testing PIR sensors in 40 toilets across the Fresh Life network. We're excited to see the data these sensors can provide, which will help improve our collection operations, in addition to facilitating communications with our FLOs.