Globally, women entrepreneurs play a critical role in economic development both through their active participation in the workforce and their ability to innovate and lead. If we genuinely include women entrepreneurs in local economies it can generate opportunities to unlock jobs and boost growth, as well as accelerate the adoption of innovative solutions to complex challenges in developing contexts. We have met many women entrepreneurs who are well positioned to better meet the specific needs of female customers in emerging markets. For instance, one of the Ecosystem Accelerator Innovation Fund's female-founded grantees, Raye7, is successfully improving travel and safety conditions for Cairo's female commuters.
However, women traditionally face a plethora of challenges in creating, financing, and growing their own businesses. The start-up world in 2015 had only 10% of female founders in so-called "high-growth" businesses. Today, only 20% of Google engineers are women – a statistic that is matched roughly across the large global tech companies.
There are many structural issues: legal and policy obstacles to business ownership and challenges in raising funding in male-dominated VC ecosystems. More broadly, there is usually unequal access to networks and knowledge resources as well as education for young women. The number of girls/women studying STEM subjects from a young age (including engineering and coding) is still too low. In fact, Women in Tech argue that women are generally discouraged from perusing tech jobs because of a "bro-grammer" tech culture 'brought in' from college campuses. Sheryl Sandberg's book Lean In and the 10 things she gets really right, which led to the creation of a global movement, is somehow a testament to this.
No single programme or initiative can answer all aspects of the issue – although we believe the mobile industry has a critical role to play in addressing these imbalances.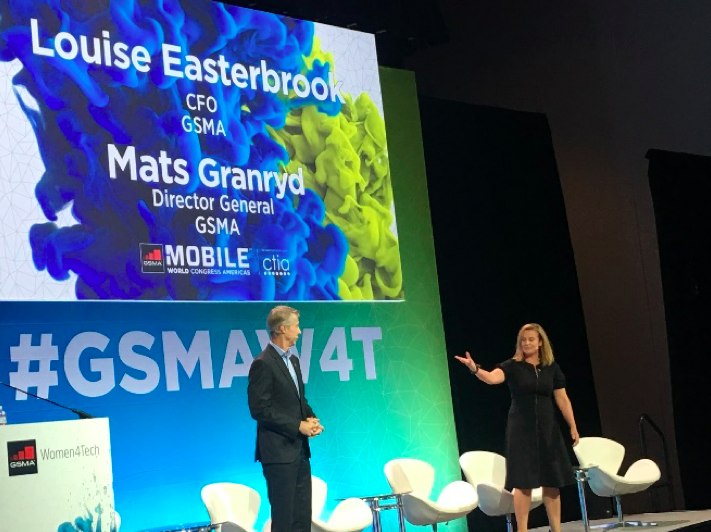 What role can the mobile industry play?
The mobile industry, along with the international development community and the GSMA, has been working to accelerate the involvement of women in telecoms and the economy globally. Some highlights include:
Women Entrepreneurs in Emerging Markets: Are things moving?
Today, early signals in the innovation ecosystem reveal some improvements in the numbers of women entrepreneurs in emerging markets. Among the top 100 start-ups from Africa and Asia Pacific that submitted their application for Round 2 of the GSMA Ecosystem Accelerator Innovation Fund 25% were founded or co-founded by women entrepreneurs.
This percentage increases to 71% when we look at start-ups that have women in their management teams. Interestingly, these numbers were higher when we specifically looked at African start-ups in the top 100:
Round 1 (2016): 11 women-led start-ups out of 75 start-ups – 15%
Round 2 (2017): 20 women-led start-ups out of 73 start-ups – 27%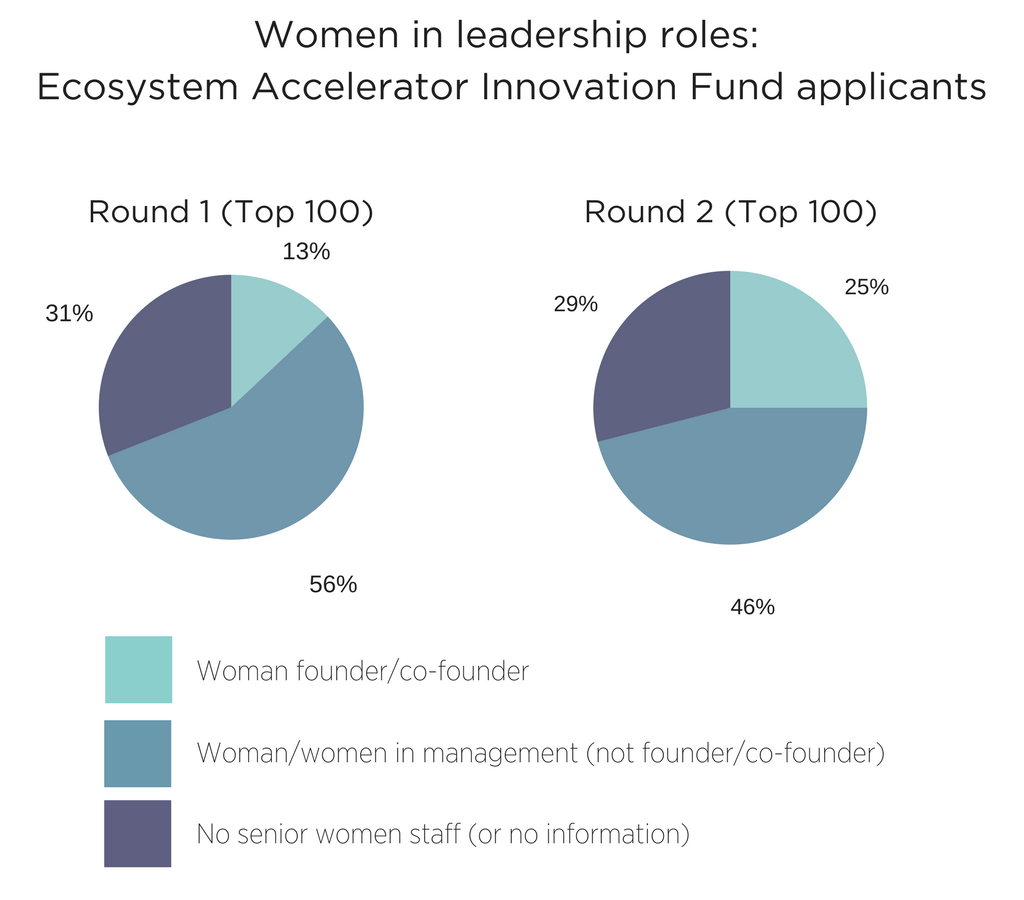 We're excited to see some interesting initiatives also emerging for women entrepreneurs. For instance, the Africa Technology Business Network, encourages budding female entrepreneurs through networking and events, business community development and consultancy services. Other examples (not an exhaustive list) include Forbes Women, AFDB, Cartier's women Initiatives, and Make Every Woman Count.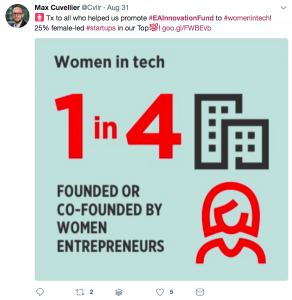 We all need to look internally within our own organisations to ensure we promote women and encourage entrepreneurial spirit. Iris Bohet (in her book "What Works") argues there are many evidence-based interventions that could be adopted to address these barriers (at shockingly low cost and surprisingly high speed). We particularly need to remove "preferences" in organisations which unconsciously inhibit women from taking senior roles in innovative and tech-heavy positions.  If you're feeling inspired – WiTT has shared some great TED Talks on this topic.
We look forward to working with start-ups, mobile operators and the broader ecosystem to further support women entrepreneurs and we want to learn about interesting initiatives (please reach out to accelerator@gsma.com).
In particular, we invite partners to work with us to source and promote promising women entrepreneurs for Round 3 of the Innovation Fund launching in early 2018. Stay tuned!
The Ecosystem Accelerator programme is supported by the UK Department for International Development (DFID), the Australian Government, the GSMA and its members.