This blog and research have been co-authored by Dario Giuliani.
Since the World Bank's 2014 African tech hub study, mapping the tech ecosystem in the continent has become pivotal to keep track of the ever-increasing role innovation and entrepreneurship play in African economies. Tech hubs today are efficient vehicles not only to attract capital and expertise but to lead the very debate around technology and progress. Our new research carried in early 2018, shows that since 2016, the number of active tech hubs across Africa has grown by over 50%: from 314 in 2016. 442 hubs are now active on the continent and a dozen is due to launch in early 2018.
This growth over the past two years has been accompanied by three trends. First, several tier-2 ecosystems and new ecosystem cities (beyond South Africa/Cape Town, Nigeria/Lagos, and Kenya/Nairobi) have emerged across the region as internationally attractive technology centres. Second, the volume of funding raised by tech start-ups all across the continent soared. Third, an increasing questioning and urge to rethink flawed business models has led several hubs and programmes to narrow down their offering and target specific niches.
Top-tier countries remain the same as those identified in our 2016 study (South Africa, Nigeria, Kenya, Egypt, Morocco) with South Africa largely outperforming in number of active tech hubs (59), although Nigeria's sizeable market has begun showing evident signs of awakening. In less than two years, the country – with 55 active tech hubs – outnumbered Egypt (34) and Kenya (30) by number of active tech hubs, positioning itself on a par with South Africa. Meanwhile, Lagos, the economic hub of West Africa, now counts more hubs and programmes than any other city across the continent (26 in Cape Town, 25 in Nairobi, and 23 in Cairo). Nigeria has made indisputable efforts to improve the investment climate and take part in the tech race that is characterising the continent. The recent announcements of new hubs by Google and Facebook also denote that the upward trend is steady.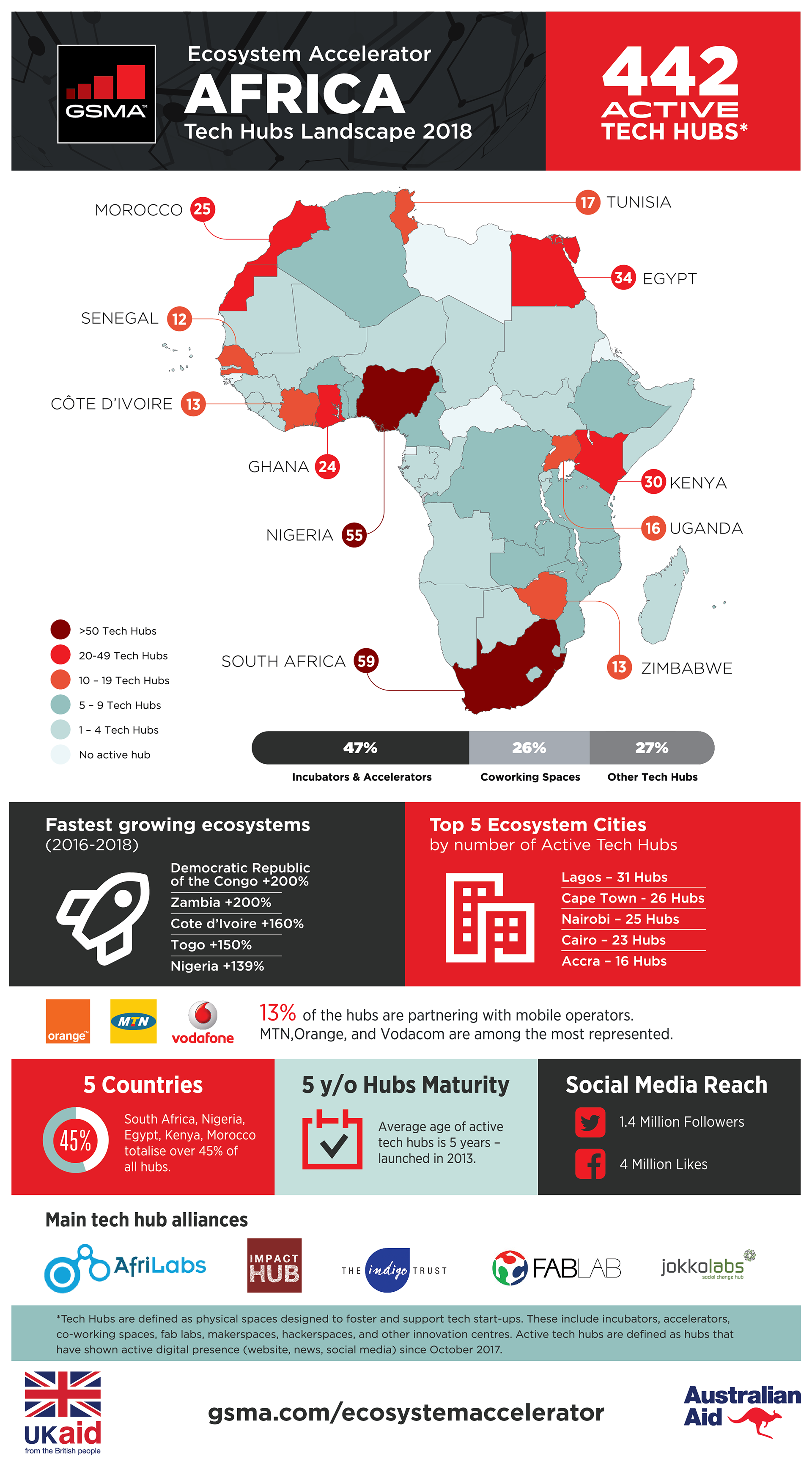 Download the Africa Infographic
As shown in Partech Ventures' recent start-up funding report, symptoms of developments beyond the three top markets are evident. South Africa, Nigeria and Kenya have been losing a 5% share in total funding raised to tier-2/3 countries since 2016. In West Africa, ecosystems like Ghana (24 active tech hubs in 2017 vs 16 in 2016) and Côte d'Ivoire (13 vs 5) registered significant growth. Abidjan in Cote d'Ivoire has gradually positioned itself as the new catalyst of innovation across Francophone Africa and has seen its number of active tech hubs double. As an illustration of the increased importance of these new ecosystems are the much-publicised visits of Google's Sundar Pinchai and Facebook's Mark Zuckerberg to Lagos' ccHub and Nairobi's iHub, those of French president Macron and Dutch PM Rutte to Accra's Impact Hub and iSpace, and Alibaba's Jack Ma visit to East Africa. Optimistic signs have been shown by Kigali (4), which has ambitiously strived to position itself as the second tech hub in East Africa, despite a fierce competition from Dar Es Salaam (4) and, to a lesser degree, Kampala. Regardless of its far smaller market and tech ecosystem, Kigali has been claiming a highly favourable investment climate and hosting major regional events like the recent Africa Tech Summit or the planned GSMA Mobile 360 Africa in July 2018. On the other end of the scale, Ethiopia (9), whose population exceeds the hundred million, has been lagging behind,  despite the improvements made by its thriving capital city Addis Ababa and the presence of tech hubs such as IceAddis as well as a growing VC scene. In Southern Africa, Zimbabwe and Zambia recorded remarkable growth respectively doubling and tripling their number of active tech hubs in eighteen months (13 vs 6 in Zimbabwe; 6 vs 2 in Zambia). 2018 is expected to see the launch of EY Business Accelerator and a government-backed USD 25 million Innovation Fund in Harare. Finally, ecosystems that in 2016 were either non-existent or in the making (Chad, Cape Verde, Mauritania, Swaziland, or Djibouti) have now at least one active hub each.
A major trend involves the rethinking of strategies and business models triggered by the increasing awareness of the limits of one-size-fits-all models when it comes to navigating African markets' complexity and composition – which, for instance, implies that companies take more time and a different set of strategies than those applied by accelerators in Silicon Valley. This explains why most hubs adopt hybrid systems in order to be sustainable – the most common being pay-for co-working spaces – while over 50% of all hubs resort to public or corporate partnerships. The increase in partnerships between mobile operators and start-ups is due to an increasing acknowledgement of the mutual perks the parties can benefit from. Mobile operators provide the means to scale and to access a ready-available market; start-ups offer the innovative element and adaptable business models. Mobile operators support or run over 14% of the active tech hubs identified in Africa. MTN (supporting 12 active tech hubs), Orange (9), and Vodafone (7) remain the leading providers to engage with start-ups across the continent. Since 2016, a number of new mobile operators-backed tech hubs were launched including MTN-Y'ello, an incubator programme active in Congo and Cote d'Ivoire, Orange Fab in Cote d'Ivoire and Orange–Start on in Morocco and Djezzy's ENP Incubator in Algeria.
Overall, the landscape for tech start-ups across Africa has shown a range of positive signs. The ecosystem has now some degree of maturity not only because most leading tech hubs have on average half a decade of activity and have therefore been able to test and pivot several strategies and models, but mainly because the different actors, from investors to educational institutions and tech giants and mobile operators, have started exploring synergies in shaping the ecosystem. This coming together is fuelled by the increasing awareness that start-ups in Africa will play a key role in the development of the continent's societies and economies.
The GSMA Ecosystem Accelerator Innovation Fund start-up portfolio includes 35 start-ups, covering 23 markets, all with services that collectively contribute to 13 of the 17 Sustainable Development Goals. We'd like to introduce you to some of them and showcase the impact they are having around the world.
The Ecosystem Accelerator programme is supported by the UK Department for International Development (DFID), the Australian Government, the GSMA and its members.